Disable Visual Themes

This option is handed down from the Windows XP compatibility mode, but ironically is one of the most useful tools for getting XP programs to work on Windows Vista. Setting this 'disables' the Windows Vista style menus and displays, reverting them back to default Windows 2000-style menus.

This is incredibly useful for older Windows 2000-XP-based programs that incorporate the Windows desktop and file menu. If you are trying to run a 'windows' based program (ie one that uses the Windows interface to display itself) and it's not working, or looks wrong, this is your first and best option.

Disable Desktop Composition

Checking this option effectively disables the 3D 'aero glass' interface that Windows Vista introduced. As with the disable visual themes setting above, this can be a big help for older programs that incorporate the Windows menu interface.

Aero is a brand new feature, and can play havoc with the expectations of programs designed for previous versions of Windows. Generally you should check this option in conjunction with the 'disable visual themes' option.

Disable Display Scaling on High DPI Settings

This setting has only one purpose. If you have increased the DPI size of the default fonts in Windows Vista to make text more readable while preserving your desktop resolution, this option disables that font change for this particular problem only. Vista resizes fonts using a different method than previous Windows operating systems, and this can play havoc with the appearance of older programs. You will know if you need to use this option.

Run this Program as Administrator

This option does exactly what it says it does, running the file with administrator-level access, thus bypassing UAC and other security checks. This may enable some software to run correctly, especially older programs designed for Windows 95/98.

Running an application as administrator can also resolve many installation errors with older software applications. If the system crashes when you attempt to install a program, try it again with administrator privileges enabled.

Program Compatibility Wizard

Windows Vista contains a handy tool for automating the above options and making them easier to test. The program compatibility wizard (PCW) allows you to select an executable file and then apply any or all of the options listed above to it. The PCW will then run the program for you, and allow you to revise the settings as necessary.

To start the PCW, open the start menu and click on 'control panel' then 'programs'. Choose the 'use an older program with this version of Windows' option.

The PCW will open. Click 'next' and choose how you wish to locate the file you want to use.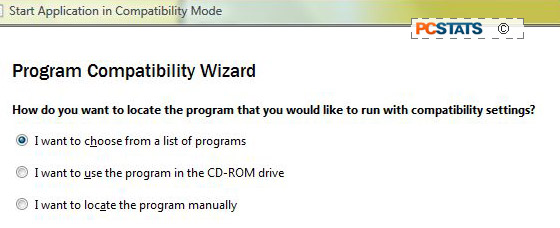 Click 'next'. You now have the option of choosing a compatibility mode and/or the various other compatibility option available.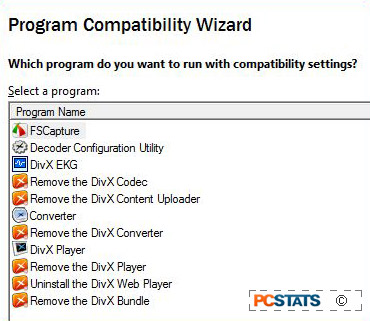 When you are finished, the PCW will list your chosen options and run the program.