The PCA is also accessed by the Windows Vista installation process during an upgrade from XP to Vista in order to determine whether any previously installed software will prevent a successful upgrade.
The Program Compatibility Wizard is a handy application which packages and automates the various compatibility 'switches' that can be used in Windows Vista to try and make legacy software work like it's supposed to. Before we describe how to use it though, let's look at these switches and options in detail.
Windows Vista Compatibility: Manual Options
Vista has several 'compatibility modes' available which allow the operating system to emulate certain features of older Microsoft operating systems in order to make legacy applications feel more comfortable (and make them more likely to work too). All of these options are accessed via the 'compatibility' tab in the properties menu of each program's executable file (word.exe, etc.). This means that compatibility options must be set for each individual program.
To set a given program's compatibility options, you must first locate its executable (.exe) file. This is the file which can be double-clicked to launch said program, and the file to which shortcuts on the desktop or the start menu will point. Knowing this, finding the file is easy enough.
Install your program, then find the entry for it in the 'start menu\programs' menu. Right click this entry and choose 'properties'.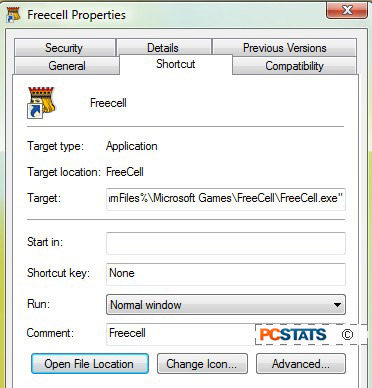 From the 'shortcut' tab, click on 'open file location.'

A new window will open, and the executable file for your program will be highlighted. Now right click on the highlighted file and choose 'properties' again, then select the 'compatibility' tab.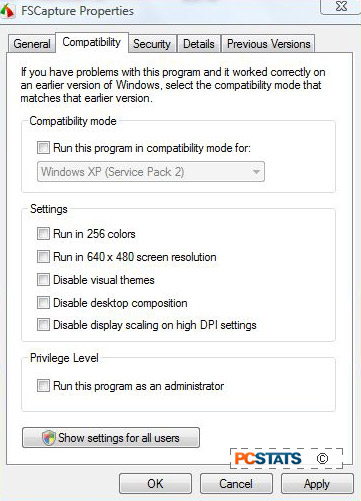 If you are trying to run a program which does not require installation, and thus has no entry in the start menu, simply navigate to the program's directory and locate the 'application' file for the program by highlighting each file and reading its information from the panel at the bottom of the explorer window. Once you have found the application file, right click on it as above and select 'properties' and then the 'compatibility' tab.