Palit's newest entry into the high-end video game stakes comes at a very attractive price, particularly given its flagship performance!
As we saw in benchmark after benchmark, the Palit HD 4870X2 videocard takes full advantage of its twin R770 GPUs to came out on top time and time again by a substantial margin.
There is no denying that the Palit Radeon HD 4870X2 videocard is a massive beast - this graphics solution weighs over a kilo, and its power demands are equally vast. The Palit HD 4870X2 comes equipped with a heatsink that is up to the challenge, cooling the card effectively with a minimum of noise. As you would expect from a video card bearing twin high-end GPUs though, the HD 4870X2 gets a little toasty on top. PCSTATS definitely recommends a having a rear exhaust fan on your system for this baby (but then, you should have one anyway), or upping the cards fan speed to exhaust more heat outside the system. Given the size of this card (27cm!) PCSTATS appreciated the placing of the twin PCI-Express power connectors on the face of the card, rather than the end. This can make all the difference in the world for gamers on a budget trying to shoehorn a high-end card into a mid-tower system.
Palit's packaging for the HD 4870X2 is similarly effective but unglamorous. The HDMI adapter is essential for taking full advantage of the R770's capabilities, but we would have liked a second DVI-to-analog adapter also. The HD 4870X2 comes equipped with everything you need to connect to multiple monitors and LCD and/or HDTV screens too.
Perhaps because of its twin-GPU configuration, the HD 4870X2 wasn't able to achieve much in the overclocking area. We did manage a respectable 200MHz memory boost, though. This is not a tweaker's card, but more of a straight up gamers' delight, based on what we witnessed in the benchmark results.
If you crave widescreen gaming on a 20" or 24" LCD display, with the newest and most intensive games, with virtually all the eye candy enabled, the Palit HD 4870X2 2GB is the best videocard for the job.... That is, at least until the performance records are shattered once more in this ever changing industry! Definitely recommended.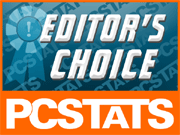 Find out about this and many other reviews by joining the Weekly PCstats.com Newsletter today! Catch all of PCSTATS latest reviews right here.
Related Articles
Here are a few other articles that you might enjoy as well...
- Asus EN9600GT Top/HTDI/512M Geforce 9600GT Videocard Review
- Foxconn 9600GT-512NOC Geforce 9600GT Videocard Review
- Palit Geforce 8800GT Super+ 1GB Videocard Review
- Biostar V903GT52-NV1AN 512MB Geforce 9600GT Videocard Review
- Palit 9600GT Sonic 512MB Geforce 9600GT Videocard Review
- Asus EN8800GT TOP Geforce 8800GT 512MB Videocard Review