Today PCSTATS is testing Palit's latest videocard, the Radeon HD4870X2, sporting a pair of ATI/AMD's powerful 4870 (Radeon 770) GPUs. This dual slot card is intended to provide gamers with the power of a dual video card Crossfire setup in a single unit, and features a huge 2GB of onboard GDDR5 video memory, enough to keep both GPUs fed and happy.
The Palit Radeon HD4870X2, retails for around $550 CDN. This is an interesting price entry point, considerably lower than nVidia's original price for the geForce 280, which the twin HD4870 GPUs are aimed squarely at dethroning. We'll have to see what happens now that nVidia has slashed prices...
Our review card came bundled with all the accessories you'd expect, including a crossfire bridge adaptor, DVI-to-analog converters, a DVI-to-HDMI adaptor for Hi-Def output, a component video dongle and some distinctly frog-centric box artwork...
Palit has clocked the HD 4870X2's two Radeon 770 GPUs at the default 750Mhz, and the GDDR5 memory at 900Mhz. Later in the review we'll see what extra performance we can squeeze out of the card through overclocking.
Bolstered by 2048MB of GDDR5 memory, the 4870X2 GPUs feature 1600 stream processors (800 per individual GPU) and support for quad crossfire, directX 10.1 and shader model 4.1. HDMI output with audio is supported, as with all of ATI's latest video chipsets. Dual-link DVI is, of course the default output, but a DVI-to-analog adaptor is bundled with the card.
As you would expect, the HD 4870 X2 is hungry for power. The card requires dual-PCI express power connectors, and prefers one of them to be 8-pin (though two of the standard 6-pin PCI-Express power connectors will work just fine). Maximum resolution through either or both DVI video outputs is a whopping 2560x1600 pixels - this baby was made for wide screen gaming, so welcome aboard!

Palit HD 4870X2 Radeon Videocard





Includes:

User's Manual, Driver CD, DVI to analog converter, DVI to HDMI converter, Crossfire Jumper, component output dongle cable.
With two high-end ATI GPUs on board, you'd expect the Palit HD 4870 X2 to be a big card, and you'd be right. This beast measures an impressive 27cm from tip to tip, and weighs in at 1.1KG. The card uses a dual-slot cooler, so it will take up the space immediately under your PCI-express slot. The cooling solution uses the now familiar squirrel cage fan design that puffs hot air out the back of the case. It's the same approach seen in high-end video cards from both ATI and nVidia. Thankfully, the 60mm fan on the Palit HD 4870 X2 keeps noise to a very reasonable minimum much of the time. This is not a noisy video card by any means, unless the fan is running at 100%, which is good news.

The black plastic thermal duct covers a pair of skived copper heatsinks and several subsidiary aluminum heatsinks for the memory and VRMs. A copper heat pipe helps balance the thermal load. All components are actively cooled by the fan, with the exception of the GDDR5 memory chips which get their own passive heatsink. During testing, we noticed that the back of this video card got quite hot, we'd estimate in the 60-70 degree Celsius range. This is not unique to the Palit card though, as most of today's high-end video cards get hot in the same place. Two GPUs makes for two hot-spots though.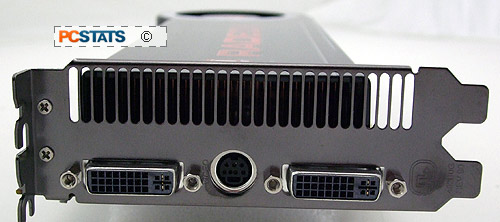 Palit has sensibly positioned the dual PCI-express power connectors on the face of the video card, rather than the end of it. This means that cable clearance will not be a problem in small to mid-size cases where optical drives butt up against the back of the card. Remember that you still need 27cm just to fit the HD 4870 X2 though, so get your tape-measures ready. ATI's crossfire connector is present and accounted for, on top of the card at the immediate front.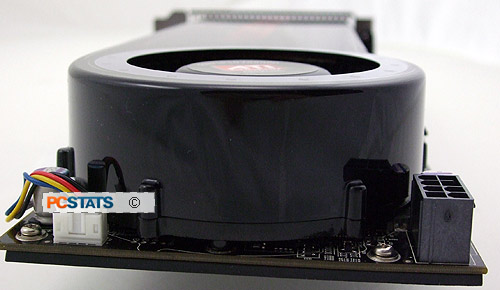 Palit's package for the HD 4870X2 covers the basics, as we mentioned above. We would have liked to have seen a second DVI-to-analog adaptor, but in reality, one is probably enough for most modern computer users. TV-out options are well covered with the included component output and HDMI dongles. HDMI audio is supported by the card without the need for a separate cable.