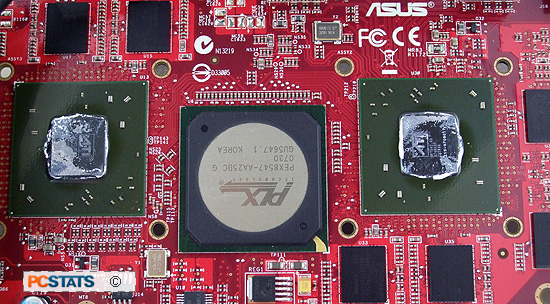 The ASUS EAH3870 X2 videocard was once the flagship of ATI/AMD's graphics processor line, but like all top-end hardware, after enjoying its day in the sun it has been eclipsed by newer, faster technology.
However as products like this age, prices also drop precipitously, moving the ASUS EAH3870 X2 from a $500 part into the much more affordable $250 range.
This shift in price means that it's no longer competing against its younger brother, the HD 4870 X2, instead it'll be compared to some of the midrange cards from this year and the high-end cards from last year that also occupy this price segment.
When it can get past its driver and game profile issues, the ASUS EAH3870 X2 can indeed keep up with the likes of 9600GTs in SLI mode, the Radeon HD 4850 and handily beats nVidia's 7950GX2 - but in about half of our benchmarks we saw disturbing performance gaps where the multi-gpu configuration of the ASUS EAH3870 X2 was unable to compete with cheaper, less power-hungry single GPU cards.
This phenomenon is exacerbated when moving from two GPUs to four under Crossfire. Paying double for a pair of ASUS EAH3870 X2s will rarely net you double the performance, and in many cases the frame rate will decrease as the cards fail to distribute their workloads efficiently. Users who already have an HD 3870 X2 graphics card will want to think twice about performance gain and power consumption before moving to a quad-GPU system.
ASUS' interpretation of AMD's RV670 graphics processor has made the ASUS EAH3870 X2 a unique graphics card. The four DVI ports are a great addition for those who are tired of fiddling with dual video cards to make multiple displays work. They've also managed to get the ASUS EAH3870 X2 fitted with HDMI with audio, which gives this card even more versatility. While the ASUS EAH3870 X2 is a little too big and hot to find a home in most home theatre cases, it will fit nicely inside the Cooler Master Stacker 830 SE, and that would look just as nice in your living room, right?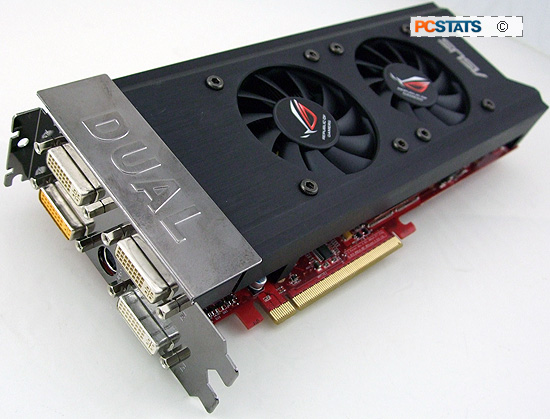 Aside from the ASUS EAH3870 X2's connectivity options, they've also added in a unique cooler - while it doesn't have drastic heat or noise performance differences from the MSI R3870X2 videocard PCSTATS tested a few months ago, it does look quite a bit nicer, and feels more like a high-end product. To round out the ASUS EAH3870 X2's package, ASUS also threw in a copy of the game Company of Heroes: Opposing Fronts, which lets you get playing with your new DX10 card right away. Not bad for $260 CDN ($230 USD, 110 GBP).
If your biggest concern is pure GPU performance, there are better options for around $250 than the ASUS EAH3870 X2, namely in the form of AMD's Radeon HD 4850 graphics card. Its single GPU is more power efficient and will give more consistent frame rates in a wider variety of games than the ASUS EAH3870 X2's dual processors.
ASUS EAH3870 X2 is offering more than just frames per second though. Its wealth of DVI ports, included software and extras can still make this a compelling buy for enthusiasts looking to own a once flagship graphics card that no longer demands a flagship price.
Find out about this and many other reviews by joining the Weekly PCstats.com Newsletter today! Catch all of PCSTATS latest reviews right here.
Related Articles
Here are a few other articles that you might enjoy as well...
- Diamond HD 3650 PE 512 Radeon HD 3650 Videocard Review
- MSI R3870X2-T2D1G-OC Radeon HD 3870 X2 Videocard Review
- Palit Radeon HD 4870 X2 Videocard Review
- Asus EN9600GT Top/HTDI/512M Geforce 9600GT Videocard Review
- Foxconn 9600GT-512NOC Geforce 9600GT Videocard Review
- Palit Geforce 8800GT Super+ 1GB Videocard Review
- Biostar V903GT52-NV1AN 512MB Geforce 9600GT Videocard Review