The lucrative high-end videocard market is one that is hotly contested between the graphics juggernauts at AMD and nVidia. Both companies have continually out-performed one another at different times, and the constant struggle has lead to different philosophies in graphics chip manufacturing and even videocard design.
While nVidia has focused on making larger, more powerful single graphics processors, AMD has taken the approach of adding two GPUs onto a single videocard. PCSTATS will be looking at one of these dual-GPU cards today which is made by ASUS, the Radeon EAH3870 X2 Top/G/3DHTI/1G/A.
The ASUS EAH3870 X2 1GB TOP - which is quite a mouthful to say, by the way - packs in twin ATI RV680 GPUs, packaged together in Crossfire mode on a single PCI Express videocard.
The 1GB in its name refers to its 1GB of DDR3 memory, and the TOP refers to what ASUS calls Top Overclock Performance - sure it's not the greatest acronym, but it does mean you get a chip that's got a GPU overclocked to 850MHz, with 950MHz memory added on out of the box.
ASUS's EAH3870 X2 videocard currently retails for around $260 CDN, which is about half the price you'd have paid for it when it launched back in the first quarter of 2008. At this price point there are quite a few other graphics solutions on the market - a pair of nVidia 9600GTs in SLI mode, AMD's own Radeon HD 4850, or the rival dual-gpu Radeon 7950GX2 are also contenders for your gaming dollars. So stay tuned, PCSTATS is about to tell you where to put your money.

ASUS EAH3870 X2 Top/G/3DHTI/1G/A Radeon Videocard




Includes:

User's Manual, Driver CD, (2) DVI to analog converters, DVI to HDMI converter, Crossfire Jumper, component output dongle cable., (2) power adaptors
You can imagine that squeezing to large GPU chips and and all the associated circuitry needed for them to run into one single videcard daughterboard is going to lead to a serious lack of space, or a pretty large footprint. Measuring a good 27cm long, the ASUS EAH3870 X2 is a big videocard.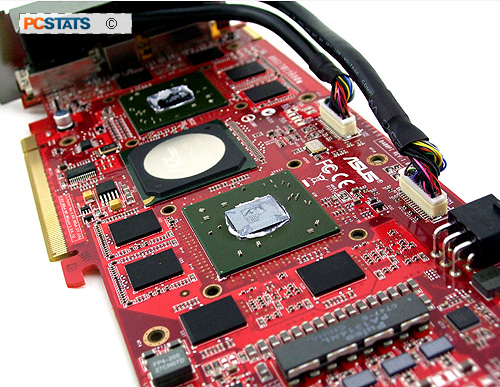 It comes in an even bigger box - the requisite amount of goodies we've come to expect from top-tier manufacturer ASUS' flagship cards are supplied incidently. This time around there are a pair of DVI to VGA adapters, a molex power adapter, Crossfire bridge connector, S-video to component video cables, and for some reason an ASUS-branded CD wallet.
Along with the mundane collection of VGA Drivers is a full copy of Relic's Company of Heroes : Opposing Fronts to whet your whistle. It's an expansion pack to the original Company of Heroes, Opposing Fronts and quite a bit of fun to play. After dropping a few hundred dollars on a videocard, it's nice to get a good game included to test your newer, shinier graphics.
Like most dual-gpu videocards, the dual-GPU Radeon EAH3870 X2 demands a lot of power. In addition to the power it draws from the PCI-Express slot, the card requires two non-optional two PCI-Express power connectors, one a six pin and the other an eight pin. The eight pin is a requirement for overclocking the card beyond ASUS' included overclocking, and it's really recommended that you run a card like this on a 550W power supply or greater. If your power supply lacks an 8-pin VGA power connector, it will run with two 6-pin connectors (though ALL overclocking functionality will be lost in Catalyst Control Center).
To take full advantage of the ASUS EAH3870 X2's dual GPUs, ASUS decided to enable all four of its digital outputs - so on the I/O panel of the card you'll find not two... but FOUR digital DVI ports, along with one S-video connection. The yellow DVI port on the lower left can be converted into an HDMI port using an included DVI-to-HDMI adapter, and the card itself has an integrated audio codec that will pass audio out along this source. This feature alone makes the ASUS EAH3870 X2 quite an attractive option for consumers intent on setting up a PC with quad monitors - say to watch the stock market crash, or play a flight sim. I think AMD's solution is still way ahead of nVidia and Intel's attempts at managing multiple displays, incidently.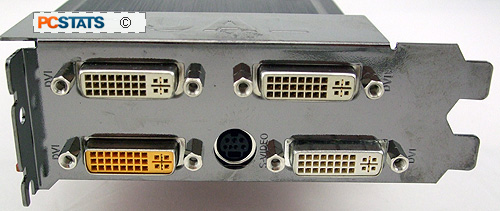 The ASUS EAH3870 X2-T2D1G-OC comes with a DVI-to-HDMI adaptor and four DVI video ports for multi-monitor setups.
The ASUS EAH3870 X2 is gigantic. This 27-cm long videocard uses a dual slot cooling solution and may prove especially unmanageable in cases that have hard drives mounted parallel to the videocard, rather than perpendicular.

The dual-fan cooling solution exhausts hot air back into the case, which can be troublesome in chassis that have poor in-out airflow. PCSTATS would recommend a rear exhaust fan to help get rid of all that hot air before the internal case temperature rises too high. The heatsinks are hidden behind a brushed aluminum shroud. Two copper plates cover the GPUs, and heatpipes and aluminum fins efficiently work to disperse the heat into the surrounding air.
When running in low-usage mode while doing 2D desktop applications, the twin fans of the ASUS EAH3870 X2 are imperceptibly quiet. We did run into an issue with the fans not ramping up full speed under high GPU load - this behaviour can be customized using a special tweak in the Catalyst software, which PCSTATS covers in more depth later in this article.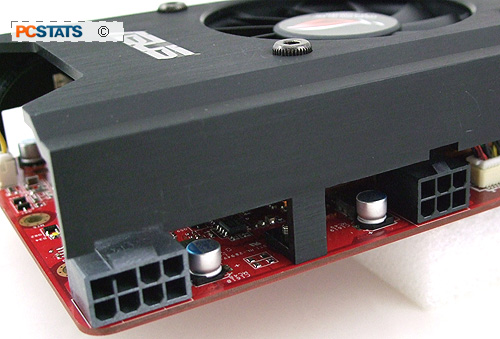 Under full load with the fans turned on, the thermal solution is loud, but not vacuum cleaner loud, and temperatures are maintained at a reasonable level. However, if the fan fails to ramp up to full speed the heatsink will get really hot, the black aluminum frame actually reached a temperature of 60-70C degrees!
Let's examine the overclockability of twin Radeon RVR670 GPUs next, but first a quick look at the Radeon HD 3870 X2 and what it brings to the table!