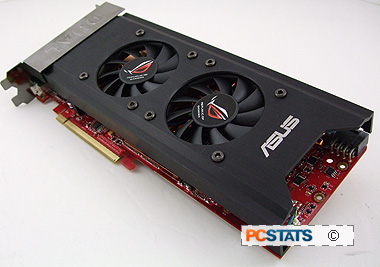 ATI's Radeon HD 3870 X2 series pairs two R670 GPUs together. Each CPU is made on the 55nm process, and the chips containing a rather ominous 666 Million transistors. By the numbers, the R670 feature 320 stream processors, 16 raster operation units and 16 texture units. The ASUS EAH3870 X2 PCSTATS is testing has been factory overclocked by ASUS to an 850MHz core clock speed with a 950MHz memory clock. That's an increase from the ATI default clock speed of 825MHz GPU. The 1GB of DDR3 memory runs at 950Mhz (1900Mhz DDR), which is up from the stock speed of 900MHz.
Functionally, the twin R670 chips on the ASUS EAH3870 X2 co-operate just as if they were on two separate videocards in two separate PCI Express slots. This is possible due to the fact that the Crossfire logic is actually built directly into the die of the R670 GPU.
Each R670 chip simply requires a means of transferring the necessary synchronization data to any other compatible GPUs. The HD 3870 X2's design provides an internal PCI-Express switch (based on the PCI Express 1.1 standard, so capable of a maximum of 4GB/s bandwidth) which connects the two cores and carries data in and out of the card. Each GPU has access to a dedicated 512MB of video memory.
ATI has designed the HD 3870 X2 to use DDR3 memory, rather than the faster DDR4 memory used in the standalone HD 3870 reference cards. Why this should be is not really clear, as ATI's next-generation dual R770 (HD 4870 X2) design uses DDR5 memory… Possibly the interconnects on the 3870 part necessitate slower and more stable video memory, while the faster connections are better suited to the HD 4870 X2.
On the other hand, the HD 3870 X2 sets the default clock speed of its twin GPUs 50Mhz higher than the stock Radeon HD 3870.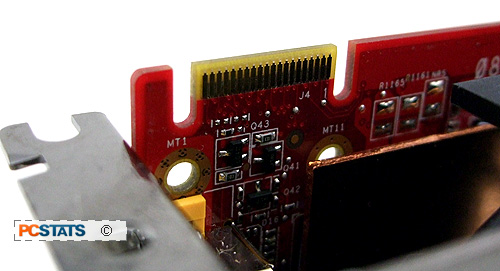 Microsoft's newest graphics API, DirectX 10.1 is fully supported by the Radeon HD 3870 and HD 3870 X2. Also included in the HD 3870 X2's feature set are additional HD video display features designed to enhance blu-ray video playback better. This brings the videocard's hardware enhancement features in line with the new features offered by the latest iterations of the newly triumphant blu-ray video standard.
ATI/AMD's CrossfireX feature is supported, of course, with provisions for up to four GPUs; 4 x single GPU videocards or 2 x dual GPU videocards. The Radeon HD 3870 X2 is only compatible with other videocards in the 38xx series, sadly.
Next up, some serious power consumption values...