Abstract: The AMD Radeon HD3300 integrated graphics built into the Foxconn motherboard PCSTATS is testing in this review has plenty of power for 2D desktop activities.


80% Rating:

Home > Reviews > Motherboards > Foxconn A7DA-S
Extra performance worth the extra price?
The Foxconn A7DA-S' most important feature is its integrated Radeon HD 3300 graphics processor & 128MB of dedicated DDR3-1333 Side Port Memory, courtesy of the AMD 790GX chipset. AMD has taken an already "high-performance" IGP, the Radeon HD 3200 found in the AMD 780G chipset, and overclocked it as well as expanding its graphics capabilities, making this the most powerful integrated graphics motherboard that PCSTATS has tested so far. That's like saying it's the biggest rubber duckie in the bathtub, just keep the superlatives in perspective.
While this does sound like great news for gamers, who have typically been unable to do any gaming on integrated graphics platforms at all due anemic real-time 3D performance, it's not a replacement for a discrete videocard yet. It's also worthwhile to take cost into consideration if you're considering an AMD 790GX chipset based motherboard.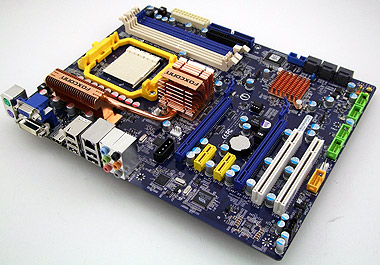 For around $170CDN / $125 USD / £80 GBP, the Foxconn A7DA-S motherboard is generally more expensive than most integrated graphics motherboards, which tend to be clustered in the entry-level segment of the market. That same amount of money could get you a board based on Intel's P45 chipset, or AMD's 790FX chipset, both of which will also support dual Radeon videocards in Crossfire mode, although this time with x16/x16 lanes of PCI express bandwidth each, double what the AMD 790GX chipset is capable of. Of course if you have no plans to Crossfire up videocards, that's a moot point.
(UPDATE: Newegg's got a deal on the Foxconn A7DA-S till the end of December '08 for $95 USD - so that changes things... at that price the A7DA-s becomes pretty darn competitive.)
The reason Foxconn's A7DA-S' motherboard is more expensive - and indeed, the reason for the increased price on all AMD 790GX motherboards - is because of the faster integrated graphics and on-motherboard memory. Aside from that, there's not much of a difference between this motherboard and those based on the AMD 780G chipset. It won't be any better as a HTPC motherboard or give many additional features that a workstation computer would need, it's really only more appealing to gamers.
But is it appealing enough? Despite being the most powerful IGP offering that's crossed PCSTATS benches, it's still not fast enough to play the types of games that warrant its enthusiast-level pricing. Crysis might be playable, but so much of its graphical splendor is lost at 1024 x 768 low quality settings that the experience isn't as enjoyable. Adding an additional graphics card into one of the PCI Express slot is a must for anyone who's serious about 3D gaming.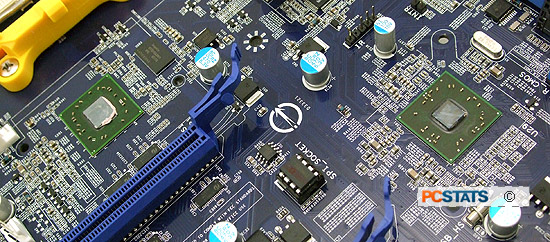 Likewise, Hybrid Crossfire is still a pointless proposition - buying a Radeon HD 3450 and pairing it with the 790GX chipset still won't yield playable framerates in most of today's games and is both slower and more expensive than buying a non-integrated motherboard and a low-end Radeon HD 4000-series videocard.
Foxconn's A7DA-S motherboard offers up dual PCI Express x16 slots which support CrossfireX in x8/x8 mode if you desire serious gaming performance along with its healthy dose of HD content output capabilities. Additionally, as the board has four slots of DDR2-memory slots, it'll take as much as 8GB of RAM - ideal for 64-bit Windows operating systems.
The Foxconn A7DA-S motherboard is a great candidate for home theatre PC builders because it does have HDMI, VGA and DVI-D outputs (with HDCP compliance) on the rear panel - particularly as AMD`s 790GX chipset and its Universal Video Decoder offload high-definition Blu-Ray H.264/VC1/M-PEG2 content processing from the CPU. Lower processor overhead when processing HD content generally assures smoother playback.
It also would have been nice to see an S/PDIF plug on the I/O panel, and a couple USB brackets supplied with the board. HTPC builders should also keep in mind that cheaper motherboards based on the AMD 780G chipset will have a nearly identical feature set when it comes to handling High Definition content playback.
Ultimately the Foxconn A7DA-S motherboard is designed well, but priced a little higher than we'd like to see it. The Radeon HD 3300 is faster than AMD's previous IGPs, and many current integrated chipsets from nVidia and Intel, but not fast enough to compete with a mainstream standalone videocard in most 3D game environments. Given that, and the price-point of the Foxconn A7DA-S, if HDMI is all you really need there are other AMD-based IGP motherboards on the market which offer very similar features while being more competitively priced. Unfortunately, if anything more than low to moderate 3D gaming is in the cards for you, you`ll still need to shell out for a decent videocard.
Find out about this and many other reviews by joining the Weekly PCstats.com Newsletter today! Catch all of PCSTATS latest reviews right here.
Related Articles
Here are a few other articles that you might enjoy as well...
- MSI X48 Platinum Intel X48 Express Motherboard Review
- MSI P35 Platinum Combo Intel P35 Express Motherboard Review
- ECS P45T-A Intel P45 Express Motherboard Review
- Biostar TPower I45 Intel P45 Express Motherboard Review
- ASrock Penryn 1600SLI X3-WiFi nForce 680i SLI Motherboard Review
- MSI K9A2 Platinum AMD 790FX Motherboard Review
- Asus Maximus Extreme Intel X38 Express Motherboard Review