With each successive generation integrated graphics have becoming more powerful, more versatile, and less the butt of snobby geek jokes.... To be frank, it's now easier than ever before to put together a good computer system on the ultra cheap. Slap in an affordable CPU, lock in 2GB of cheap DDR2 memory, and connect up the drives and power supply to the right motherboard, and there you go - a fully capable computer for office work, email, and even High Definition Blu-Ray movie watching. You don't need to spend a cent on a "real" videocard.
The AMD Radeon HD 3300 integrated graphics built into the Foxconn motherboard PCSTATS is testing in this review has plenty of power for these 2D desktop activities, HD content playback and so on. 3D gaming performance is of course a little less than assured... but that's why the Foxconn A7DA-S motherboard has a full compliment of PCI Express 2.0 x16 expansion slots. If you demand 3D gaming with a punch, (as opposed to a quiet wimper) you can pop in one, or two AMD videocards like the Radeon HD 4850 and Crossfire them up!
Foxconn's A7DA-S motherboard is based on the AMD 790GX chipset, the successor to the well-recieved AMD 780G. What the 790GX brings to the table is faster integrated graphics (in the form of the integrated Radeon HD 3300 with its own 128MB DDR3-1333 Side Port Memory) and a new AMD southbridge called the SB750 core logic. These two components make for an comprehensive feature set that goes beyond the standard integrated graphics offering, we'll talk more about that in a moment.

Foxconn A7DA-S Motherboard



Includes:
User's Manual, Driver CDs, Ultra/133 IDE Cable, (2) Serial ATA Cables, SATA power cable, Floppy Cable, I/O Shield.
Aside from the AMD 790GX core logic, Foxconn's A7DA-S motherboard offers up dual PCI Express 2.0 x16 slots which can be run in Crossfire X mode, albeit at x8/x8 PCI Express mode each. There are a pair of PCI Express x1 and legacy PCI slots for future expansion, six SATAII ports which support RAID 0, 1 5 and 10, as well as a single IDE connector for legacy optical drives. The Foxconn A7DA-S motherboard retails for around $170CDN / $125 USD / £80 GBP. (UPDATE: Newegg's got a deal on the Foxconn A7DA-S for $95USD till the end of December) It supports AMD socket AM2/AM2+ processors from the AMD Athlon 64 and Sempron all the way up to the 140W Phenom X4 series. Its four memory slots can accommodate up to 8GB of DDR2 memory, at speeds of 1066, 800, 667 or 533MHz.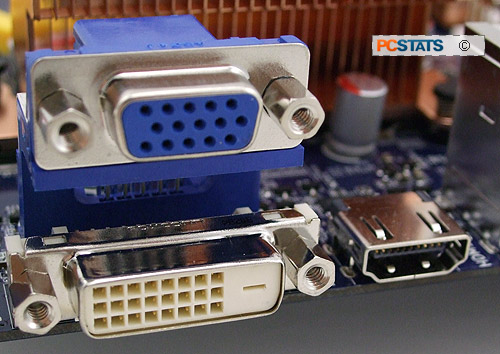 Like many motherboards based on the previous generation AMD 690G/780G chipset, the 790GX-based Foxconn A7DA-S also includes HDMI, VGA and DVI-D display outputs.
These video ports make it possible to connect this board up to an HDTV or a projector for viewing high-definition Blu-Ray H.264/VC1/M-PEG2 content without having to put out for a separate videocard! Best of all, HD content processing is off loaded from the CPU to AMD's onboard Unified Video Decoder (UVD).
Balancing Cost and Features
Foxconn's A7DA-S motherboard offers a good balance between its integrated components and expansion with discrete hardware. Incidently, for those who've always wondered but were affraid to ask, "integrated" describes features that are built into the chipset, while "discrete" describes physical devices like a separate PCI Express videocard, or PCI based tv-tuner.
In addition to its integrated Radeon HD 3300 graphics processor, Foxconn A7DA-S sports a pair of PCI express x16 slots that can be run at 8 lanes of bandwidth each in AMD Crossfire mode. This isn't quite as nice as having a 16/16 Crossfire configuration, but it ought to be sufficient to handle any current graphics card. The videocard slots are intelligently positioned on the motherboard, so even when a pair of dual-slot videocards plugged in, there's going to be enough room left over for a PCI Express x1 card and a standard PCI card.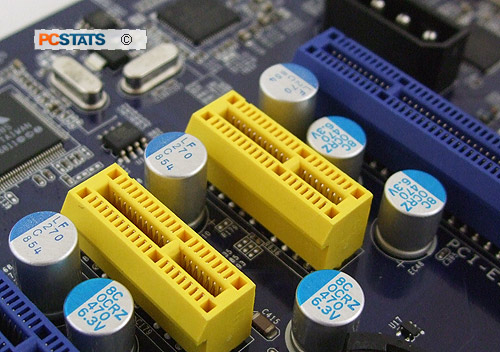 Looking at the I/O panel on the Foxconn A7DA-S motherboard we find a trio of display outputs - DVI-D, VGA and HDMI. However, when running on the Radeon HD 3300 integrated graphics alone, only one of the digital outputs can be used. So while it's possible to power dual displays using the DVI-D and VGA ports, using the DVI-D and HDMI connection at the same time isn't.
The HDMI connection carries an audio signal, making it a convenient means to link the A7DA-S to your home theatre HDTV. It's HDCP compliant, so your fancy Blu-Ray movies will allow themselves to be played too.
In addition to the HDMI audio output, the A7DA-S also features 7.1 channel High Definition Audio output via a Realtek on-board audio codec. There's a header for SPDIF-output on the PCB, although it would have been nice to see a corresponding output on the I/O panel.
On the peripheral front, the Foxconn A7DA-S motherboard includes four USB jacks and one firewire port. The firewire connection is great, especially for owners of handycams and midi devices, but having only four USB ports is a little limitng. Even casual PC users will quickly max out four USB ports, and while the A7DA-S does have four additional USB headers (meaning an additional eight USB slots), no brackets are supplied with the board to take advantage of them!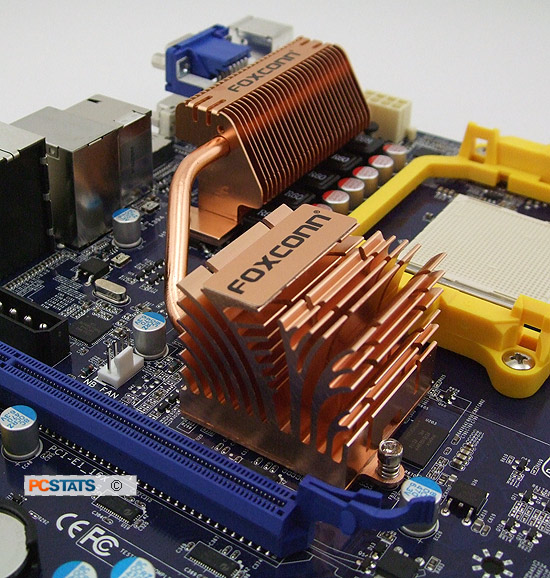 Foxconn's A7DA-S motherboard supplies six SATA II ports for connecting storage drives in addition to single IDE and floppy connector. The SATA connectors are mounted parallel to the PCB, which is good for users who like to keep cabling clean.
While the motherboard manual and product description describe one of the SATA ports as being designated for eSATA, there's no physical difference between it and the other SATA ports.
The A7DA-S doesn't come with all that many goodies aside from the motherboard itself - it's $60 more expensive than comparable boards based on the 780G chipset, but most of that extra money goes into the graphics chipset. An extra set of USB brackets to plug into the on-board USB headers would have been particularly welcome, but are absent.
All Solid Capacitors
It's a sign of the times that even mainstream motherboards are using all solid-state capacitors. They're no longer luxury items, rather an important nod towards the longevity and stability of the board. Solid state capacitors won't leak, dry out or explode the same way electrolytic capacitors can, and that can extend the lifespan and long-term stability of a motherboard.
The passive heatpipe cooling solution on the AMD 790GX northbridge is connected to a large copper fin heatsink by the processor. The system silently cools both chipset and processor VRM circuitry using nothing more than the exhaust airflow from the processor heatsink. Let's meet the AMD 790GX chipset next, then see just how power efficient this platform can be with the onboard graphics alone.... 50W or 120W? What's your guess?