Overclocking Results:
The AMD 790GX chipset is aimed at a more demanding market segment than the less-expensive 780G, which made PCSTATS hopeful that the Foxconn A7DA-S will provide a decent overclock. After lowering the CPU multiplier and setting the RAM, Northbridge and CPU frequency clock speeds to manual, the motherboard's bus speed was increased by 15MHz increments, starting at 200MHz.
Overclocking from 200MHz up to 225 MHz was no problem, but beyond that graphical artifacts started to appear on boot-up and Windows Vista would begin to hang and stall. Increasing the CPU voltage by .15V solved this problem, and the clockspeed was increased up to 240MHz. Unfortunately any speed greater than this would cause the artifacting to return, and no amount of voltage fiddling would fix the problem.
While not the best overclocking result, it's still not quite as good as PCSTATS has been able to achieve on similarly-priced, non-integrated AMD motherboards.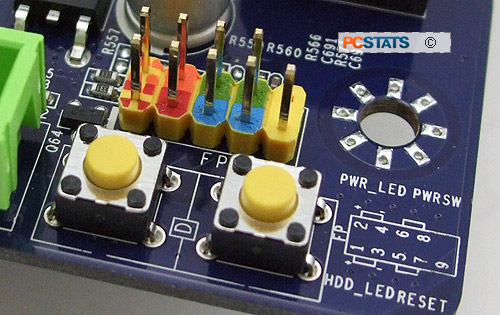 Hard power and reset buttons are convenient desktop tweaking and troubleshooting a motherboard out of the box.
It should be noted that the integrated Radeon HD 3300 graphics processor on the Foxconn A7DA-S is also highly overclockable - with minor tweaking it was possible to increase the default 700MHz clockspeed up to a stable 900MHz. While PCSTATS didn't have a chance to run benchmarks at these speeds, it should provide a noticeable boost to the IGP's gaming performance.
A quick peek into the BIOS:

Foxconn's motherboards come with a lot of tweaking options and the A7DA-S is no exception. In the Foxconn Central Control Unit BIOS page there are options for most CPU, northbridge and memory timing and voltage options.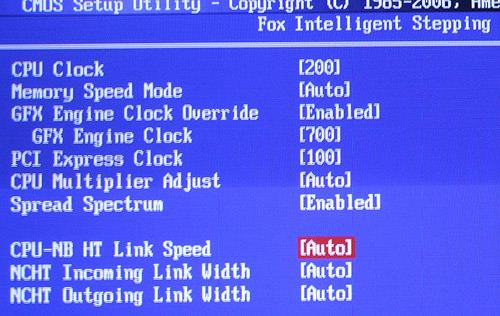 Here's a look at the basic CPU adjustment screen. CPU clockspeed can be adjusted in 1MHz increments, and the CPU multiplier can be adjusted from as low as 4X up to its natural 13X multiplier.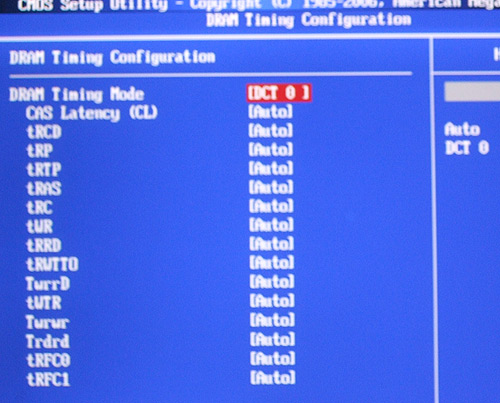 Pretty much every aspect of RAM timing can be adjusted, although for most users leaving timings on AUTO will be fine.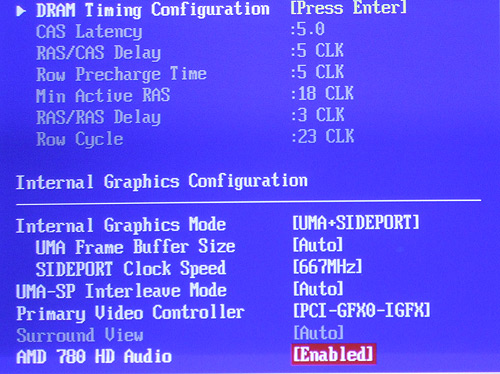 Here's the configuration page for the internal graphics controller. Overclock the graphics processor is quite easy, and might give enough extra performance to warrant some fine-tuned adjustments.
CPU voltages can be increased in +25mV increments up to a total of +375mV. The northbridge can be brought up to +300mV, and the memory can be increased to +600mV. Remember that these are the maximum voltages, and power settings this high can damage your motherboard and components, so be careful before you start adjusting them!
Prelude to Benchmarks
The details of how the Foxconn A7DA-S motherboard test system was configured for benchmarking; the specific hardware, software drivers, operating system and benchmark versions is indicated below. In the second column are the general specs for the reference platforms this AMD 790GX based motherboard is to be compared against. Please take a moment to look over PCSTATS test system configurations before moving on to the individual benchmark results on the next page.

PCSTATS Test System Configurations
test system
reference system #1
reference system #1
processor:
amd Athlon64 X2 5000+ (AM2)
AMD Athlon64 X2 5000+ (AM2)
Intel Core 2 Duo E6750 (775)
Clock Speed:
13 x 200 MHz = 2.6 GHz
13 x 200 MHz = 2.6 GHz
8 x 333 = 2.66GHz
Motherboard:
Foxconn A7DA-S (AMD 790GX)
ECS A780GM-A (AMD 780G)
Biostar TF8200 A2+ (Geforce 8200)
Foxconn A690GM2MA (AMD 690G)

Intel DG45ID (Intel G45)
ECS G33T-M2 (Intel G33)

Videocard:
MSI NX8800GTS-T2D320E-HD-OC
Memory:

2x 1024MB Corsair Twin2X2048-6400C4

Hard Drive:
74GB Western Digital Raptor WD740
CDROM:
AOpen Combo 52x
PowerSupply:
PC Power & Cooling TurboCool 510 SLI
Heatsink:
AMD Athlon64 FX-62 Reference
Intel E6750 Reference
Software Setup:

Microsoft Windows Vista Ultimate
ATi Catalyst 8.8
nVIDIA Forceware 169.25

Microsoft Windows Vista Ultimate
Intel INF 9.0.0.1009
nVidia Forceware 169.25
Benchmarks:

SYSMark 2007 Preview
SiSoft Sandra 2008
Super Pi
PCMark Vantage
3DMark06
3DMark Vantage
FEAR
Call of Juarez
Lost Planet
Crysis