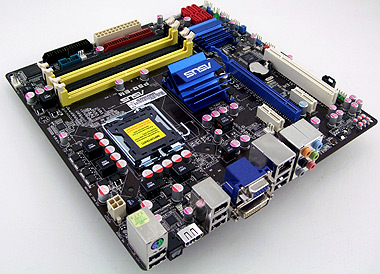 The Asus P5Q-EM motherboard is an impressive piece of work for cost-concious applications that require smooth HD playback. The Intel GMA X4500HD integrated graphics processor is a clear improvement over Intel's previous generation IGP, but it is still very much and IGP with limited use. Standard desktop applications running on the G45 Express IGP - check. High Definition 1080P Blu-Ray playback over the Intel X4500HD - check. Playable framerates from current 3D DirectX10 games over the G45 Express - nope. The G45 is technically DX10 compliant, and you may be able to play games at lower resolutions, but save yourself the pain and spring for a good economical PCI Express x16 video card from nVidia or ATI.
AMD engineered its 790GX IGP with onboard memory to be more capable in the gaming realm. Intel is taking a different approach, focusing exclusively on good solid High Definition content playback over DVI/HDMI outputs. In that respect the Asus P5Q-EM meets all requirements. Intel's GMA X4500HD is more than capable of HD video playback because Intel engineered H.264, VC-1 and MPEG-2 hardware decoding into the G45 Express chipset so these tasks are offloaded from the processor.
Azalia HD codec for 8.1 channel stereo output can output over the HDMI jack or via the optical S/PDIF, which is a nice touch for those of you putting together a killer home theatre system on the cheap.
Overclocking was not a particular strong suit for the Asus P5Q-EM motherboard, and frankly PCSTATS was expecting better from the G45 Express chipset. Raising the front side bus from 333MHz to 400MHz wasn't a problem, but moving past 430MHz proved impossible. As always though, overclocking will depend on your exact motherboard, so PCSTATS overclocking findings may not be indicative of the performance you get at home.

So how does this all stack up as a value? Well the Asus P5Q-EM motherboard retails for around $180 CDN ($150 USD, £99 GBP).There aren't many other microATX motherboards out there that support these kinds of features, indeed a lot of ATX motherboards can't compete with the Asus P5Q-EM's feature set.
Home theatre PC aficionados or those simply looking for a tiny motherboard with a giant-sized feature list would do well to keep an eye on the Asus P5Q-EM motherboard. It offers many features that home theatre system builders and even general office PC workstations will appreciate, while being versatile enough to justify the premium price.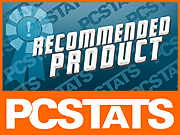 Find out about this and many other reviews by joining the Weekly PCstats.com Newsletter today! Catch all of PCSTATS latest reviews right here.
Related Articles
Here are a few other articles that you might enjoy as well...
- Biostar TPower N750 nForce 750a Motherboard Review
- Gigabyte GA-EP45-DQ6 Intel P45 Express Motherboard Review
- ECS A780GM-A AMD 780G Motherboard Review
- Biostar TF8200 A2+ GeForce 8200 Motherboard Review
- Foxconn A7DA-S AMD 790GX Motherboard Review
- MSI X48 Platinum Intel X48 Express Motherboard Review
- MSI P35 Platinum Combo Intel P35 Express Motherboard Review
- ECS P45T-A Intel P45 Express Motherboard Review
- Biostar TPower I45 Intel P45 Express Motherboard Review
- ASrock Penryn 1600SLI X3-WiFi nForce 680i SLI