Abstract: To complement the High Definition decoding of the G45 Express, the P5Q-EM offers up HDMI, DVI and VGA video outputs, allowing you to output HD video right to a home theatre display without any additional expense.


89% Rating:

Home > Reviews > Motherboards > ASUS P5Q-EM
Intel G45 Express Chipset
The Intel G45 Express Chipset is a combination of Intel's popular P45 Express chipset paired with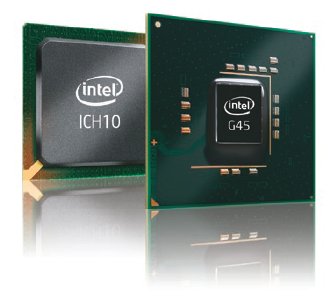 its Graphics Media Accelerator X4500HD integrated graphics processor, and unlike some Intel's earlier integrated chipset designs, compromises very little to accommodate its on-board graphics.
The GMA X4500HD graphics processor contained within the G45 Express chipset, like the rest of the G45 platform, isn't a radical departure from the GMA X3500 that was introduced with the G35 Express. Astute readers may have noticed the eponymous 'HD' suffix that the newer chipset has acquired, and the reason its there is to herald the addition of Blu-ray and 1080p content playback with hardware acceleration, a first for Intel chipsets.
Intel's Clear Video has become the focus of the GMA X4500HD, with the goal of using the integrated graphics to do full hardware decoding for major video codecs. The massively parallel microarchitecture of a GPU makes it much more efficient at processing and decoding video than can be managed with even cutting-edge CPU designs, so as resolutions and bitrates for high-definition video climb upwards it becomes increasingly important for the GPU to shoulder more of the video processing load.
For the GMA X4500HD, this means that H.264, VC-1 and MPEG-2 can all be fully decoded using the on-board hardware, with only minor CPU overhead. The GMA X4500HD is DirectX 10 and Shader Model 4 compliant, and supports DisplayPort interface at resolutions up to 2560x1600 (motherboard manufacturer implementations vary).
To get all this video processing power on to big screen TVs and high-resolution monitors, the GMA X4500HD now supports HDMI with audio, a feature that has been integrated onto the Asus P5Q-EM motherboard. Using the G45 Express chipset, the P5Q-EM can output high-definition content over its HDMI port at 720p, 1080i or 1080p resolutions, with support for HDCP as long as its plugged into an appropriate display.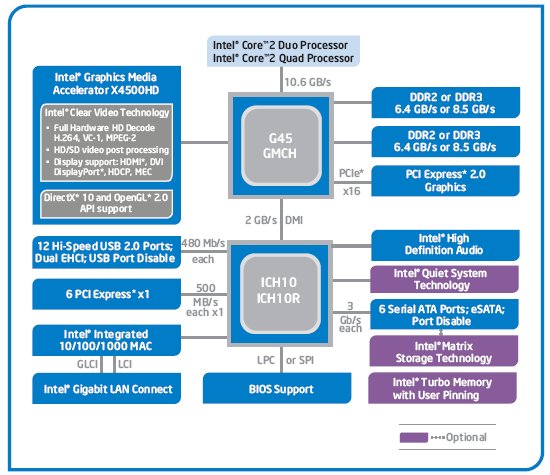 Let's be clear, the Intel G45 Express is an integrated video chipset made with High Definition content playback in mind, not 3D gaming. It handles better than the previous IGP generation of course, but is still woefully underpowered for the majority of modern games. This is the very reason the Intel G45 Express offers users a 2nd generation PCI Express x16 connection for discrete videocards.
Here's an overview of how the G45 Express chipset stacks up against Intel's IGP offerings from the previous two generations:
Intel Integrated Chipset Feature Breakdown
Intel G33 Express
Intel G45 Express
Intel G965 Express
CPU
LGA775 Core 2 Duo
LGA775 Core 2 Duo
LGA775 Core 2 Duo
Front Side Bus (FSB)
1333/1066/800 MHz
1600/1333/1066/800
1066/800/533 MHz
Intel Flex Memory Technology
Yes
Yes
Yes
Dual Channel Memory Support
DDR2 1066/800/667
DDR3 1333(unofficial)/1066/800

DDR2 1066/800/667
DDR3 1333/1066/800

DDR2 667
Maximum Memory Capacity
8GB
4GB (DDR2) 8GB (DDR3)
8GB
Integrated Graphics
GMA 3100
GMA X4500HD
GMA 3000
PCI Express x16
1
1 (PCI Express 2.0)
1
PCI Express x1
6
6
4
Intel Matrix Storage Technology
Yes
Yes
Yes
SATA/IDE HDD
6/0
6/0
6/0
SATA Speed
3Gb/s
3Gb/s
3Gb/s
RAID
0, 1, 5, 10 (with ICH9R)
0, 1, 5, 10 (with ICH10
0, 1, 5, 10 (with ICH8R)
Hard Drive NCQ
Yes
Yes
Yes
USB 2.0 Ports
12
12
10
PCI Masters
6
6
6
Audio
High Definition Audio (Azalia)
High Definition Audio (Azalia)
High Definition Audio (Azalia)
The Intel G45 northbridge is built on a 65nm die, while the previous generation G35 and G33 chipsets were built on more power-hungry 90nm processes. The P45 and G45 chipsets are also the first core logic to be paired with the Intel ICH10R southbridge.
Intel's G45 Express officially supports socket 775 processors from a front side bus of 800MHz to 1600 MHz inclusive. Memory support has also been expanded - certain motherboards, like the P5Q-EM being reviewed today, can accommodate up to 4GB of DDR2 RAM at 667/800/1066MHz speeds, which provides the kind of flexibility needed for overclocking.
Next PCSTATS will test the HD playback capabilities of the Asus P5Q-EM and Intel G45 Express chipset.