Overclocking Results:
The Intel G45 Express chipset is largely based on the P45 Express, which has proven to be an outstanding overclocker. This made for some pretty high expectations for the Asus P5Q-EM motherboard. As standard, PCSTATS dropped in a 45nm 1333MHz FSB Intel Core 2 Duo E8400 processor and a 2GB set of Corsair's DOMINATOR Twin2X2048-8888C4DF memory. Like a fine wine, we just find overclocking 'easier' with Corsair memory in the socket.
Before overclocking began the CPU clock multiplier was lowered to 6x, and the memory set to run at 1:1. Starting at 333 MHz FSB the speed was increased in 15 MHz jumps.
While overclocking was easily accomplished by simply raising the FSB from 333 to 390MHz, the system became unstable in Windows until the G45 northbridge voltage was increased from 1.22V to 1.24V. The system then booted to 400MHz, but any further increases became unstable. Further voltage increases brought the northbridge to 1.26V, the vCore to 1.3V. This allowed the P5Q-EM motherboard to overclock to 430MHz FSB and remain stable in Windows Vista, but any increases past that wouldn't fly.
Honestly, we were hoping for better results based on the P5Q-EM's pedigree, but considering this is a microATX motherboard it's unlikely that those that buy it will be doing a whole lot of overclocking anyway.
BIOS Tweaking Tools
The BIOS controls how the motherboard communicates with all the peripherals connected to it, and is a crucial component for any good well rounded motherboard. PCSTATS is only going to highlight the tweaking features so you'll know what to expect.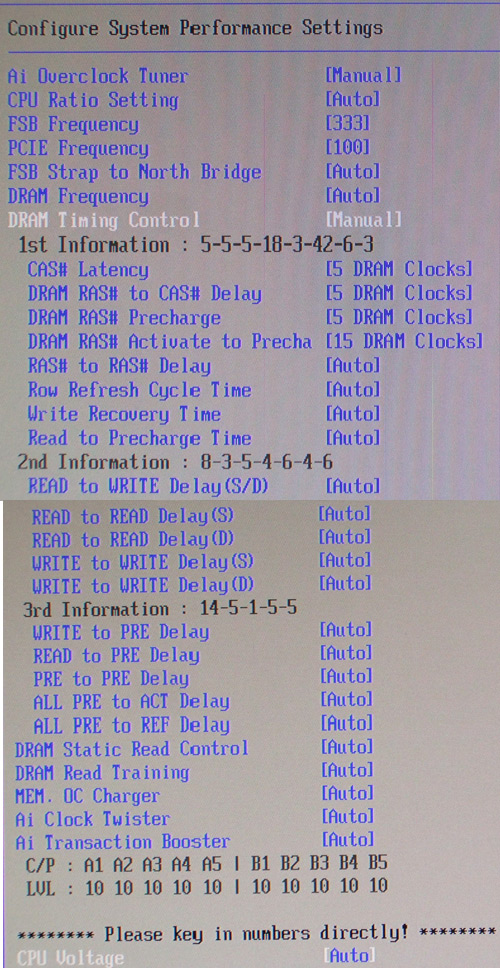 As befitting an Asus motherboard, the P5Q-EM lets you tweak pretty much every setting on the motherboard, including every last aspect of RAM timing.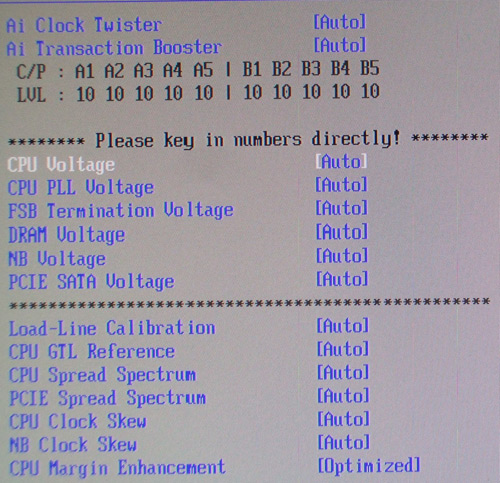 Voltages are keyed in directly in the BIOS, and can be raised in .01V increments. Rather annoyingly the current voltage isn't listed in the main motherboard voltage configuration screen.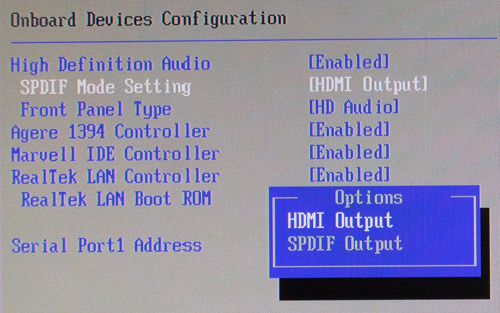 Here it's possible to toggle between the various kinds of sound output available on the Asus P5Q-EM motherboard - over the HDMI cable or over the optical SPDIF cable to a separate home theatre stereo system. These options can also be disabled if a discrete sound card is used.
Prelude to Benchmarks
The details of how the Asus P5Q-EM motherboard test system was configured for benchmarking; the specific hardware, software drivers, operating system and benchmark versions is indicated below. In the second column are the general specs for the reference platforms this Intel G45 Express chipset-based motherboard is to be compared against. Please take a moment to look over PCSTATS test system configurations before moving on to the individual benchmark results on the next page.

PCSTATS Test System Configurations