With its included stand attached, the Samsung LN40A650AIF measures 27.5 inches by 39.3 inches total, with a depth of 3.3 inches for the screen and 11.8 inches for the base. Not including the bezel, the screen is 19.6 inches tall and 34.8 inches across, with a diagonal of 40 inches. The entire screen weighs about 20kg.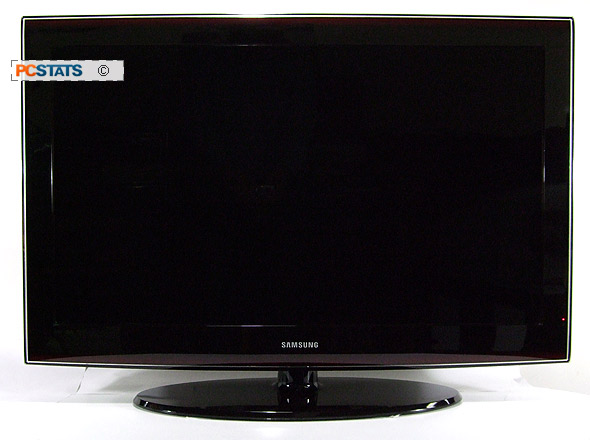 The Samsung LN40A650A has a detachable base that can be swapped out if the unit is attached to a VESA wall mount.
The screen has VESA mounts on the back spaced 7.9 inches apart so the Samsung LN40A650A can be fitted to a flush wall mount if you choose.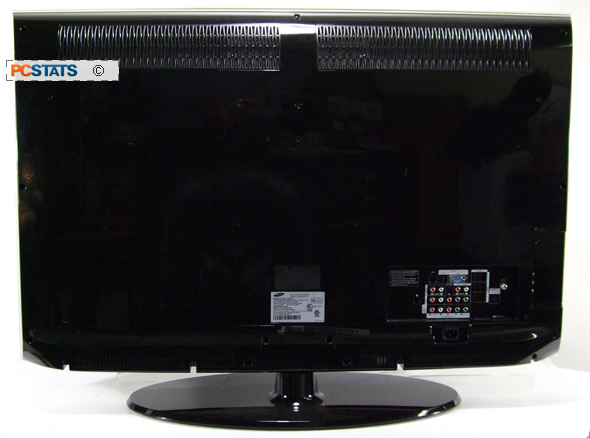 The rear of the TV houses the rear panel connectors, the VESA mounts and grating that exhausts heat away from the LCD. Power is supplied by single AC power port just below the data connections.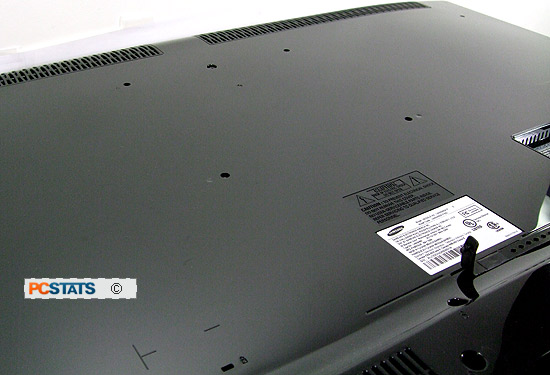 There are four VESA mounts spaced at 200mm, designed for M6-sized screws. This unit is light enough that it can be mounted on VESA-compliant articulated arms.
The side panel houses the analog inputs, making it easy to plug in camcorders and cameras that are frequently used. There is also a headphone jack here and one additional HDMI port. These jacks are easy to reach when the monitor is mounted to a wall, or even when sitting on top of an entertainment center.
Next up PCSTATS goes in for a closer look at this glossy red 40" LCD from Samsung, including one unfortunate shortcoming...
HD Media Inputs and Outputs
Since HDTV's have become multifunction devices, it's important to have a display that can be hooked up to your next-gen console, Sony Playstation, XBOX 360, Blu-ray player, Camcorder, home theatre PC, digital TV box, VHS recorder and still have outputs to connect to a stereo receiver or speaker system.
The Samsung LN40A650A manages all of these connections, some through its rear panel and a few more through an additional side panel.
Grouped together at the back of Samsung's LN40A650A HDTV are three HDMI inputs, plugs for component input, an antenna input for the DTV receiver and a VGA input so a computer can be hooked up for displaying presentations and the like.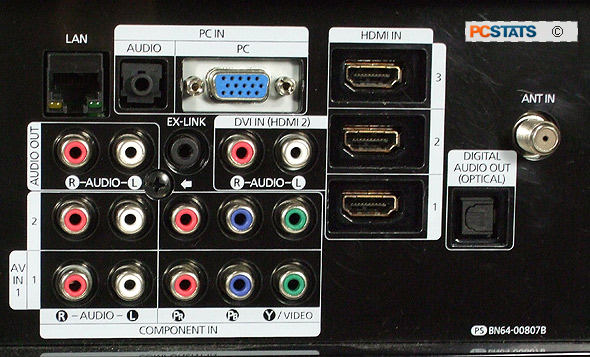 Inputs on the Samsung LN40A650A 40" LCD TV are numerous so you can connect a broad variety of devices (new and legacy) to the screen. On the back we find (1) antenna connector, (3) HDMI inputs, two sets of Component (Y, Pb, Pr) and L/R coaxial audio input, one 15-pin analog VGA computer monitor cable hook up and associated mini-headphone jack for audio from a PC. An additional L/R coaxial audio is associated with one HDMI input.
Outputs include one optical SP/DIF and one coaxial for audio. The RJ45 LAN port is for streaming news stories, weather and stock information directly to the TV. Ex-link is for motorized wall mounts.
Audio signals can be passed into the speakers by RCA jacks paired with either of the component inputs, through a TOS-link cable next to the VGA inputs, or through a dedicated RCA input used when a DVI to HDMI adapter is used for video. Audio output for a home theatre can be run through Optical, RCA or coaxial cable.There's also a RJ-45 jack that can be used for the LN40A650A LCD HDTV's InfoLink features.


On the side panel we find a mini-headphone jack output, SVideo, HDMI, composite (RCA) video and L/R coaxial audio inputs. The RCA video jacks and additional S-Video connections can be used with older peripherals like handycams and share the same RCA audio input. There's also a Wiselink input for connecting USB mass storage devices.
On the left hand side of the Samsung 650A is an auxillary side panel full of commonly used connections. On it we find an HDMI input, a USB port that used for firmware updates or WiseLink, and legacy inputs for S-video and composite video input. There's also a single 3.5mm stereo headphone jack for private listening.
Altogether that adds up to four HDMI inputs, two component inputs, RCA and S-Video inputs, an ATSC/VHF RF antenna, a VGA input with an additional optical input, as well as LAN and Wiselink USB connections. Outputs are a 3.5mm stereo jack for headphones and an optical digital audio output for stereo receivers. Unfortunately the LN40A650A is missing a DVI output, which means that most PC owners will need to use either a HDMI or VGA adapter to get the signal from a DVI-based video card onto their TV.
Samsung 650A HDTV does a little more than just playback conent. There are some special features on the next page you should know about...