It's been a pleasure testing Samsung's LN40A650A LCD HDTV. Aesthetically it's a beautiful display, and everyone who passed by it couldn't help but lean in to take a closer look at the black-cherry bezel, the smooth lines, and the overall glossy finish that extended across the 40" display. Judging by the amount of drool from co-workers, it looks good enough to eat.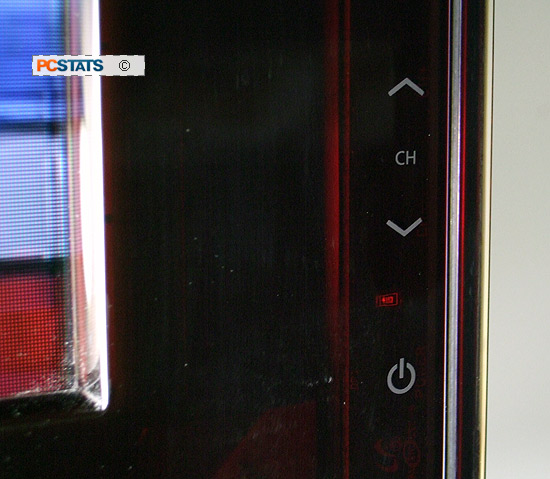 The outside control buttons are subtle and stylish, but difficult to center ones finger direction over the icon particularly in low light conditions.
There are a few downsides to its pretty face though. Combining an electronic display with a glossy bezel makes for an electrostatic dust magnet, and within a day it was necessary to wipe our Samsung LN40A650A down in order to keep it looking pretty. Keeping the bezel sleek and smooth has also rendered the on-board control panel useless in anything but bright light, since it's impossible to see or feel where the buttons are.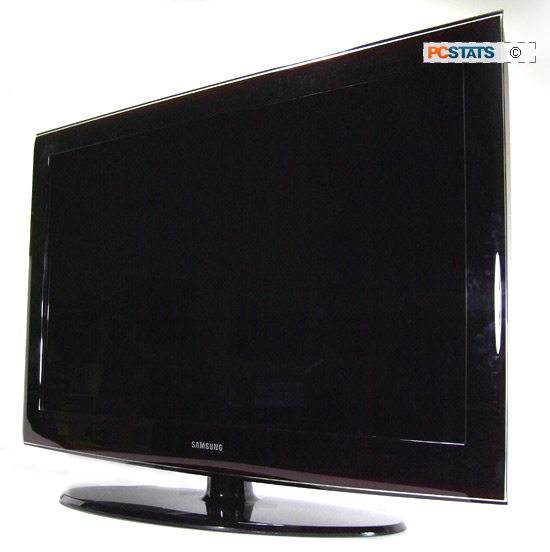 Getting the Samsung LN40A650A set up was easy, taking only a few minutes to get the TV out of the box, set up on its stand and receiving an ATSC high-definition TV signal through its antenna.
The display can swivel about 30 degrees horizontally on its stand, making it a lot easier to plug things into the rear-panel connections. The separate side-panel is also useful to quickly plug in devices like game consoles without having to reach all the way around the LCD TV.
Once everything was set up, watching high-definition movies and TV on the Samsung LN40A650A really shows just how far LCD TVs have come in the past few years.
Viewing angles are superb from both extreme horizontal and vertical positions, colour is well saturated, the TV is bright enough to be viewed in sunlit rooms (although the glossy screen does reflect more sunlight than I prefer), and since the display is 40" it's possible to put it in a living room and be sitting comfortably far away from it, yet still make out the fine definition of 1080p content.
At $2100 CDN ($1600 USD, £1150 GBP) , the Samsung LN40A650A LCD HDTV is right on par with other LCD HDTVs from Sony and Hitachi that are around the same size. The Samsung LN40A650A is one of the few that support 120Hz refresh rates through Auto Motion Plus, and its four HDMI inputs, as well as built in speakers and included DTV receiver are features that few other HDTVs can match at this price point.
If Samsung were able to improve some of the unique built-in firmware applications that are included with the LN40A650A and speed up its menu system (and put proper buttons on the front panel, but I digress), this 40" LCD HDTV would stand out from the competition even more.
As it is though the Samsung LN40A650A is still a great display for TV, movies, games and general PC use - the toughest decision for buyers will likely be whether to get the 40" model or move up to the 46" and 52" sizes.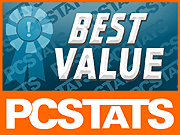 Find out about this and many other reviews by joining the Weekly PCstats.com Newsletter today! Catch all of PCSTATS latest reviews right here.
Related Articles
Here are a few other articles that you might enjoy as well...
- Samsung HLN617W 61-inch DLP Television Review
- Samsung LTM405W Tantus 40" LCD Television Review
- Samsung SPL4225 Tantus 42 inch Plasma Display Review
- Samsung DVD-L100 Portable DVD Player Review
- Samsung Tantus HCL473W 47" Rear Projection HDTV
- Samsung DVD-P401 DVD Player Review
- Samsung DVD-N501 DVD Player Review