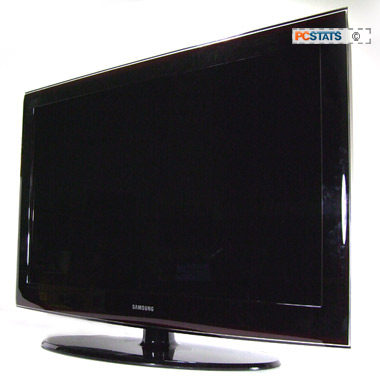 Since the HDTV market has become so competitive, Samsung needs to sweeten the deal a little. The LN40A650A has additional multimedia features that can connect it to the internet, play music and view photos, although these features do have a few caveats.
InfoLink
The InfoLink service takes advantage of the Samsung LN40A650A's ethernet port to stream news stories, stock information and weather directly to the TV.
It can be accessed as an on-screen overlay on top of movies or television, similar to picture-in-picture. While it's neat to see internet features creeping into the world of television, the InfoLink interface is still too slow and has restrictions on it.
Furthermore, the screen in PCSTATS test labs required a firmware update to accept Canadian postal codes, so it was impossible to receive weather updates for our location. News stories are provided through USA Today's online feed service, so coverage of local news pertinent to your viewing location is not a given. Having simple .RSS reading capabilities could really turn InfoLink into a killer feature for Samsung.
Wiselink
The WiseLink connection allows USB mass storage devices to playback photos and MP3s directly through the Samsung LN40A650A's USB port. JPEG photos displayed clearly when accessed off the USB device, with no additional artifacts or stretching even at large resolutions. MP3s also sounded fine, with none of the additional hissing or clicking that are the hallmarks of digital files being played back over cheap home theatre equipment.
This could potentially be a useful feature for presenting slides or functioning as a simplistic jukebox, but it's marred by a decidedly unfriendly user interface that makes it more difficult than it should be to navigate subfolders, and becomes annoyingly slow when dealing with large JPEG files.
Anynet+
Anynet+ is a compatibility standard that allows interoperability between newer Samsung receivers, DVD and Blu-ray players, home theatre systems and HDTVS, allowing them to be controlled by a single remote. The nice thing about Anynet+ is that its functions are pretty much transparent to the user, and don't require any configuration to work. \
PCSTATS set up the Samsung LN40A650A LCD HDTV with a Samsung BD-P1500 Blu-ray player, and we were immediately able to control both with the LN40A650A's included remote. Take note that to take advantage of this functionality the devices have to support Anynet+, so some older components like your VHS player may not be compatible.


The On-Screen Display (OSD) can give information on station programming, as well as specifics about indvidual episodes, movies or sports broadcasts if the station publishes this information.
Menus and options
The Samsung LN40A650A LCD HDTV has a menu system that's accessed as an on-screen overlay, displaying menu options on top of whatever's playing in the background. The menus do everything you'd expect, and bring all of the functions of the TV together in one list. It's possible to adjust the picture quality, audio settings, channel and antenna settings, inputs, launch some of the embedded applications like WiseLink and InfoLink, as well as adjust the LN40A650A's internal settings, like the internal clock.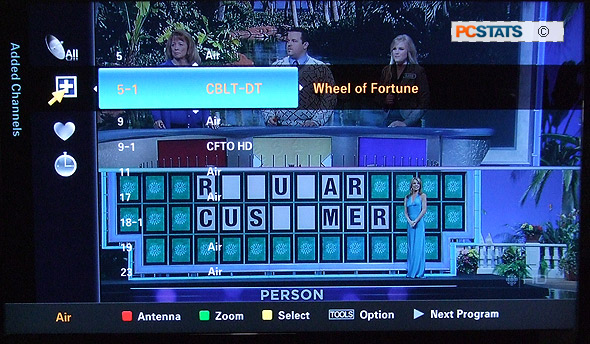 The onscreen menu appears as an overlay on top of regular programming, so it's possible to continue watching TV while browsing through channel listings.
The menus themselves are attractively designed, but are a little too slow to navigate. This problem is made worse since the on-screen display animates as it's scrolled up and down, and the TV's processor just doesn't seem able to re-draw the OSD quickly enough at fullscreen 1080p resolution. Fortunately most of the common controls for the LN40A650A television are accessible as separate buttons on the remote, so there's not too much reason for having to dig through the menus to find features.
On-Screen Menus and Settings
The onscreen menu system is colourful and comprehensive, if occasionally cumbersome to click through, though this was more because of the remote's lack of responsiveness than anything else. Let's break it down by category:
Input:
The input menu allows you to scroll through the various input options and also customize their names. So you could call composite 1, 2 and 3 'HDTV,' 'spare' and 'DVD' if you'd like.

When selecting inputs, only ones that are actually connected are highlighted and available, which is handy.

Sound:
The sound menu contains sound presets (standard, music, movie and speech) and custom sound options for bass treble and balance. Also included are toggles for the BBE sound processing, MTS and virtual Dolby surround sound effects as well as an auto-volume adjustment feature which compensates for louder or fainter audio signals between channels.

Picture:
The picture menu, as its name suggests, controls the properties of the display. From here you can choose one of the three preset picture modes: movie, game or sports, or custom to edit the display properties yourself.

Also available in this menu are colour tone options, screen size and PIP controls (which are also on the remote) and the toggles for Auto Motion Plus, which boosts the refresh rate of the picture up to 120Hz.

Setup:
The setup menu is a grab bag of options including closed caption controls, V-chip controls, time, menu language and PC setup controls. The latter allow you to adjust the display to cope with any video noise introduced by a PC connection. The menus are available in English, Spanish or French.

Channels:
Contains options for tuner and cable channel handling, including detection, fine-tuning, favorites, labeling channels, etc.
Since we know how to use it now, we can finally answer the real juicy questions. What does that 40" screen look like?