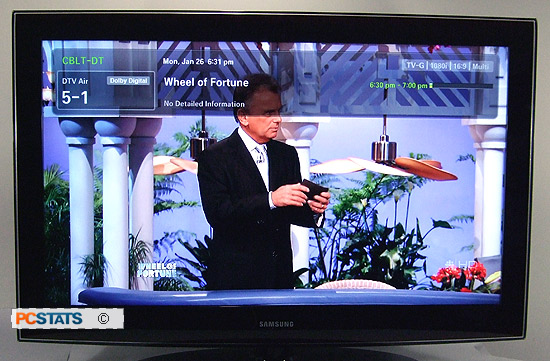 Sitting back and watching movies on Samsung's 40" LN40A650A LCD HDTV is a very pleasant experience.
At 40 inches, this Samsung display is large enough to be viewed from several feet away, but since it's running at 1080p resolution it can produce very fine detail that makes you want to move up closer to the screen.
We hooked it up to a Samsung BD1500 Blu-ray player and watched the movie 10 000 B.C. on Blu-ray disc. It was possible to pick out stray hairs on the actors heads and make out faces in large crowd scenes.
With LCD viewing angles set at 178/178, looking at the display from extreme angles and viewpoints didn't affect brightness or cause any kind of colour polarization, so putting this LCD high-definition television in a room that has couches or chairs that aren't directly facing the LN40A650A will still work well.
The PCSTATS offices get quite a bit of sunlight during the day, and we tested the LN40A650A with the sun shining into the room, which still looked fine, and then directly on to the surface of the TV, which was essentially unviewable, but this LCD TV was never meant to be used outdoors anyway. Once the sun started to go down the LN40A650A was impressively bright under normal florescent lighting, and could actually hurt the eyes a little when the lights were turned off and the backlight was set to full blast.
It's possible to use a couple of built-in screen profiles depending on what media is being played back on the LN40A650A. Scene modes include movie, game, and sports, but in practice game mode is too contrasty and tends to eliminate midtones, and sports mode tints everything with an unpleasant turquoise colour. For the most part the image quality is best in movie mode, which is good for high-contrast scenes, or just leaving the LN40A650A in default mode.
As a PC display the Samsung LN40A650A is likely quite a bit brighter and more contrast-heavy than most computer users are used to. This is easily remedied by turning down the backlight level to more manageable levels. A 40" 1080p display makes it possible to surf websites and read normal-sized text from as far as seven or eight feet away from the display, and having 1920 pixels of width makes it possible to have multiple windows tiled or several internet tabs open without the need to scroll the screen horizontally.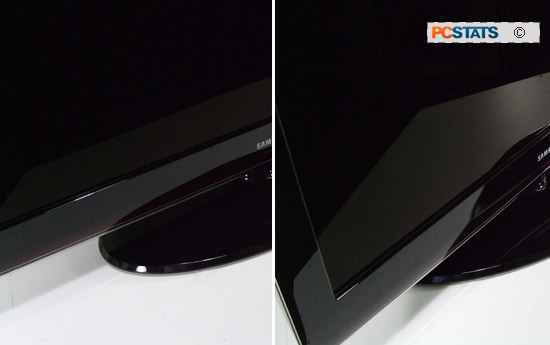 Samsung's LNA40A650A stand can be pivoted up to 30 degrees so that the side and back panel connections can be reached without having to move the TV's stand.
Does 120Hz 'Auto Motion Plus' Help or Hinder?
While HDTV broadcasts and media have a maximum quality of 1080p (which is to say, 1920 horizontal rows of pixels by 1080 vertical columns of pixels refreshed 60 times per second), the Samsung LN40A650A HDTV can take it a step further and perform motion interpolation, increasing the refresh rate to an effective 120Hz. Since this is a hardware-level implementation, the LN40A650A can even perform this interpolation on sources that are presented at lower refresh rates, smoothing them out. This feature can reduce the tearing effects in PC and console video games.
On film sources like Blu-ray movies, this tweening effect can smooth out panning shots and high-speed action sequences, at the cost of some fidelity to the original film source. Personally, I liked the look of Auto Motion Plus when we turned in for a sample viewing of 10 000 B.C. on Blu-ray disc. The differences are sometimes hard to spot, especially in parts of the movie where the camera is staying still. However once there are cuts to wide-angle panning shots Auto Motion Plus really starts to shine, showing smooth transitions that make it easy to track individual details as they move across the screen, instead of becoming unrecognizable or tearing due to motion blur.
Are 10W Stereo Speakers Good Enough?
The Samsung LN40A650A has a pair of integrated 10W speakers, which actually provide decent sound for regular television viewing. While it's obviously not going to compare to house-rumbling 7.1 channel home theatre systems that have 1000W RMS ratings, it can provide sound output that's comparable to a good set of computer desktop speakers. Several LCD TV manufacturers have started omitting speakers from their displays, which means that there are more components to purchase before your TV can actually be used.
To have a pair that actually produces decent sound at listenable volume levels is a big plus. PCSTATS tested the Samsung LN40A650A's speakers with some ATSC TV broadcasts, and it was more than adequate. In movies the 10W speakers struggled a little with extreme bass from explosions, and orchestral scores sounded a little tinny when it should have been booming, but was otherwise fine and didn't detract overly from the listening experience.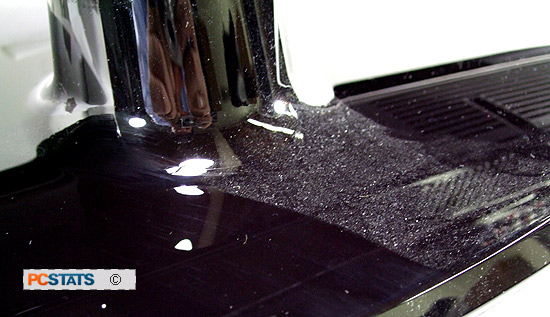 The Samsung LN40A650A is a dust magnet, and its glossy plastic surface attracts dust and shows fingerprints easily. Samsung include a microfibre cleaning cloth with the screen for this very reason. We're not big fans of high-gloss bezels at PCSTATS, this kind of finish doesn't age very well.
These speakers also support SRS TruSurround XT, which is a virtual surround sound system that gives the effect of a 5.1 channel surround system even when there are only two speakers in use. This didn't work particularly well with the Samsung LN40A650A's built in speakers, muffling the high-and mid channels which made it more difficult to hear spoken dialog, and turning up the bass so that footsteps sounded more like timpani drums.
The sound certainly didn't sound like it was coming from anywhere else but the two speakers in the front of the TV, so it might be a good idea to skip virtual surround sound unless you're using a pair of larger, external stereo speakers instead of the on-board ones. So how does this all come together? Find out if the Samsung is worth taking home or just another HDTV in a crowded market on the next page...