Abstract: The 3.2GHz AMD Phenom II X4 955 Black Edition is the companies' latest quad-core processor, and it's being released in tandem with a new memory tuning tool called Black Edition Memory Profiles, or B.E.M.P. for short.


95% Rating:

Home > Reviews > CPU / Processors > AMD Phenom II X4 955 Black Edition
AMD Overdrive 3.0 and Dragon Platform
AMD's Black Edition processors meet the needs of computer enthusiasts who have the knowledge and the skill to take a $300 processor and make it perform like a $600 chip. These are the overclocking guru's who can navigate through a BIOS menu with their eyes closed and use liquid nitrogen to keep the processor humming away at -196C. These are overclockers. AMD's gift to these brave performance daredevils is Overdrive 3.0, an updated version of its existing performance tuning and software overclocking suite that is designed to give unprecedented levels of control over system clocks and settings.
When compared to similar solutions from Intel and NVIDIA, AMD Overdrive 3.0 has far more comprehensive controls, adjustments and options. It's a tool with enough depth that even advanced overclockers will want to use it, negating the need to trek through the BIOS and continually restart the system. This latest revision brings a few new features to the table, including Black Edition Memory Profiles (B.E.M.P) which makes it easier to maximize memory performance, and Smart Profiles which can adjust processor load for greater efficiency in gaming.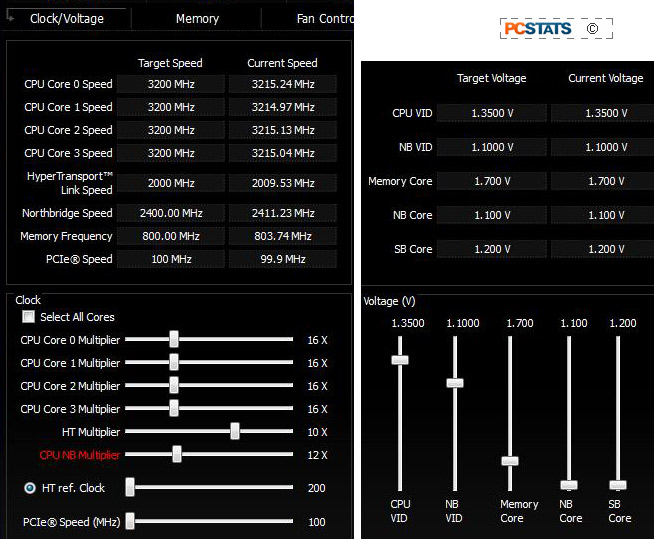 The performance control panel in AMD Overdrive 3.0. Fingertip overclocking of AMD processors, system memory and ATI videocards from one control panel.

Simple controls that automate most of the overclocking process are available to novice users; a basic slider will adjust performance from within the GUI. Using the slider, it was possible to increase the stock 16x multiplier of the Phenom II X4 955 Black Edition processor up to 17x, which essentially overclocked the processor from 3.2GHz up to 3.4GHz.
While this feature is made deliberately simplistic, it does provide a lot of feedback and information on which settings are being changed in order to improve performance. It's a good way to learn more about how your CPU and chipset function and what exactly goes on inside your system.
For advanced overclockers there are a lot more options to play with. AMD's Overdrive software can monitor voltages, CPU clock speeds, CPU multipliers, front side bus speeds, memory frequencies, PCI Express frequencies and even the core speed of the IGP and Sideport memory. There's also a separate page dedicated to memory that lists pretty much every timing option available. It would be nice to see some more built-in recommendations and ToolTips of what each RAM setting does, but as it stands the included help file at least gives a description of each variable.
A built in benchmarking utility tests Integer Computation, Floating Point Computation, Memory Speed and Cache Speed, and then returns individual scores as well as a synthesized result from all four tests combined. It's not quite as exhaustive as what's possible with PCMark Vantage or SiSoft Sandra, but it provides a good indication of how much faster your system has become after overclocking.
The stability test stresses the CPU to see if there are any potential problems caused by overclocking too far. It's possible to test Floating Point Unit and Integer calculation separately for individual cores, as well as doing overall calculation tests and checking system registers. Once the system is being stress-tested, voltage draw and temperatures can be monitored using the status monitor window, which can read temperatures, processor utilization, as well as voltages for the separate cores of the processor.
AMD Overdrive - Smart Profiles
Smart Profiles are a dynamic load balancing and overclocking tool built into the AMD Overdrive application. When the Overdrive software detects that a game has been launched, it can optimize the Phenom II X4 955 Black Edition processor to utilize an appropriate amount of processor cores for that game profile.



The Smart Profiles settings for 3DMark 2006.
In certain games that only take advantage of two processing threads, the Overdrive utility will underclock the two unutilized processor cores, and increase the frequency of the two cores the game is using. This entire process is done automatically, so the user doesn't have to worry about turning profiles on or off before gaming - although profiles must exist beforehand for the game in question.
In PCSTATS testing, the Smart Profiles were able to create some gains using the bundled profiles for 3Dmark06 and Crysis, in the range of about 3% to 5%. It's also possible to create custom profiles for any other software application you select, and for owners of Black Edition CPUs the individual core multipliers can be adjusted to set faster speeds for active cores, and lower speeds of the inactive cores, which will increase performance.




Contents of Article: AMD Phenom II X4 955 Black Edition

---

Pg 1. AMD Phenom II X4 955 Black Edition 3.2 GHz Socket AM3 Processor Review
Pg 2. — AMD Overdrive 3.0 and Dragon Platform
Pg 3. AMD Overdrive 3.0 - Black Edition Memory Profiles (BEMP)
Pg 4. Overclocking an Unlocked 45nm Phenom II X4
Pg 5. Power Consumption Tests, Test System Specs
Pg 6. System Benchmarks: SYSMark 2007, PCMark Vantage
Pg 7. Synthetic Benchmarks: Office Productivity, SiSoft Sandra
Pg 8. Calculation Benchmarks: Super Pi, wPrime2.0, ScienceMark2, WinRAR
Pg 9. Rendering Benchmarks: Cinebench R10, Bibble 5
Pg 10. Rendering Benchmarks: POV-Ray, 3.7, SPECviewPerf 10
Pg 11. Gaming Benchmarks: 3DMark Vantage, 3DMark 06
Pg 12. Gaming Benchmarks: Crysis, FEAR
Pg 13. A Timely Refresh?