Overclocking Results:
Like Intel's Extreme Edition series, AMD's Black Edition processors are special because they ship from the fab multiplier unlocked. In other words, the Black Edition Phenom II X4 processor can be easily overclocked from its default speed of 3.2GHz by simply changing the CPU multiplier from 16x, to 16.5x or 17x, for example. Doing so would overclock the CPU to 3.3GHz or 3.4GHz, while the bus speed remained at 200MHz. Multipler-based overclocking enables enthusiasts to use lower bus speeds, making higher overall CPU speeds a lot easier to reach.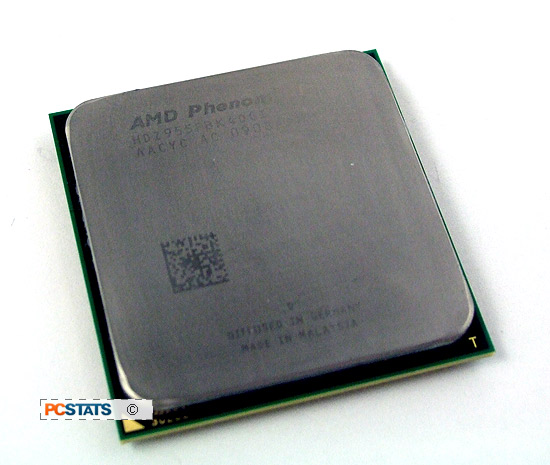 PCSTATS will try a combination of multiplier and bus speed overclocking with the goal of pushing the Phenom II X4 955 BE chip to 4.0 GHz .
Before the overclocking began we first set the dual channel Corsair XMS3-1600C9 memory in the Gigabyte GA-MA790FXT-UD5P motherboard to run in DDR3-800 MHz mode. This way the memory won't be holding the CPU back. A standard AMD reference AVC Z7U7414001 heatsink was used for PCSTATS overclocking tests, but obviously a phase change cooler like the ECT Prometeia Mach II GT could have allowed us to push the CPU much further.
Overclocking is always luck of the draw, but with good components like the Gigabyte GA-MA790FXT-UD5P motherboard, 750W PC Power and Cooling power supply and high speed Corsair XMS3-1600C9 DDR3, the system certainly won't be holding AMD's Phenom II X4 955 Black Edition chip back.
And now onto the fun bit - overclocking! Starting with the CPU multiplier first, which is set at 16x by default, PCSTATS quickly overclocked the Phenom II X4 955 BE processor from 16x to 17x, then 17.5x to 18.5x without any POST problems. The Phenom II X4 955 overclocked nicely until a 19.5x multiplier was dialed in, resulting in an overclocked speed of 3.9GHz!
Unfortunately the chip would only POST at this clock speed, Windows Vista would BSOD before it loaded fully. It took a few rounds of testing before it was clear the Phenom II X4 955 BE was better suited to an overclocked CPU multiplier set to 18.5x. That gave us an overclock of 200MHz x 18.5 = 3.715GHz. Not bad, but I think we can still do better. For the record the maximum overclock by multiplier adjustment alone was 3.715GHz.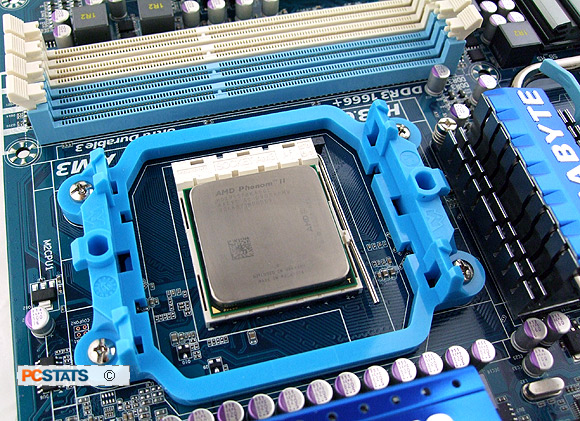 Having reset the multiplier back to the default 16x, PCSTATS set about overclocking the Phenom II X4 by bus speed next. To make a long story short, the Phenom II X4 POST'ed at 250MHz, but wouldn't successfully boot into Windows Vista until we dropped the bus speed to 240MHz where the system was more stable. The end result was a bus speed overclock of 240MHz, yielding a processor clock speed of 3.84GHz.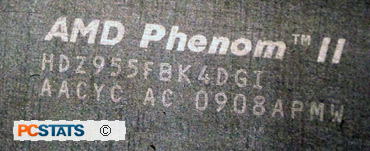 A little faster, but I think the Phenom II X4 can still go further!
For PCSTATS' final round of overclocking tests we reset the motherboard reference clock back to 200MHz and CPU multiplier to 16x, then set about increasing the bus speed towards the 240MHz mark and multiplier to somewhere between 16x and 18.5x. It didn't take very long before the Gigabyte MA790FXT motherboard was back running at 240MHz, and the multiplier was up to 16.5x. To go beyond this, PCSTATS had to increase voltages as follows: CPU vCore from 1.35V to 1.50V, DDR3 voltage up by 0.25V to 1.85V, and CPU NB up by 0.1V.
After a while trying out different combinations of bus speed and multiplier values, PCSTATS settled on 17x multiplier, 235MHz bus speed - a resulting CPU overclock to 3.995GHz! That's a healthy 800MHz overclock on the Phenom II X4 95 Black Edition CPU and as close to 4.0GHz as we could get.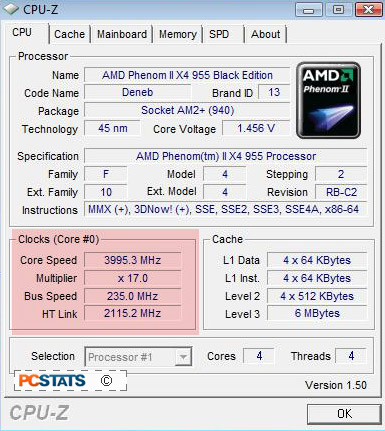 Phenom II X4 955 BE overclocked from 3.2GHz to 4GHz! (highlighted in red).
I suspect that with more time to try out different voltage adjustments, tune the BIOS a little more and perhaps upgrade the air cooled heatsink to a beefier thermal solution, the Phenom II X4 955 BE could overclock further still...
In the end, PCSTATS was able to overclock the AMD Phenom II X4 955 Black Edition processor from 3.2GHz to 4.0GHz (200x17=3.995GHz) with nothing more exotic than standard air cooling, on Gigabyte's AMD 790FX-based GA-MA790FXT-UD5P motherboard. Sweet!