Abstract: The 3.2GHz AMD Phenom II X4 955 Black Edition is the companies' latest quad-core processor, and it's being released in tandem with a new memory tuning tool called Black Edition Memory Profiles, or B.E.M.P. for short.


95% Rating:

Home > Reviews > CPU / Processors > AMD Phenom II X4 955 Black Edition
AMD Overdrive 3.0 - Black Edition Memory Profiles (BEMP)
Black Edition Memory Profiles are a new feature to AMD Overdrive. It's AMD's way of getting the most out of high-performance DDR3 memory paired with, you guessed it, a Black Edition processor. Working in partnership with popular memory manufacturers, AMD has created an online database with presets for the fastest memory timings for high frequency memory modules. BEMP is exclusive to socket AM3 motherboards and the new Phenom II 955 BE's improved memory controller.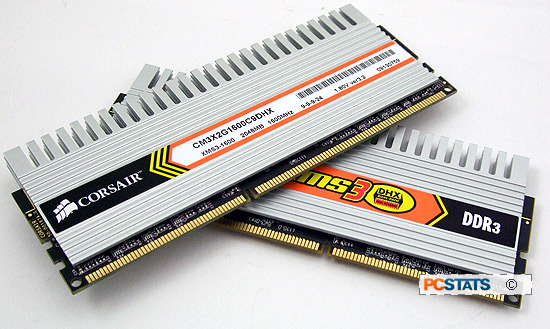 BEMP works through AMD's Overdrive software. Supported AM3 motherboards can detect compatible memory and connect to the internet to download an XML profile with the appropriate memory timings - this means profiles can be rapidly updated, revised and included.
AMD Overdrive 3.0 software can tune the memory timings on the fly, as well as automatically boost the CPU northbridge frequency and voltage.
The entire system is similar to Intel's XMP, but could potentially be more versatile since it does not rely on the embedded SPD profile of the installed memory.
AMD's BEMP remove a lot of the guesswork of selecting balanced memory speeds and timings, resulting in a one-click solution that simply boosts performance. Of course, PCSTATS had to test this feature to see if AMD's claims about BEMP translated into real-world performance gains.
Taking the Phenom II X4 955 Black Edition CPU and socket AM3 Gigabyte GA-MA790FXT-UD5P motherboard, a 4GB kit of Corsair CM3X2G1600C9DHX memory was installed (one of the memory parts supported by AMD at BEMP's launch).
The system was booted into Windows Vista, AMD Overdrive loaded up and the BEMP profile loaded. The PC restarted to lock in the new memory settings, and was then run through WinRar, Cinebench and PCMark Vantage's memory tests. BEMP was used to optimize memory settings, and we also compared similar memory speeds as configured in the BIOS by memory SPD settings, and with latencies manually configured to find out if PCSTATS could exceed the BEMP scores.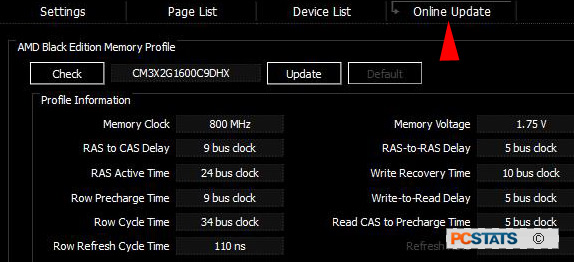 The BEMP setting, as downloaded from AMD for Corsair DDR3-1600 CAS9 memory.
Pre-set 'performance' settings are often very conservative, or not performance-tuned enough. It was important for us to find out if AMD's BEMP is A) actually useful and B) a time saver that offers up a better end result.
Memory Timings Performance Test vs. AMD BEMP Settings
AMD B.E.M.P.
BIOS / SPD
BIOS / SPD
BIOS (Tuned)
Memory Speed
& CAS Latencies:
DDR3-1600
9-9-9-24-34-1T
DDR3-1600
11-11-11-30-41-1T
DDR3-1333
9-9-9-25-34-2T
DDR3-1333
7-7-7-20-27-1T
3DMark06:
15181
15078
15058
15081
CineBench:
10552
10530
10412
10535
Sandra 2009
Memory Bandwidth Int: (GB/s)
15.63
13.45
13.00
13.14
Sandra 2009
Memory Bandwidth Float: (GB/s)

15.60

13.46
12.96
13.2
Sandra 2009
Memory Latency (Random): (ns)
72
81
83
76
Sandra 2009
Memory Latency (Linear): (ns)

12

14
14
14
Fighting with the BIOS over memory timings is not fun... while it's possible to manually tune CAS values up to the levels that BEMP selects, it took a while for us to get the PC stable and to the point where performance exceeded the built-in memory profiles. While overall neither approach resulted in huge gains, they are free gains, and very easy to unlock.
Free extra performance is becoming something of a theme for the Phenom II X4 940 Black Edition and the Dragon Platform as a whole. BEMP makes it easy to get memory working at its rated speeds, and does a better job than relying on the motherboard to auto-detect SPD settings which are indeed conservative and don't push things very far.
The biggest snag so far for BEMP is the limited amount of memory profiles currently available. AMD has told us it is adding more support for other DDR3 kits and working with manufacturers to introduce updated BIOS' for AMD 790FX chipset motherboards. At the time of this writing there will likely be a lot of people who have DDR3 memory or motherboards that aren't supported by BEMP, and they'll need to tweak memory values the old fashioned way.




Contents of Article: AMD Phenom II X4 955 Black Edition

---

Pg 1. AMD Phenom II X4 955 Black Edition 3.2 GHz Socket AM3 Processor Review
Pg 2. AMD Overdrive 3.0 and Dragon Platform
Pg 3. — AMD Overdrive 3.0 - Black Edition Memory Profiles (BEMP)
Pg 4. Overclocking an Unlocked 45nm Phenom II X4
Pg 5. Power Consumption Tests, Test System Specs
Pg 6. System Benchmarks: SYSMark 2007, PCMark Vantage
Pg 7. Synthetic Benchmarks: Office Productivity, SiSoft Sandra
Pg 8. Calculation Benchmarks: Super Pi, wPrime2.0, ScienceMark2, WinRAR
Pg 9. Rendering Benchmarks: Cinebench R10, Bibble 5
Pg 10. Rendering Benchmarks: POV-Ray, 3.7, SPECviewPerf 10
Pg 11. Gaming Benchmarks: 3DMark Vantage, 3DMark 06
Pg 12. Gaming Benchmarks: Crysis, FEAR
Pg 13. A Timely Refresh?