If you missed the launch of ATI's Radeon HD 4770 GPU you're in for a special treat today. PCSTATS is testing out Gigabyte's GV-R477D5-512H-B Radeon HD 4770 videocard alone, and in Crossfire mode so you'll know exactly what two of these mainstream cards can do for you! We already know one Radeon HD 4770 graphics card offers great performance for under a hundred bucks, the real question is what level of gaming performance will two 4770's teamed up under Crossfire deliver? Mainstream videocards often scale faster and farther than pricey flagship videocards, so it'll be interesting to see where two Radeon HD 4770's stand against videocards several times their price.
First the basics. ATI's Radeon HD 4770 (code name RV740) is derived from the venerable Radeon RV770 GPU. The Gigabyte GV-R477D5-512H-B videocard has its GPU clocked at 750MHz and is equipped with 512MB GDDR5 memory running at 800MHz, giving it a bandwidth of 51.2 GB/s. The memory bus is 128-bit wide, which should make for an interesting comparison between it and the mainstream Radeon HD 4850. PCSTATS will breakdown all the numbers in a moment, including benchmarks with the GV-R477D5 card running in Crossfire, but first let's introduce you to Gigabyte's GV-R477D5-512H-B PCI Express 2.0 x16 graphics card.
The Gigabyte GV-R477D5-512H-B videocard is based on the reference design and uses a simple two-slot wide aluminum heatsink in place of the standard ATI thermal solution. It's a little ugly as videocards go, but it's quiet and that's what matters most. The GV-R477D5-512H-B is PCI Express 2.0 x16 compliant, comes with 512MB of GDDR5 memory and the usual list of supported features; ATI CrossfireX, HDCP, DX10.1, SM4.1, and Unified Video Decoder 2 for HD content decoding. The Gigabyte GV-R477D5-512H-B videocard retails for about $109USD / $130CDN / £60GBP at stores like Newegg or Canada Computers.

Gigabyte GV-R477D5-512H GDDR5 512MB Videocard




Includes:

User's Manual, Driver CD, Utilities CD, DVI-to-HDMI Adapter, DVI-to-VGA adapter, Component output splitter, 6-pin to molex power cable.
When paired up with an appropriate motherboard, ATI Crossfire X allows multiple GPUs to split up rendering loads between them for better performance in games. The videocards have to be in the same family in order to work together. So in the case of the Radeon HD 4770, it's the first of its kind, and only compatible with other Radeon HD 4770 videocards.
Two Radeon HD 4770 videocards will cost a little over $200 USD, a price that floats somewhere between the Radeon HD 4870/Geforce GTX 260 and Radeon HD 4890/Geforce GTX 275. Given the proven performance of a single Radeon HD 4770 in comparison to videocards that cost twice as much, it's entirely possible that a pair of Radeon HD 4770s could outperform most of the $200-$300 on the market right now.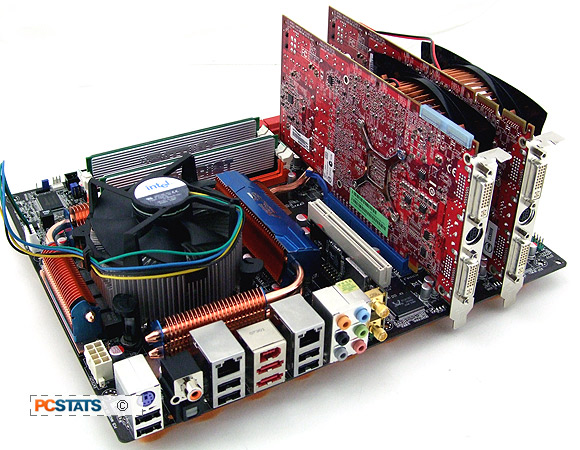 At the back of the Gigabyte GV-R477D5-512H-B videocard are two dual-link DVI outputs capable of a maximum resolution of 2560x1920 each. The S-video connection supports component video output. The card itself requires one 6-pin power connection and is Crossfire X compatible so multiple videocards can be teamed. The Gigabyte GV-R477D5-512H-B videocard is equipped with a large and fairly quiet aluminum heatsink with inset fan. The additional height of the heatsink means the Gigabyte GV-R477D5-512H-B videocard will occupy two expansion slots instead of just one. Under testing the fan made an audible hum at full speed, but was practically silent when set to run automatically.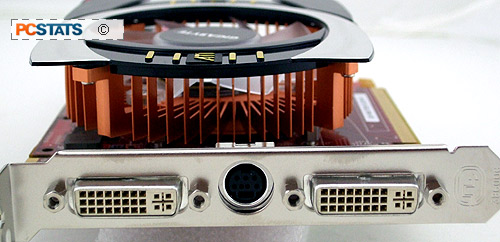 The stock fan design doesn't exhaust hot air out through the rear of the computer case, so any hot air is dumped back inside the system chassis. While this will raise ambient temperatures inside the case by a few degrees, adding in a system fan can easily remedy the problem.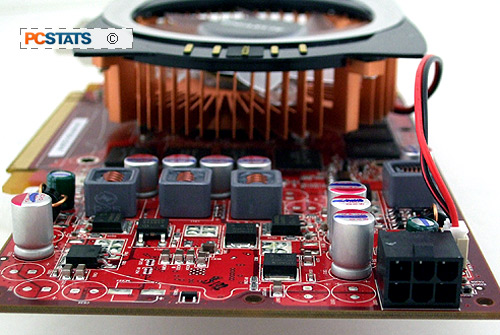 Given its competitive pricing, it's not surprising that the Gigabyte GV-R477D5-512H-B comes with relatively few extras. Inside the box you'll find a pair of driver CDs, a short installation guide, a molex to PCI Express power adapter, a Component adapter, a DVI to VGA adapter, and most importantly a DVI to HDMI adapter. Since this is an AMD Radeon HD videocard, the HDMI adapter is HDCP complaint and will also carry audio signals without the use of any additional cabling.