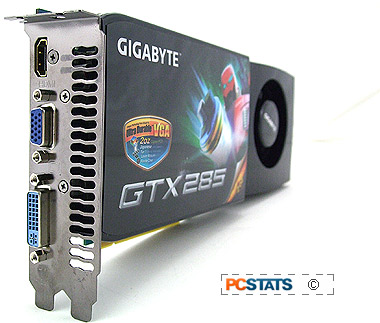 Gigabyte's GV-N285OC-2GI is the Lamborghini Murcielago of the videocard world. The Lamborghini is fast, powerful and stylish. It inspires envy in those who see it and you get a certain amount of prestige for owning one, simply from the amazing pedigree.
It's also wildly impractical for most people. You can't take advantage of its speed and power during your day-to-day driving, in fact when it comes to a lot of typical-usage scenarios (winter driving, city driving, carrying more than one Italian model at a time...) there are a lot of conventional cars out there that will be more efficient, far less hassle, and cost a less.
The pre-overclocked Nvidia GT200b core and tis videocard's massive 2GB of GDDR3 memory are similarly impractical for many games. NVIDIA pulled out all the stops in making the Geforce GTX 285 refresh the fastest single-GPU videocard on the market.
Gigabyte took things even further by doubling the videocards' memory to 2GB, raising the core clock from 648MHz up to 660MHz and bathing it in pixie dust. These changes have inflated the Gigabyte GV-N285OC-2GI's cost significantly over that of a standard-clocked 1GB Gigabyte Geforce GTX GV-N285OC-2GI videocard, but the performance gains just aren't there to justify it in this reviewers opinion.
At screen resolutions of 1920 x 1200 resolution with 8xAA or 16xAA turned on, having 2GB of 2400MHz GDDR3 memory is overkill. The only situation where it seems to offer a significant advantage is if when gaming on an extremely high resolution 30" LCD monitor.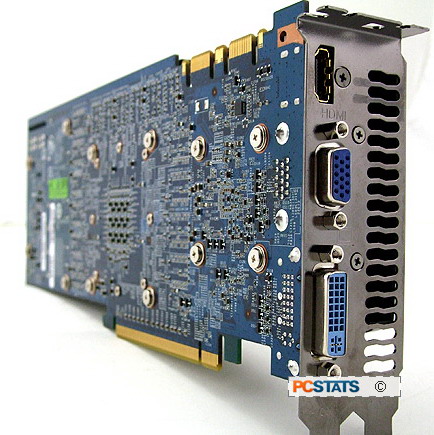 If you're running one of a very few number of game titles that can span output to multiple monitors at once, the extra memory will help.
Both scenarios are however uncommon, even amongst high performance gamers who are willing to spare no expense where it counts, and in-game support for these features is spotty at best.
nVidia's Geforce GTX 285 GPU does posess greater theoretical performance than its closest rival, the Radeon HD 4890, but to be frank there are a number of real-world scenarios where the Geforce card's capabilities are under-utilized.
Crysis with high IQ settings and Call of Juarez both perform better with the more affordable Radeon HD 4890 videocard than the Gigabyte GV-N285OC-2GI being tested for you today. There are several scenarios where multiple Radeon or Geforce GPUs will cost less money and offer more performance than a single Gigabyte GV-N285OC-2GI, so keep that in mind as SLI or Crossfire may in fact offer better framerates.
Most importantly though, it's difficult to recommend investing $440 CDN ($406 USD, £245 GBP) in a videocard when new DirectX 11 videocards are so close to being launched. While I'm sure that games will eventually be able to take advantage of 2GB of memory and an overclocked NVIDIA GT200b GPU, they're also going to start requiring DX10.1 and DX11 capabilities in the next year or so, and regrettably that's not something you'll get with the Gigabyte GV-N285OC-2GI.
With all of that out of the way, the Gigabyte GV-N285OC-2GI is still a whole lot of videocard. It has decent overclocking abilities far and beyond the pre-overclocked settings from the factory, and enough raw power to make any game playable at large resolutions. If you hate the hassle of multiple GPUs and money isn't an issue, Gigabyte's GV-N285OC-2GI is one of the fastest single-GPU videocards out there!.
Related Articles
Here are a few other articles that you might enjoy as well...
- Gigabyte GV-N26OC896H-GA Geforce GTX260 Core 216 Videocard Review
- ASUS EN9400GT-1GB Geforce 9400GT Half-Height Videocard Review
- Gigabyte GV-R435OC-512I Radeon HD 4350 Half-Height Videocard Review
- ASUS EN9600GT DI/512MD3/A Geforce 9600GT Rev.B Videocard Review
- Sparkle GTX260 Core 216 GeForce GTX 260 Videocard Review
- Gigabyte GV-R477D5-512H-B Radeon HD 4770 Videocard Review
- ASUS EAH4770 HTDI/512MD5/A Radeon HD 4770 Videocard Review
- ASUS ENGTS250 DK Geforce GTS 250 Videocard Review
- ASUS EAH4890 HTDI/1GD5/A Radeon HD 4890 Videocard Review