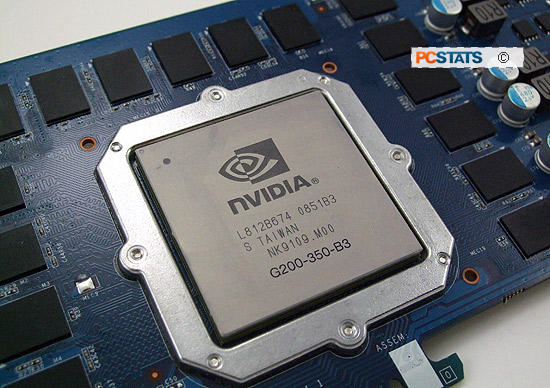 Nvidia's Geforce GTX 285 is based on the same NVIDIA GT200 GPU architecture that's inside the Geforce GTX 280, but with a few noticeable tweaks, overclocks and a die shrink that has caused NVIDIA to rename it the GT200b.
Given the size of the naked nVidia GT200b GPU, it's not so surprising that to hear it contains 240 stream processors and 1.4 Billion transistors. Thanks to a 55nm die-shrink NVIDIA is able to pack these transistors into a smaller package. While the die of the original NVIDIA GT200 was 576mm2, the GT200b has been brought down to approximately 425mm2. Still, nVidia is in desperate need of a 40nm, or 32nm die shrink.
Default clock speed of the Geforce GTX 285 is 648MHz, on the Gigabyte GV-N285OC-2GI it has been factory overclocked to 660MHz. GPU communicates over a 512-bit wide memory interface, and it basically offers the highest core, shader and memory clock speeds of any desktop NVIDIA graphics card.
NVIDIA's GT200b graphics processing unit is very much a match for ATI's R700 GPU. While the ATI videocards have more on-board stream processors and faster memory, the NVIDIA videocards compensate by having faster faster shader clocks and wider memory interfaces. The end result is a pair of GPUs that have very different architectures, but still manage to achieve very similar performance.
NVIDIA GT200 vs ATI R700 Videocards

Models

Core clock

Stream processors/Clock

Memory Clock/Interface

Memory capacity
Market
Radeon HD 4870X2
750MHz
1600/750MHz
3600MHz/256-bit
2048MB
Flagship
Radeon HD 4890
850MHz
800/850MHz
3900MHz/256-bit
1024MB
High-end
Radeon HD 4870
750MHz
800/750MHz
3600MHz/256-bit
1024MB
Mainstream
Radeon HD 4850
625MHz
800/625MHz
1986MHz/256-bit
512MB
Mainstream
Geforce GTX 295
576MHz
480/1242MHz
2000MHz/448-bit
1792MB
Flagship
Gigabyte GV-N285OC-2GI
660MHz
240/1498Mhz
2400Mhz/512-bit
2048MHz
Flagship
Geforce GTX 285
648MHz
240/1476MHz
2484MHz/512-bit
1024MB
High-end
Geforce GTX 280
602MHz
240/1296MHz
2214MHz/512-bit
1024MB
High-end
Geforce GTX 275
633MHz
240/1404MHz
2268MHz/448-bit
896MB
Mainstream
Geforce GTX 260
576MHz
216/1350MHz
2000MHz/448-bit
896MB
Mainstream
Of course, the Gigabyte GV-N285OC-2GI videocard that PCSTATS is looking at today has been substantially modified from the original Geforce GTX 285 reference design. Gigabyte has doubled the amount of available memory to a whopping 2048MB of GDDR3. There are a few benefits to having such a huge amount of on-board memory, most of which come when running games at very high resolutions (think 2560 x 1600) or span multiple monitors. The extra memory is also useful when it comes to turning on eye candy like 16xAA. While most users won't have any conventional use for this much video memory, this is far from a conventional videocard, and will likely be used in very exotic system configurations.
Gigabyte likely had to lower the memory speeds a little in order to keep this much memory stable, so the over all memory speed on the GV-N285OC-2GI has actually dropped to 2400MHz from the stock speed of 2484MHz. However to compensate for the speed difference the core clock of the GV-N285OC-2GI has been raised from 648MHz up to 660MHz.
As a high-end Geforce videocard, the Gigabyte GV-N285OC-2GI can be teamed up in both two-way and three-way SLI. While the GV-N285OC-2GI can be used in SLI with a standard 1GB Geforce GTX 285, it will only be able to access 1GB of its on-board video memory under those conditions.
With its massive, overclocked GPU and additional memory, it's likely the Gigabyte GV-N285OC-2GI won't be friendly to power supplies let's take a look at just how much juice this videocard needs.