Overclocking Results:
Gigabyte's GV-N285OC-2GI videocard ships from the factory with its nVidia GT200b GPU pre-overclocked from the default 648MHz to 660MHz - that's a pretty modest 12MHz. The videocard's massive 2048MB of onboard GDDR3 memory runs at a cool 1200 MHz. Overclocking nVidia GT200b-based videocards has always been a bit tricky, so it will be interesting to see how much further PCSTATS will push this Gigabyte PCI Express x16 videocard... anyone care to bet on 800MHz GPU?
Overclocking was done through nVidia's nTune utility which unlocks GPU and memory clock speeds. PCSTATS starts with the GPU first, pausing to test the results with a quick 3D benchmark before continuing.
The GeForce GTX285 GPU clock speed was increased in 25MHz increments from its default of 660MHz, and in no time at all the GV-N285OC-2GI's GPU was running at 704MHz. Unfortunately artifacts began appearing in 3DMark when the GPU was overclocked to 721MHz, so PCSTATS was forced to pull back on the GPU speed. In the end we settled for a modest overclock of 713MHz GPU. It's not bad, but certainly better than a measly 12MHz!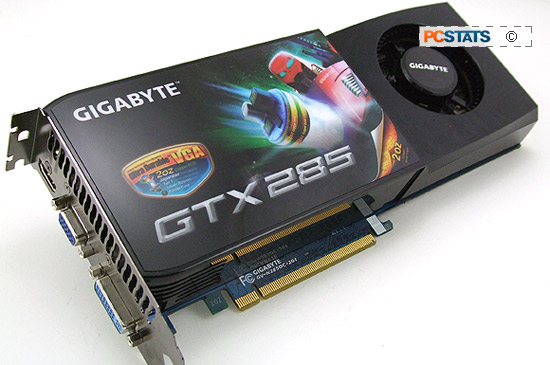 Next came the 2048MB of GDDR3 memory. The DRAM is clocked on this very big and very long videocard at an even 1200MHz. The memory overclocked really easily, rapidly increasing from the dull roar of 1238MHz... to 1290MHz... 1332MHz... 1353MHz... and finally the high pitched whine of a bolt shredding 1385MHz!
Time to see if the memory and nVidia GT200 will play together nicely at the respective maximum overclocked speed of each component. After a few minutes trying different configurations PCSTATS settled on a maximum overclocked speed of 713MHz for the Geforce GTX285 GPU, 1375MHz for the 2GB of GDDR3 memory.
Not the highest of overclock PCSTATS has ever squeezed from an nVidia graphics card, but it's certainly a nice dose of of 'free' performance none the less!
Prelude to Benchmarks:
The details of how the Gigabyte GV-N285OC-2GI videocard test system was configured for benchmarking; the specific hardware, software drivers, operating system and benchmark versions are indicated below. In the second column are the general specs for the reference platforms this nVidia GeForce GTX285 2GB based videocard is to be compared against. Please take a moment to look over PCSTATS test system configurations before moving on to the individual benchmark results on the next page.

PCSTATS Test System Configurations
Benchmark results are organized by GPU manufacturer first (AMD/ATI or nVidia), then by GPU generation, and then by GPU class (high end, mainstream, value). This approach provides a clearer view of how performance can differ from generation to generation, and class to previous generation. The product being tested is marked with the red colour bar.