With Microsoft Windows 7 about to launch and a new DirectX just around the corner, ATI and NVIDIA have prepared for the final showdown of the DirectX 10 era. Both companies have readied what are currently the fastest and most fully-featured DirectX 10 videocards, and PCSTATS is here to place them head to head. If you're a regular reader of PCSTATS, you're likely already familiar with the Radeon HD 4890. Based on the ATI Radeon RV790 GPU. ATI took its previous flagship videocard, the Radeon HD 4870, and ramped clock speeds up while opening up even more headroom for overclocking. The result is one of the best videocards in the high end market, with a fantastic performance to price ratio. But this you know already.
NVIDIA has been sidelined by ATI for a while now, but that hasn't stopped its engineers from going back to the lab and coming out with a single-GPU flagship videocard called the Geforce GTX 280. It's cores were overclocked, memory speeds were increased and shaders were pushed to their very limits. The result... the Geforce GTX 285, and NVIDIA is claiming it's the ultimate DirectX 10 videocard.
Well, that was before Gigabyte got its hands on a couple GTX 285's and decided to push them even further, creating the Gigabyte GV-N285OC-2GI videocard. While the stock nVidia Geforce GTX 285 has a core clock speed of 648MHz, Gigabyte has pushed the GV-N285OC-2GI to 660MHz. Shaders have been ramped up from 1476MHz up to 1504MHz, and the memory capacity has doubled. The Gigabyte GV-N285OC-2GI has a staggering 2GB of GDDR3 memory running at 2400MHz! The Gigabyte GV-N285OC-2GI is a beast of a videocard, designed to not only compete with the Radeon HD 4890, but crush it outright. Cry havoc and let slip the dogs of war, indeed.

Gigabyte GV-N285OC-2GI Videocard





INCLUDES: User's Manual, Driver CD, DVI-to-Analog converter, DVI-to-HDMI converter, (2) SLI 6-pin-to molex power cables, S/PDIF adapter cable.

Graphics Processor: (1) nVidia Geforce GTX 285 (660MHz)
Memory Capacity: 2048MB GDDR3 (1200MHz)
Card Format: PCI Express x16 2.0, two slots wide.
Outputs: HDMI, Analog, DVI-D

Videocard Class: Flagship / High End
Everything you'd expect from a NVIDIA GT200b-based videocard is here: NVIDIA PhysX, CUDA, Hybridpower, 3-way SLI, Purevideo and Graphics Plus. Support for DirectX 10, OpenGL 2.1 are of course included, although NVIDIA has stated that it will be skipping DirectX 10.1 support altogether and instead go straight to DirectX 11 with a future graphics processor.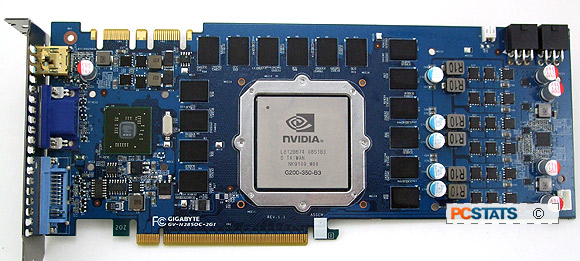 The price for supreme power is often steep, and the Gigabyte GV-N285OC-2GI videocard is not a flagship videocard you'll be finding in the idles of Newegg for $100. Be prepared to pay around $440 CDN ($406 USD, £245 GBP) for the honour of owning a Gigabyte GV-N285OC-2GI videocard, or to put it another way nearly double the price of the Radeon HD 4890. In this review PCSTATS will be testing the Gigabyte GV-N285OC-2GI to establish to critical facts. Is it the true GPU king? Does it outperform the equivalently priced dual-GPU Radeon HD 4870 X2? Let's see how the ultimate GPUs of this generation compare in a head to head showdown!
The Gigabyte GV-N285OC-2GI videocard uses the NVIDIA reference heatsink, a design that should be familiar to anyone who's purchased an NVIDIA Geforce videocard in the past two or three years. The heat shroud design is two slots wide, which has become standard for most performance videocards. The card is about the same size as the Geforce GTX 260 (about 10.5" long), so it shouldn't be particularly difficult to fit it inside most mid-tower desktop PCs.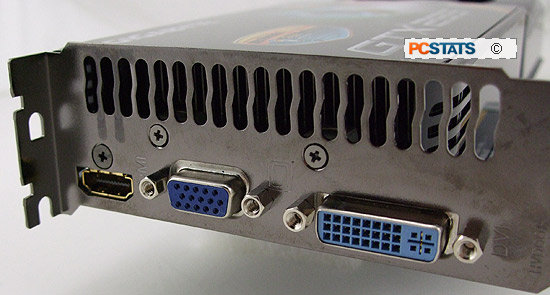 The I/O panel of the Gigabyte GV-N285OC-2GI has the three most common videocard outputs. DVI, VGA and HDMI. It's possible to hook the GV-N285OC-2GI up to a PC monitor or a HDTV. The DVI can be used in conjunction with either the HDMI or VGA, depending on what kind of signal you need. To get sound out of the the HDMI output, the use of an included passthrough S/PDIF cable is required. The dual-link DVI and HDMI outputs are capable of outputting 2560 x 1600 resolution, while the VGA can go as high as 2048 x 1536.
Onboard hardware HD decoding technologies come care of NVIDIA PureVideo, so BluRay, H.264, VC-1, MPEG2, or WMV9-encoded media can be played back with little if any CPU load.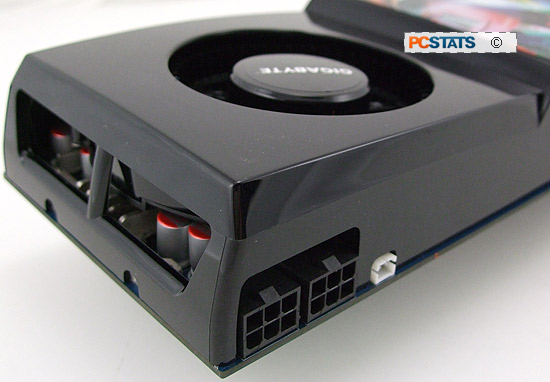 Like the Geforce GTX 260, the Gigabyte GV-N285OC-2GI has an officially related thermal design power of 182W, so it requires two 6-pin PCI Express power adapters. PCSTATS was quite happy to find these instead of the 8-pin PCI Express connectors found on earlier Geforce GTX 280 videocards, which had a number of incompatibilities with current power supplies. Performance videocards requiring multiple power connectors are pretty common, so power supply manufacturers long ago incorporated the extra power connectors necessary. If your power supply doesn't have the twin 6-pin SLI power connectors, there are a pair of adapters included in the Gigabyte GV-N285OC-2GI's box, alternatively PCSTATS recommends this 850W unit from Seasonic.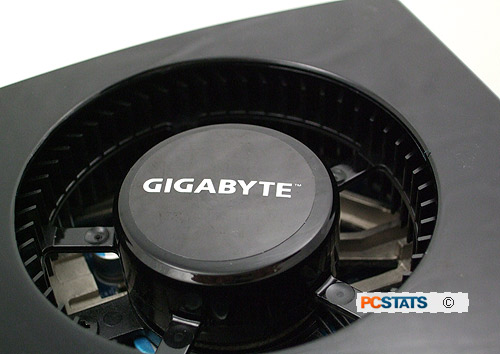 The Gigabyte GV-N285OC-2GI uses the reference Geforce GTX 285 cooler, which has proven itself to be quite effective at keeping the videocard cool while staying fairly quiet. The only real drawback to this design is dust build-up, which can be a pain to clean out without removing the heat shroud from the videocard. While we were running the Gigabyte GV-N285OC-2GI, temperatures and noise stayed about average. The videocard isn't noticeably noisier than the Radeon HD 4890 or the Geforce GTX 260 when running under full load, the fan is only noticeably loud during its initial spin-up during system booting.
Let's take the cooler off and take a closer look inside the NVIDIA Geforce GTX 285...