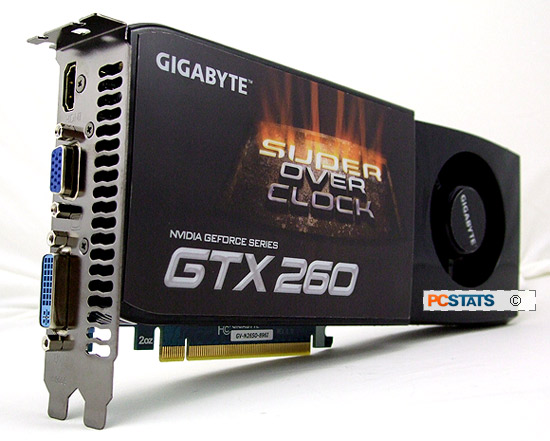 Gigabyte has created a monster with the GV-N26SO-896I videocard.
If you only looked at the performance graphs, you might have difficulty believing that this videocard was actually a Geforce GTX 260 videocard.
In most of PCSTATS benchmark testing, this videocard performed more like the Geforce GTX 285-based GV-N285OC-2GI, also made by Gigabyte.
However while the GV-N285OC-2GI videocard was prohibitively expensive at $440 CDN, the GV-N26SO-896I comes in at $210 CDN ($200 USD, £130 GBP), less than half the price. At this price point this videocard is a definite winner.
AMD's major contender in the $180-$220 price range is the Radeon HD 4890 videocard, and the Gigabyte GV-N26SO-896I videocard remains competitive with it in most benchmarks, while outperforming it in others like STALKER and Lost Planet.
Of course, a large part of the Gigabyte GV-N26SO-896I's performance is thanks to its aggressive factory overclocking. Having a clock speed of 680MHz (versus 574MHz for a stock Geforce GTX 260), still makes a big difference in gaming, as does overclocking the 896MB of GDDR3 memory from 1998MHz up to 2350MHz. PCSTATS was able to take things even faster, bringing the GV-N26SO-896I's core clock up to 725MHz, and the memory clock up to an awe-inspiring 3360MHz.
All of that additional performance steals some of the spotlight from Gigabyte's Ultra Durable VGA manufacturing, so just let me say that it's good to see some of these manufacturing methods make their way onto videocards. Having solid-state capacitors, thicker copper layers and higher-quality ferrite cores and MOSFETS not only ensure longer videocard lifespans and reliability, they can also contribute to some of the excellent factory-overclocked performance that the Gigabyte GV-N26SO-896I videocard is capable of.
The bottom line is that the Gigabyte GV-N26SO-896I videocard is capable of playing pretty much any of today's PC games at high resolutions with good frame rates. With its high factory overclocks and excellent manufacturing quality, this videocard is at the forefront of Geforce GTX 260 videocards and would be a good fit in a mainstream gaming rig.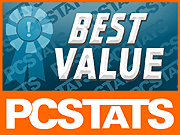 Find out about this and many other reviews by joining the Weekly PCstats.com Newsletter today! Catch all of PCSTATS latest reviews right here.

Related Articles
Here are a few other articles that you might enjoy as well...
- Gigabyte GV-N26OC896H-GA Geforce GTX260 Core 216 Videocard Review
- ASUS EN9400GT-1GB Geforce 9400GT Half-Height Videocard Review
- Gigabyte GV-R435OC-512I Radeon HD 4350 Half-Height Videocard Review
- ASUS EN9600GT DI/512MD3/A Geforce 9600GT Rev.B Videocard Review
- Sparkle GTX260 Core 216 GeForce GTX 260 Videocard Review
- Gigabyte GV-R477D5-512H-B Radeon HD 4770 Videocard Review
- ASUS EAH4770 HTDI/512MD5/A Radeon HD 4770 Videocard Review
- ASUS ENGTS250 DK Geforce GTS 250 Videocard Review
- ASUS EAH4890 HTDI/1GD5/A Radeon HD 4890 Videocard Review