nVidia Geforce GTX260 / GT200 GPU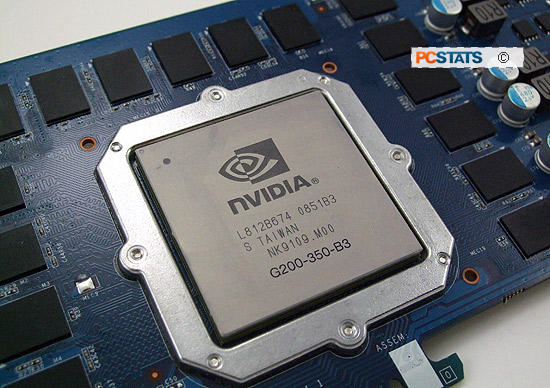 While the original Geforce GTX 260 videocard has a stock core clock of 578MHz, with shaders at 1242MHz and GDDR3 memory at 1998MHz, Gigabyte has chosen to overclock the GV-N26SO-896I for a little extra power.
The GPU on the GV-N26SO-896I videocard comes from the factory running at 680Mhz, with shaders at 1466MHz. The 896MB of GDDR3 memory has been move up to a dual-pumped 2350MHz.
To understand where all this power comes from, we need to take a look at the nVidia GeForce GTX260 GPU - a massive monolith of an IC sheathed behind its heatspreader. Code named 'GT200', this graphics processor is actually the second revision nVidia has made to its new next-generation graphics processors.
The nVidia GT200 GPU chip is designed with 240 total shader processors. Each one is a tiny processor that can compute either pixel or vertex mathematical operations. The processors are designed to operate on graphical information simultaneously, with each shader processor is operating on a single pixel per cycle.
These shader processors are broken up into clusters of 24, called Texture/Processor Clusters. In addition to the shader processors, the clusters also include a texturing array and a geometry controller. While the high end nVidia Geforce GTX 280 graphics card has all 10 of the GT200's TPCs enabled, the original Geforce GTX 260 had only 8 of the 10 TPCs enabled, the remaining two are either disabled or had defects that caused them to fail in nVidia's quality assurance testing.
NVIDIA GT200 vs ATI R700 Videocards

Models

Core clock

Stream processors/Clock

Memory Clock/Interface

Memory capacity
Market
Radeon HD 4870X2
750MHz
1600/750MHz
3600MHz/256-bit
2048MB
Flagship
Radeon HD 4890
850MHz
800/850MHz
3900MHz/256-bit
1024MB
High-end
Radeon HD 4870
750MHz
800/750MHz
3600MHz/256-bit
1024MB
Mainstream
Radeon HD 4850
625MHz
800/625MHz
1986MHz/256-bit
512MB
Mainstream
Geforce GTX 295
576MHz
480/1242MHz
2000MHz/448-bit
1792MB
Flagship
Geforce GTX 285
648MHz
240/1476MHz
2484MHz/512-bit
1024MB
High-end
Geforce GTX 280
602MHz
240/1296MHz
2214MHz/512-bit
1024MB
High-end
Geforce GTX 275
633MHz
240/1404MHz
2268MHz/448-bit
896MB
Mainstream
Gigabyte GV-N26SO-896I
680MHz
216/1466Mhz
2350MHz/512-bit
896MB
Mainstream
Geforce GTX 260
576MHz
216/1242MHz
2000MHz/448-bit
896MB
Mainstream
The Gigabyte Geforce GTX260 Core 216 videocard that PCSTATS is tested today actually has an additional TPC enabled, so there are 9 clusters of 24 shader processors, for a total of 216 shader processors. This translates into a bit of extra shader muscle and texturing savvy. The GT200 GPU is oriented around shader processing and calculation, designed for games that utilize intense special effects like high dynamic range lighting, geometry distortion and dynamic reflections.
Given the size of the naked nVidia GT200b GPU, it's not so surprising that to hear it contains 240 stream processors and 1.4 Billion transistors. Thanks to a 55nm die-shrink NVIDIA is able to pack these transistors into a smaller package. While the die of the original NVIDIA GT200 was 576mm2, the GT200b has been brought down to approximately 425mm2. Still, nVidia is in desperate need of a 40nm, or 32nm die shrink.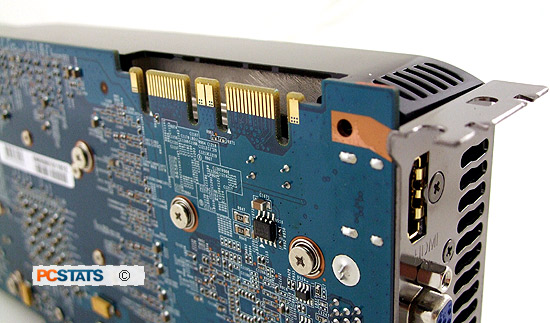 The videocard has two SLI connectors so it can be paired with either one or two additional Geforce GTX260 videocards.
It's easy to hook up the Gigabyte GV-N26SO-896I videocard in two or three-way SLI, as long as you have an appropriate SLI motherboard. The Geforce GTX260 can be configured in SLI mode with each videocard splitting the graphics load between them to increase frame rates when more graphical options are turned on. To run in SLI mode, you need a motherboard based on a compatible nVidia nForce chipset or an SLI-certified version of Intel's X58 chipset, and a pair or trio of Geforce graphics cards based on the same GPU.
PCSTATS will see if it's possible to push the GV-N26SO-896I videocard even further than its factory overclocks in a minute, but for now let's take a look at some power consumption numbers...