It seems like just a little while ago that PCSTATS was reviewing Gigabyte's GV-N285OC-2GI videocard , an overclocked, double-ram-stuffed Geforce GTX 285. While Gigabyte did an extensive tuning job to NVIDIA's Geforce GTX 285 GPU by pairing it up with 2GB of memory and an overclocked GPU and memory, in real-world gaming situations that just wasn't enough to give the GV-N285OC-2GI a significant performance boost.
Gigabyte seems to have learned its lesson and has come back with another custom-tuned videocard, this time based on the more popular Geforce GTX 260 GPU. It's called the Gigabyte GV-N26SO-896I videocard, and it looks like it's going to be a screamer.
While stock Geforce GTX 260 have a 576MHz core clock and a 1242MHz Shader Clock, the GV-N26SO-896I is factory overclocked up to a 680MHz core clock and 1466MHz shaders. This core speed increase is accompanied by an increase to the memory speed of the Geforce GTX 260's 896MB of GDDR3, from the standard 1998MHz clock up to a dizzying 2350MHz!
Gigabyte's GV-N26SO-896I takes advantage of the company's Ultra Durable manufacturing techniques, which you might already be familiar with if you own a Gigabyte motherboard. Gigabyte's Ultra Durable VGA motherboards use a 2oz copper PCB layer that functions as a heat spreader and lowers impedance. Every board uses Japanese solid state capacitors, ferrite choke cores for better energy efficiency, and low RDS MOSFETs.
Gigabyte has cherry-picked the NVIDIA Geforce GTX 260 GPUs that go into the GV-N26SO-896I videocard , to make sure that they're the best of the bunch when it comes to overclocking performance. Gigabyte promises that these hand picked GPUs will perform better and remain stable even with a high factory overclock.

Gigabyte GV-N26SO-896I Videocard





INCLUDES:
User's Manual, Driver CD, DVI-to-Analog converter, DVI-to-HDMI converter, (2) SLI 6-pin-to molex power cables, S/PDIF adapter cable.

Graphics Processor: nVidia Geforce GTX 260 (680MHz)
Memory Capacity: 896MB GDDR3 (2350 MHz)
Card Format: PCI Express x16 2.0, two slots wide.
Outputs: HDMI, Analog, DVI-D
Videocard Class: Mainstream
Everything you'd expect from a NVIDIA GT200b-based videocard is here: NVIDIA PhysX, CUDA, Hybridpower, 3-way SLI, Purevideo and Graphics Plus. Support for DirectX 10, OpenGL 2.1 are of course included, although NVIDIA has stated that it will be skipping DirectX 10.1 support altogether and instead go straight to DirectX 11 with the next-generation GT300 graphics processor.
Fortunately all of this factory overclocking, custom GPU selection and Ultra Durable VGA technology hasn't raised the price too much. The GV-N26SO-896I videocard retails for around $210 CDN ($200 USD, £130 GBP), which is right in the middle of the $180-$230 price range for most Geforce GTX 260 videocards. This also puts it head-to-head with ATI's single-GPU flagship, the Radeon HD 4890 videocard. Can Gigabyte's extreme factory overclocking make NVIDIA's Geforce GTX 260 videocard a real contender, or is it just another me-too Geforce 200-series videocard?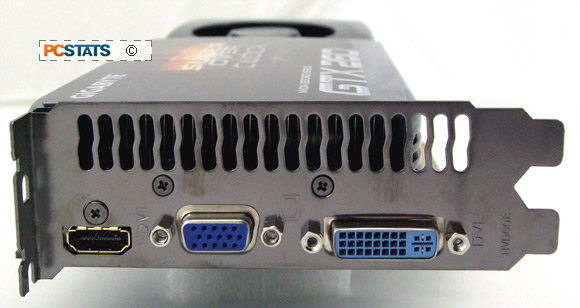 Like most gaming videocards, the Gigabyte GV-N26SO-896I videocard occupies two PCI expansion slots. If paired with a second or third identical videocard, the Geforce GTX260 can be configured run in dual or triple-mode SLI on supporting motherboards. It's always a good idea to ensure there's good case airflow so tightly packed graphics cards don't overheat or unnecessarily run fans at full duty.

The Gigabyte GV-N26SO-896I videocard supports onboard hardware HD decoding technologies care of nVidia PureVideo, so BluRay, H.264, VC-1, MPEG2, or WMV9-encoded media can be played back with little if any CPU load.
On the I/O panel of the Gigabyte GV-N26SO-896I videocard are a trio of DVI, VGA and HDMI outputs. DVI supports resolutions up to 2560x1600 pixels, while VGA can go up to 2048 x 1536, and HDMI can output at 1920 x 1080. Gigabyte includes a DVI-to-VGA and HDMI-to-DVI adapter as well. for running multiple displays. There's also a S/PDIF header with included cable to carry sound to the HDMI output.
Even with its factory overclock, the Gigabyte GV-N26SO-896I videocard is still rated at 182W. Drawing that much power means that it requires a pair of 6-pin PCI Express power connections. Performance videocards requiring multiple power connectors are pretty common, so power supply manufacturers long ago incorporated the extra power connectors necessary. If your power supply doesn't have the twin 6-pin SLI power connectors, Gigabyte has thoughtfully included two molex-to-PCI Express power adapters.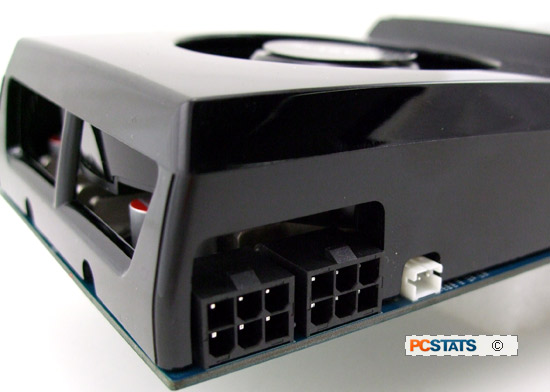 The Gigabyte GV-N26SO-896I videocard uses the reference Geforce GTX 260 videocard cooler, which has proven itself to be quite effective at keeping the videocard cool while staying fairly quiet. The only real drawback to this design is dust build-up, which can be a pain to clean out without removing the heat shroud from the videocard. Gigabyte claims its Ultra Durable VGA manufacturing should make the GV-N26SO-896I about 5-10% cooler than reference Geforce GTX 260 videocards. Under testing PCSTATS found that the GV-N26SO-896I stayed cool to the touch when under load. Its fan was also quiet during normal operation, again about the same as other Geforce GTX 260 videocards.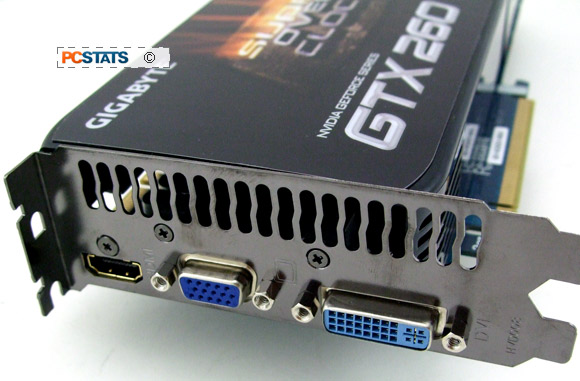 Let's take the cooler off and take a closer look inside Gigabyte's overclocked Geforce GTX 260 videocard ...