Gigabyte's GA-MA785GMT-UD2H motherboard is a great way to get a wide range of features in a very small, affordable package, as well as a being an excellent debut for the AMD 785G chipset and fantastic IGP-driven High Definition content decoding.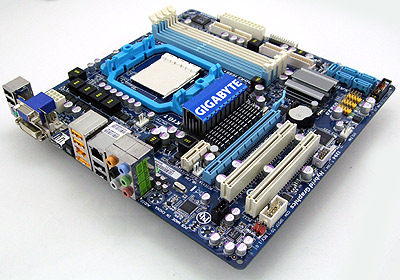 The biggest addition to the AMD 785G chipset is the Radeon HD 4200 IGP. This graphics processor is DirectX 10.1 and Shader Model 4.1 compatible, and supports all the cool new graphics features in Microsoft Windows 7 operating system. It improves hardware acceleration of certain desktop applications through ATI Stream, decreases CPU load when playing back HD content and offers better compatibility for Unified Video Decoder 2.0.

The real strength of the Radeon HD 4200 comes from better support for hardware-accelerated video decoding and improvements to ATI Stream, which lets the IGP do desktop processing for certain graphically intensive applications, like Adobe Acrobat reader. ATI Stream's advantages are quite compelling, but it's a shame that support is limited to only a handful of programs at this time.

PCSTATS found that the 3D gaming performance of the Radeon HD 4200 IGP hasn't improved noticeably compared to that of the Radeon HD 3200 IGP. Playing today's games simply isn't possible on an IGP, DirectX 8 games from a few years back... possibly. Under testing we found that the Gigabyte GA-MA785GMT-UD2H's lack of Sideport memory hurt it in the gaming benchmarks a little, keeping it a few ticks behind other AMD 785G chipset motherboards from MSI and Asus. In all cases though, if you are interested in 3D gaming, pick up a mainstream PCI Express x16 videocard for around $100.

Where the IGP does succeed is when the PC is used primarily for office applications and standard 2D desktop programs. The AMD 785G does the job without any problems in this respect, and has the added benefit of offering superb HD content decoding to offload those processes from the CPU - thus lowering CPU load during 1080 HD playback to nearly single digits.

As a feature filled motherboard, Gigabyte's GA-MA785GMT-UD2H offers up everything any home or small office user is likely to require. It support for AMD's latest socket AM3 processors, it can handle up to 16GB of DDR3 memory at speeds of DDR3 800/1066/1333 and has five SATA 3Gb/s connections. Data redundancy is assured with RAID 1, or system speeds can be improved by configuring RAID 0 - the GA-MA785GMT-UD2H motherboard supports the full range of RAID options from 0/1/0+1 to JBOD modes.
Gigabyte's GA-MA785GMT-UD2H offers up the all critical HDMI video port, and DVI and VGA for standard PC monitors. Those options mean you can plug this motherboard directly to an HDTV, CRT or LCD monitor without much trouble. The GA-MA785GMT-UD2H also has S/PDIF output and 8-channel stereo output if you're looking for additional audio outputs.
The bottom line is this; Gigabyte's GA-MA785GMT-UD2H is an effective mainboard for anyone looking to build a low cost, energy efficient home theatre PC. At $80 CDN, ($75 USD, 45 GBP), it's a little slower than the similar MSI 785GM-E65, but it's also less expensive. More importantly, the GA-MA785GMT-UD2H has an HDMI output with HDCP, the AMD 785G offers up great hardware HD decoding, the platform is small, affordable, and friendly to a wonderful assortment of similarly placed AMD processors.
UPDATE - Catch a PCSTATS DIY Home Theatre PC build guide with this very motherboard in the near future!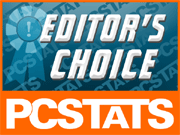 Find out about this and many other reviews by joining the Weekly PCstats.com Newsletter today! Catch all of PCSTATS latest reviews right here.
Related Articles
Here are a few other articles that you might enjoy as well...
- ASUS M4A78T-E AMD 790GX Socket AM3 Motherboard Review
- ASUS Striker II NSE nVidia nForce 790i SLI Motherboard Review
- ASUS M3A78-T AMD 790GX Socket AM2+ Motherboard Review
- ASUS P5E3 Premium/Wifi-AP.N Intel X48 Express Motherboard Review
- Gigabyte GA-X48-DS5 Intel X48 Express Motherboard Review
- Asus P5Q-EM Intel G45 Express Motherboard Review