Overclocking Results:

PCSTATS began this overclocking adventure with the Gigabyte GA-MA785GMT-UD2H motherboard by dropping the multiplier on the AMD Phenom II x4 955 Black Edition CPU to 8x, disabling features like Cool'n'quiet and AMD load balancing. Next the base clock was set to 200MHz, and the Corsair 1600MHz DDR3 memory configured to run in 800MHz mode. A standard air cooled AVC Z7U7414001 heatsink was used (see Frostytech's review of it here).

The Gigabyte GA-MA785GMT-UD2H easily managed a straight jump from 200MHz up to 240MHz, and another bit of tweaking took it up to 250MHz bus speed. After that the system required a small 0.1V boost to its memory voltage in order to keep overclocking onward, allowing it to achieve a final overclock of 270MHz. Not bad, but not fantastic.

After finishing with the CPU, PCSTATS turned its attention to the Radeon HD 4200 IGP. AMD IGPs tend to be very good overclockers, so we had high hopes when approaching the new AMD 785G chipset.

Through simple adjustments of the core clock speed, it was possible to take the Radeon HD 4200 IGP from its 500MHz default clock speed to an initial overclock of 600MHz. Confident that the IGP could handle a lot more, we quickly sped through 700MHz and made an attempt at 800MHz... No dice. Random screen freezes and graphical corruption made it clear the Radeon HD 4200 wasn't as ambitious as our overclocking attempts. In the end PCSTATS settled on a maximum IGP overclock of 750MHz.

Once the Radeon HD 4200 IGP was overclocked, it was only natural to do some quick benchmarking to see what kind of performance gains we'd actually achieved.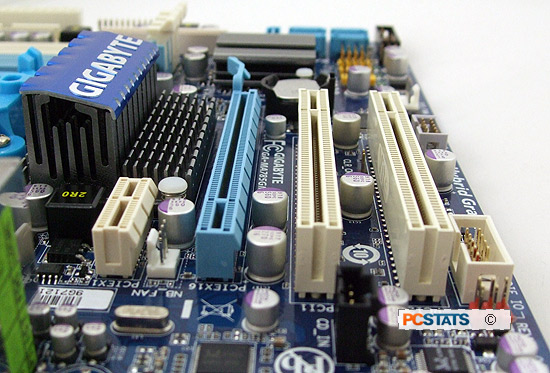 (install a PCI Express x16 videocard for 3D gaming)
3Dmark 06 with the IGP overclocked Gigabyte GA-MA785GMT-UD2H returned a score of 2077 3DMarks. Compare this to the Asus M4A785TD-V EVO (which also had a 750MHz IGP overclock), and scored 2308 3DMarks. The difference in scores is due to the 128MB of DDR3 1333MHz Sideport memory, which increases performance in 3D loaded benchmarks like this. The default score for the Gigabyte GA-MA785GMT-UD2H is 1043 3DMarks. The benefit is there, but the result is like turning lead into lead.
Inside the BIOS - OC and Memory Tuning Options
Gigabyte's GA-MA785GMT-UD2H motherboard offers up a lot of BIOS options for system tuning. The major features of the AMD 785G chipset, including IGP and Sideport memory overclocking are all covered with enough detail to keep the weekend overclocker occupied for long time.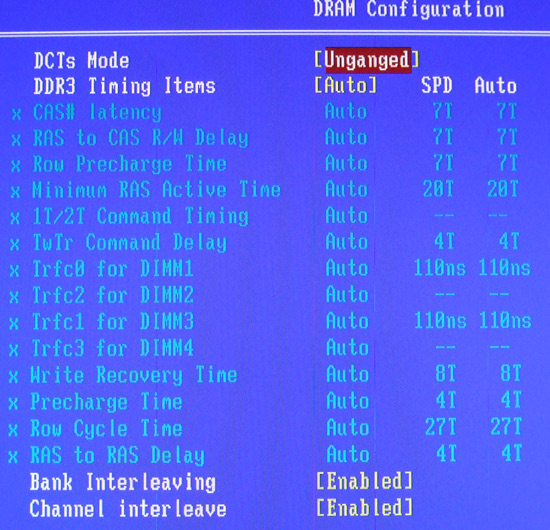 The main DRAM configuration screen shows all of the important memory settings, which can be used to adjust performance memory to its optimal settings.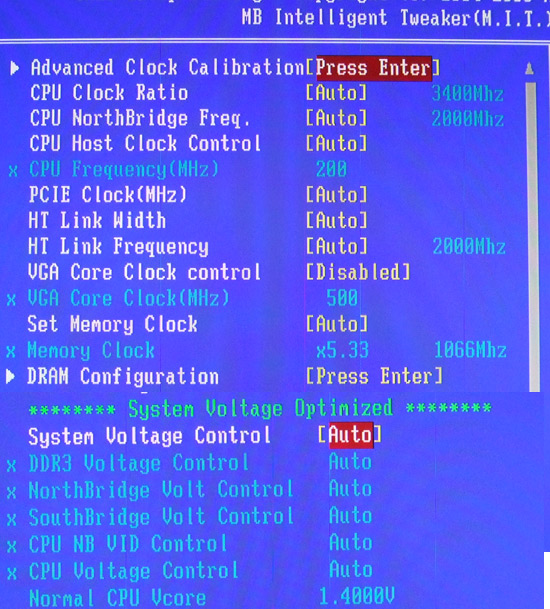 Gigabyte's MB Intelligent Tweaker (MIT), is the primary overclocking menu in the BIOS, and controls the CPU clock, northbridge, as well as the clock speed of the Radeon HD 4200 IGP.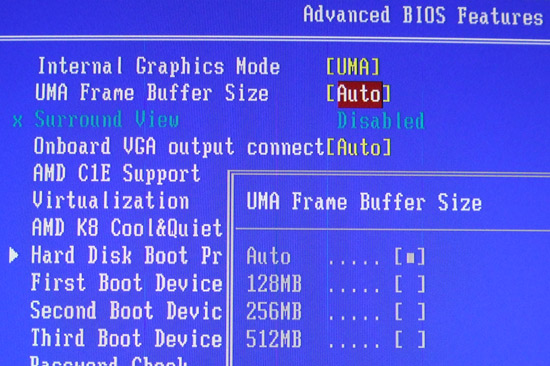 It's possible to increase the amount of memory the Radeon HD 4200 IGP uses as well in the Advanced BIOS features page, which will use up more system memory, but also increase video performance at higher resolutions.
Next up, test system specs and benchmarks! Will the IGP hold it's own in tests like Sysmark and 3DMark Vantage? The answer to that question is yes, and no. Read on to see where the Gigabyte GA-MA785GMT-UD2H excels and where a little more (graphical) power could be helpful.