AMD 785G / SB710 Chipset

The AMD 785G chipset brings support for DirectX 10.1, Windows 7 compatibility, and hardware-acceleration for certain kinds of video transcoding and graphics-intensive applications to the world of IGPs. It's an all-around incremental improvement to the AMD 780G chipset, the previous darling of the AMD+IGP world.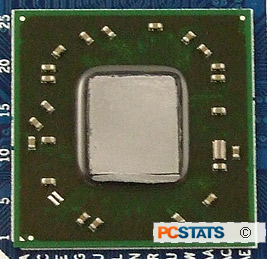 AMD's strategy of massive cross-compatiblity continues with the 785G chipset, a pleasant change from the quagmire of Intel CPU and chipset options this year. The AMD 785G supports a huge range of AM2+/AM3 processors, including the new Athlon II 250 microprocessor, but with this Gigabyte GA-MA785GMT-UD2H motherboard you are limited to socket AM3 CPUs and DDR3 memory only.
The centerpiece of the AMD 785 chipset is of course the Radeon HD 4200 integrated graphics processor. This graphics core is very similar to the Radeon HD 3200 that powered the AMD 780G chipset before it in terms of raw 3D computing power. Both IGPs are built on the 55nm process, have 40 stream processors, and are made up of around 205 million transistors. Performance of the Radeon HD 4200 IGP is largely similar to AMD's previous IGPs, with the key changes being added support for DirectX 10.1 and Shader Model 4.1.
Should you want to use a PCI Express videocard on a AMD 785G motherboard, you'll pleased to find it supports a PCI Express 2.0 x16 slot, and can be configured in Hybrid Crossfire mode with the Radeon HD 3450 - a completely pointless endeavor. The Radeon HD 4200 IGP also continues support for Sideport memory, which can see a small amount of GDDR memory added to a motherboard for the IGP to use as cache. Sideport memory is optional, so availability depends on the motherboard manufacturer. The Gigabyte GA-MA785GMT-UD2H that PCSTATS is reviewing today doesn't use Sideport memory, hopefully that won't have a huge impact on its performance.
Further improvements include new hardware-accelerated transcoding support for selected video applications. ATI Stream lets the Radeon HD 4200 GPU accelerate media encoding, which can result in dramatic performance improvements when compared to CPU transcoding speeds. Unified Video Decoding is also here, and also uses the GPU to decode video, reducing load on the CPU.
The Radeon HD 4200 supports HDMI and DisplayPort video outputs (if integrated), analog and DVI. HDCP support is native to the Radeon HD 4200's video controller, so it's fully compatible with high-definition content played over Blu-ray discs. Within the AMD 785G are two independent display controllers, one digital (DVI/DP/HDMI) and one analog for displays. Depending on the manufacturers board-level implementation, the 785G will easily support dual monitors (one analog and one digital).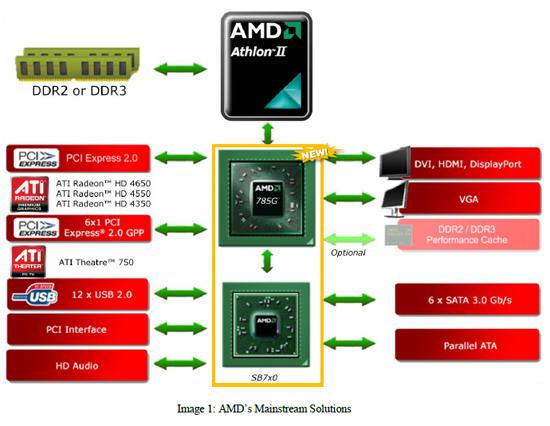 The integrated Radeon HD 4200 videocard on the AMD 785G chipset contains 40 stream processors and will allocate up to 512MB for itself from the installed system memory. The AMD 785G supports up to six PCI Express 2.0 x1 slots along with six PCI bus mastering slots, although it's up to the motherboard manufacturer to implement each expansion slot. There are generally six Serial ATA II ports and a single Ultra/133 IDE controller, coming from the AMD SB710 Southbridge. Also integrated are twelve USB 2.0 ports, a Gigabit network MAC and a 7.1 channel High Definition audio controller.
The AMD's 785G chipset is a real challenger to Intel's older G45 Express chipsets, although only time will tell how it fares to chipsets like Intel's G55 Express.
ATI Stream Technology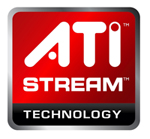 ATI Stream, like NVIDIA's CUDA, is a way of accelerating desktop applications like Adobe Creative Suite 4, MediaShow Espresso and Microsoft Silverlight using a graphics processor instead of relying on just the CPU. There are certain intensive tasks that are easy to optimize for the massively parallel nature of an IGP like the Radeon HD 4200 that can cause even the fastest CPUs to choke and stall. ATI has been working with developers like Adobe and Microsoft so that everyday programs can take advantage of a dedicated GPU in a desktop environment.
Adobe in particular has embraced GPU acceleration, and the latest version of their Creative Suite brings support for both NVIDIA Geforce and AMD Radeon GPUs. Hardware acceleration support in programs like Adobe Acrobat Reader and Photoshop can improve rendering performance and smoothness when navigating large PDF documents and images.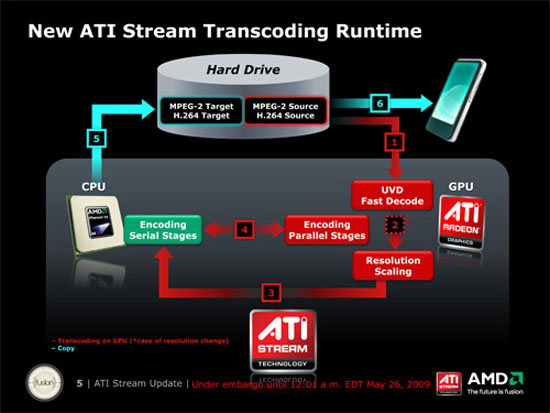 The latest version of ATI Stream has also added a new video transcoding technology that lets the Radeon IGP to accelerate video encoding. With the advent of video-capable portable media players like the iPhone, Sony PSP and Microsoft Zune, video encoding is an increasingly popular task even amongst mainstream and home users. Video encoding remains a very intensive task, and encoding or transcoding a movie that has been ripped from DVD to play on your iPod can take hours depending on the video quality and length of the movie.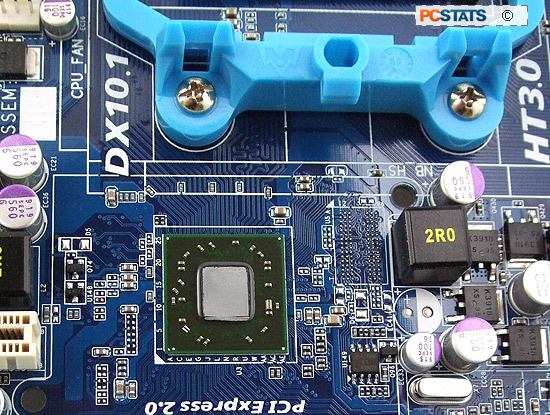 Acceleration support is still quite limited at this point, with only certain codecs (H.264, MPEG2, VC1) and programs (Cyberlink Espresso, ATI Video Converter, Arcosoft Total Media Theatre) supported. Hopefully as this technology evolves it will become more widely supported and turn full hardware acceleration for the desktop into a reality.
Power Savings
Integrated chipsets under Microsoft Windows 7 will now have better support for power saving technology, and the Radeon HD 4200 capitalizes on this with dynamic underclocking that will reduce the speed of the GPU based on how much load is being used. This will reduce the power usage of the GPU, and ultimately that of the entire system while the IGP is in an idle state (for example, when sitting at the Windows Desktop).
PCSTATS will investigate further, but first let's put ATI Stream to the test and see what it can do in real world terms....