The AMD 785G chipset has become the logical choice in motherboards destined to become PCs with High Definition video capability on the cheap. Since HDMI output is a standard video port with this AMD core logic, it's easy to assemble a HTPC, connect it to an existing HD television and sit back and relax. More mundane tasks like running office applications are fine for integrated graphics like the Radeon HD 4200 too. A microATX board like the Gigabyte GA-MA785GMT-UD2H is ideally suited for work-a-day office or home use, particularly given the affordability of mainstream quad-core AMD socket AM3 processors right now.
If 3D gaming is on the menu, you will need to install a full fledged PCI Express x16 videocard in the GA-MA785GMT-UD2H's expansion slot, make no mistake about that, but no matter how you look at it Gigabyte's GA-MA785GMT-UD2H has room to grow down the road.
AMD's excellent upgrade paths mean the Gigabyte GA-MA785GMT-UD2H motherboard will support AMD Athlon II, Phenom II processors in the socket AM3 flavour. The GA-MA785GMT-UD2H is equipped with four DDR3 memory slots that can accommodate up to 16GB of DDR3-1066/1333/1666(OC) MHz memory when paired with a 64-bit operating environment. Beyond broad CPU compatibility, the real power of the Gigabyte GA-MA785GMT-UD2H is the AMD 785G chipset and Radeon HD 4200 integrated graphics.
ATI's Radeon HD 4200 IGP is an evolved form of the Radeon HD 3200 found in the AMD 780G chipset. The main difference is the HD 4200 now supports DirectX 10.1 and Shader Model 4.1. ATI Stream has been brought into the fold so graphics hardware can be harnessed to power certain applications too. The Gigabyte GA-MA785GMT-UD2H has the three most important video outputs on board: HDMI, DVI and VGA. There's even support for higher-bandwidth the HDMI 1.3 standard.

Gigabyte GA-MA785GMT-UD2H Motherboard




INCLUDES: User's Manual, Driver CD, (2) SATA cables, (1) SATA-to-Molex power cable, I/O Shield, IDE cable.

Chipsets: AMD 785G / AMD SB710
CPU Support: AMD socket AM3
Memory Type: Dual Channel DDR3
Videocard Support: (1) PCI Express x16 2.0
Integrated Graphics: Yes (HDMI, Analog, DVI)
On the expansion front you'll find the GA-MA785GMT-UD2H motherboard offers up a PCI Express 2.0 x16 slot (with a full x16 lanes of bandwidth) for videocards, a PCI Express x1 slot and two PCI slots for legacy devices. The board is equipped with five SATA 3Gb/s ports and an eSATA jack for external storage devices. The SATA connections can be setup in RAID 0, 1, 10 and JBOD modes care of the AMD SB710 Southbridge, or used independently of one another. Legacy IDE and floppy connectors are included as well.
In addition to the display outputs, Gigabyte's GA-MA785GMT-UD2H offers up (12) USB 2.0 ports (six at the rear IO, six via header), two IEEE1394 Firewire (one at the IO, one header), a 3Gb/s eSATA port, 10/1000 gigabit network and S/PDIF and 8-channel stereo output. Having so many connections on a micro-ATX motherboard makes the GA-MA785GMT-UD2H a pretty versatile. With the suggested retail price of just $80 CDN, ($75 USD, 45 GBP), the Gigabyte GA-MA785GMT-UD2H has great potential as a cost-effective way of getting high-end features in a very small package.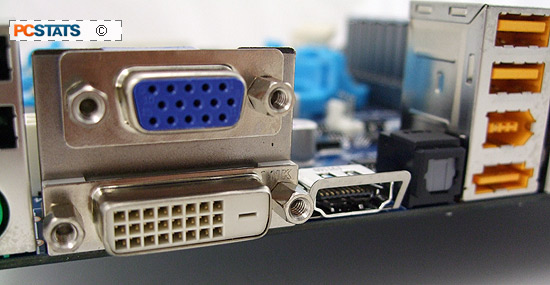 High definition HDMI, and computer monitor DVI and VGA video outputs are the holy trinity of HTPC builders, and all three are available onboard the Gigabyte GA-MA785GMT-UD2H motherboard care of the AMD 785G chipset. Hooking up the GA-MA785GMT-UD2H to an HDTV is a snap. The Radeon HD 4200 IGP also gives support for HDMI 1.3, which supports enhanced colour depth and greater bandwidth for high-definition feeds.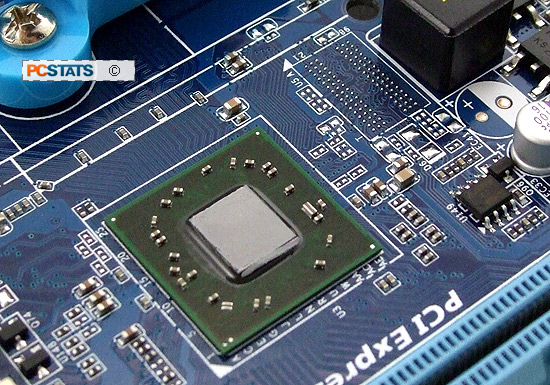 The AMD 785G chipset on the Gigabyte GA-MA785GMT-UD2H motherboard is not accompanied by any SidePort memory - not that you really need it anyhow.
While many AMD 785G boards will also feature 128MB of onboard Sideport memory to compliment the Radeon HD 4200, Gigabyte has left that off the GA-MA785GMT-UD2H motherboard. An extra MB of SidePort memory really doesn't make a dramatic impact on the 3D performance of the Radeon HD 4200 graphics card anyway, but if this is something you do need, look to the GA-MA785GPMT-UD2H board instead.
Next up, PCSTATS goes in for a closer look at the Gigabyte GA-MA785GMT-UD2H motherboard...