ASUS manage to take a familiar GPU and do some very interesting things with it. As the sub-$250 videocard market becomes more crowded, it's increasingly important for new products to be able to stick out of the crowd. While the default performance of the ASUS ENGTX260 MT/HTDI/896MD3-A videocard is average, the card manages to differentiate itself from the numerous me-too cards on the market in extreme overclocking potential.
The most attention grabbing aspect of this videocard is the cooler. We're a big fan of the custom heat-pipe and dual-fan design that ASUS has opted for with the ENGTX260. Even at low speeds, the twin fans can keep this card cool under load, and thankfully don't contribute much noise, especially when housed inside of a decent case.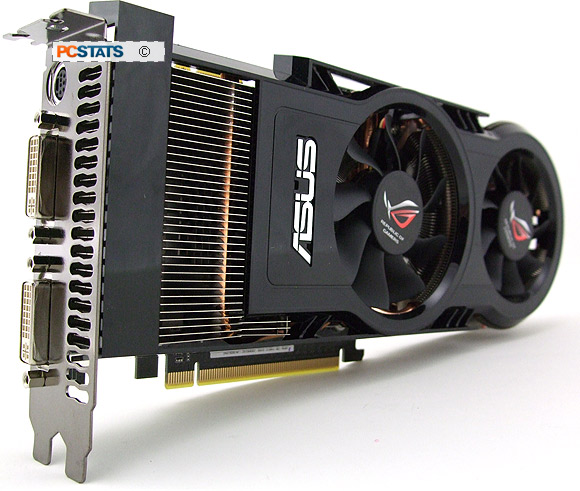 The other unique aspect of this videocard is ASUS' iTracker software, that allowed the ENGTX260 MT/HTDI/896MD3-A videocard to overclock from it's default 584MHz core clock and 1000MHz memory clock up to an impressive 691MHz core and 1250MHz memory!
These big gains were in no small part due to the voltage tweaking options that ASUS's custom iTracker provides. iTracker as a whole is an effective way of overclocking your videocard, it's just a shame that the user interface is so horrible. Confusing, unlabeled buttons, bizarre feedback and inconsistent presentation mar an otherwise ideal overclocking experience.
In our performance testing the ASUS ENGTX260 MT/HTDI/896MD3-A videocard was right on par with some of the other Geforce GTX 260 videocards that PCSTATS has tested so far. On average the Geforce GTX 260 is a little bit slower than the Radeon HD 4890, but it's also tends to sell for a little bit less. However with even a little bit of tweaking it's possible to get decent framerates in pretty much any game out today, provided you're matched up with a decent CPU and motherboard.
With a price of $230 CDN ($200 USD, £120 GBP), ASUS' ENGTX260 MT/HTDI/896MD3-A videocard is a little more expensive than some of the reference Geforce GTX 260 videocards on the market. In return you're getting more overclocking control, more voltage tweaking control, and a videocard cooler that's well... cooler. The ASUS ENGTX260 MT/HTDI/896MD3-A videocard is a good high-performance option for the do-it-yourself overclocker who's likely to spend as much time tweaking components as playing games.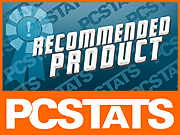 Find out about this and many other reviews by joining the Weekly PCstats.com Newsletter today! Catch all of PCSTATS latest reviews right here.
Related Articles
Here are a few other articles that you might enjoy as well...
- Gigabyte GV-R477D5-512H-B Radeon HD 4770 Videocard Review
- ASUS EAH4770 HTDI/512MD5/A Radeon HD 4770 Videocard Review
- ASUS ENGTS250 DK Geforce GTS 250 Videocard Review
- ASUS EAH4890 HTDI/1GD5/A Radeon HD 4890 Videocard Review
- Gigabyte GV-N96TSL-1GI Geforce 9600GT Rev.B Videocard Review
- ASUS EAH4550 Radeon HD 4550 Half-Height Videocard Review
- MSI R4830-T2D512-OC Radeon HD 4830 Videocard Review
- ASUS EAH4850 HTDI/512M/A Radeon HD 4850 Videocard Review
- ASUS EAH3870 X2 Top/G/3DHTI/1G/A Radeon HD 3870 X2 Videocard