Overclocking Results:
Once installed the ASUS iTracker software automatically loads about 30 seconds after the PC boots up. The software tool provides a broad scope of monitoring options, and the ability to pre-configure different "performance" settings for gaming, working on the desktop, etc.
The strange thing about ASUS iTracker is that by default it's configured to shut down both fans on the ASUS ENGTX260 MT/HTDI/896MD3-A videocard, which aren't loud to begin with, prompting GPU temperatures to rise from the average desktop idle point of 45C to a good 70C....
Further complicating things is iTracker's non-intuitive user interface; the menu screens continually disappear or collapse on their own and it's not easy to navigate to the menu's where actual changes can be made by the user (under Profiles). Take it from me, five minutes spent with the ASUS iTracker software trying to get a better overclock (it offers GPU and memory voltage tweaking!!) is less fun then standing in line for two hours at a government office to get a drivers licence renewed... and you've been standing in the wrong line.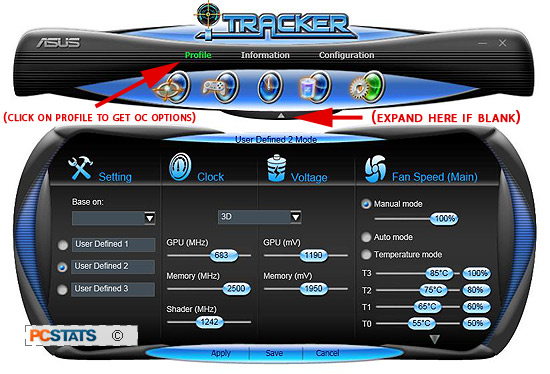 Frankly speaking ASUS really dropped the ball on the iTracker overclocking/monitoring software. It's a crime to bundle this kind of garbage software with a videocard as sweet as the ASUS ENGTX260 MT/HTDI/896MD3-A otherwise is! PCSTATS has a pretty low expectation for bundled "tweaking" programs to begin with, but I think this application has a set a new record low.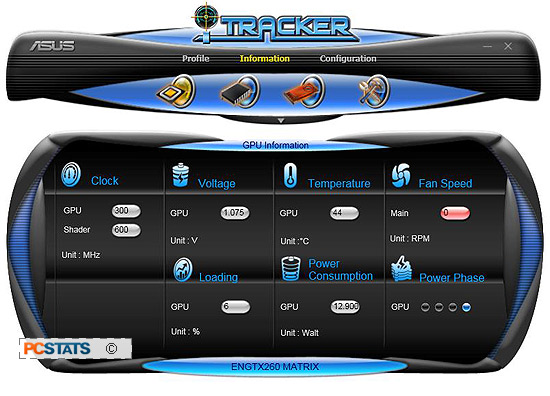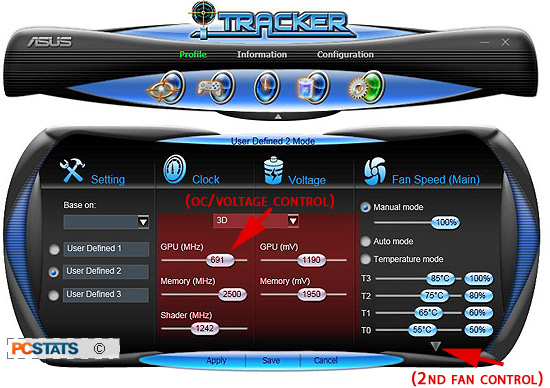 The Things We Do for Love (of Overclocking)...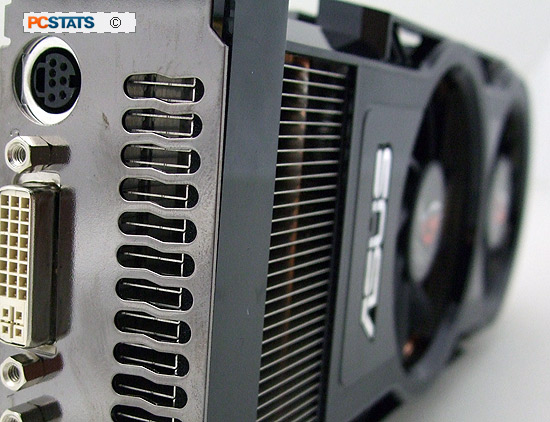 Still, with the ASUS iTracker software PCSTATS was able push the ASUS ENGTX260 MT/HTDI/896MD3-A videocard to very respectable overclock of 691MHz GPU / 1250MHz Memory by increasing the GPU voltage to 1190mV, memory to 1950mV. Nice!