AMD's R700 and NVIDIA's GT200 silicon have been at war for a little over a year now, and both companies have resorted to slashing prices in order to capture the hearts and wallets of the PC enthusiast. It's a buyer's market so the cost of a new, high-performance gamer's videocard has fallen to unprecedented lows. Gaming at 60FPS at resolutions greater than 1080p is easier than ever before, and maxing out anti-aliasing and other IQ settings is par for the course.
Indeed, in this climate it's a little difficult to stand out in a graphics card market that's so overflowing with juicy gaming value. However that's never daunted ASUS , one of the most extensive tweakers and tuners of videocards.
Such is the story behind the ASUS ENGTX260 MT/HTDI/896MD3-A videocard, a custom designed Geforce GTX 260 videocard that's seen some substantial tuning going on both over and under the hood. The ASUS ENGTX260 is built for overclocking, with support for custom voltage modification through ASUS' special software suite. Of course, there's also extensive options for overclocking core speeds, memory and shader clocks as well.
In order to handle the additional stresses of overclocking, the ASUS ENGTX260 MT/HTDI/896MD3-A videocard has a specially designed cooling solution, and it's a real beauty. This new design eschews the heatshroud design found on reference Geforce GTX 260s for a dual-fan and heatpipe design that's similar to many top performing Zalman after market solutions. PCSTATS is going to check out both the overclocking and cooling for this card in much greater detail....
But first let's cover the nitty gritty tech specs. ASUS has actually left the core clocks of its ENGTX260 MT/HTDI/896MD3-A videocard at default; the GPU runs at 576MHz, the shaders run at 1242MHz, and the 896MB of GDDR3 memory runs at 1000MHz (2000MHz DDR). As you might expect, this dual-slot wide PCI Express 2.0 x16 graphics card incorporates nVidia Physx, Cuda, and Hybridpower. From the graphics and eye candy perspective the Geforce GTX260 GPU supports Direct X10, Shader Model 4.0, OpenGL 2.1, and 128-bit HDR. This a 55nm "Core 216" part, so it has 216 shader processors available, instead of the 192 found on the original Geforce GTX 260.

ASUS ENGTX260 MT/HTDI/896MD3-A Videocard




Includes:

User's Manual, Driver CD, DVI-to-Analog converter, (2) SLI 6-pin-to molex power cables.
For $230CDN ($200 USD, £121 GBP), the ASUS ENGTX260 MT/HTDI/896MD3-A videocard is a little more expensive than other Geforce GTX 260 videocards, but that's to be expected given the extensive customization going on. With that being said, prices have been dropping so quickly for videocards across the board that even a year ago this videocard would have been triple the price. Like most flagship gaming cards, the ASUS ENGTX260 MT/HTDI/896MD3-A videocard occupies two expansion slots. It's always a good idea to ensure there's good case airflow so tightly packed graphics cards don't overheat and run their fans a full duty.

On the I/O panel of the ASUS ENGTX260 are a pair of DVI ports which support resolutions of up to 2560x1600 pixels, next to an analog S-video output. ASUS ship the ENGTX260 MT/HTDI/896MD3-A videocard with a DVI to HDMI adapter, a DVI to VGA adapter, and a S-Video to component adapter. There's also a S/PDIF pass-through cable that's designed to be used in conjunction with the DVI-to-HDMI adapter, feeding the ASUS ENGTX260 through an on-board S/PDIF header.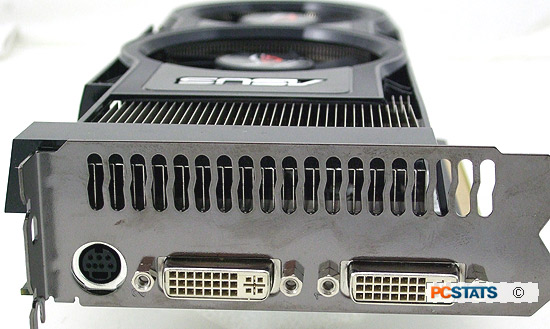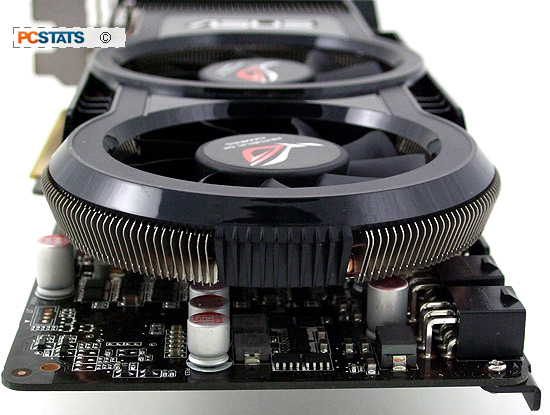 ASUS' ENGTX260 MT/HTDI/896MD3-A videocard has an officially related thermal design power of 182W, so it requires two 6-pin PCI Express power adapters.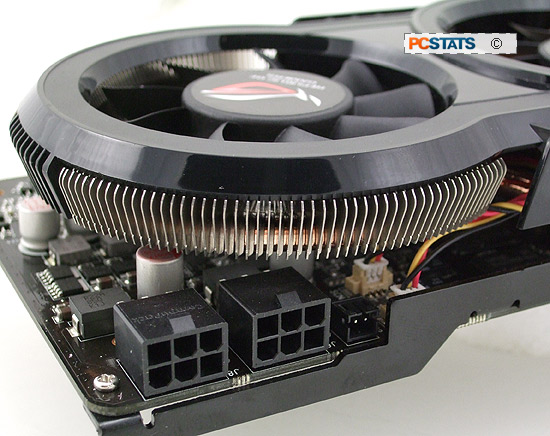 Performance videocards requiring multiple power connectors are pretty common, so power supply manufacturers long ago incorporated the extra power connectors necessary. If your power supply doesn't have the twin 6-pin SLI power connectors, ASUS has thoughtfully included two molex-to-PCI Express power connectors for you.