It's been a long, hard wait for those who have wanted a high-performance, high bandwidth AMD chipset. There is now a worthy successor to the 790FX in the AMD 890FX chipset.
Like its predecessor, the AMD 890FX chipset doesn't compromise discrete graphics performance or bandwidth by including an integrated graphics processor, instead you get massive amounts of PCI Express bandwidth for multi-videocard arrangement. Of course, being an AMD chipset you're limited to Radeon CrossfireX videocard configurations only, there is no teaming up nVidia videocards in SLI on this board. AMD's 890FX northbridge provides 42 lanes of PCI Express 2.0 bandwidth, more than you'll get on Intel's X58 or P55 chipsets or on AMD's 890GX or 785GX chipsets, and without the need for bottleneck prone front-end bridge chips.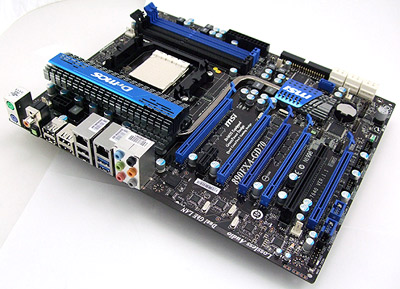 MSI puts all of this bandwidth to good use in its enthusiast grade 890FXA-GD70 motherboard; two videocards will run in (x16/x16) mode or four in (x8/x8/x8/x8) mode. As videocards edge closer and closer to saturating the PCI Express bus with data, performance enthusiasts will need to move to higher-bandwidth chipsets that won't bottleneck and starve their expensive GPUs. Having the extra bandwidth available today means there will be a lot of room open for future expansions as well.
of course there's more to MSI's 890FXA-GD70 than just PCI Express slots. It's also one of the first motherboards to combine AMD's 890GX chipset with the SB850 southbridge, so you'll be getting native SATA 6Gb/s transfer rates for up to six devices in RAID 0, 1 5 and 10 modes.
SuperSpeed USB 3.0 also makes an appearance on the 890FXA-GD70, thanks to NEC's D720200F1 controller. There are two USB 3.0 ports capable of 4.8Gb/s transfer rates, backed up by two lanes of dedicated PCI Express 2.0 bandwidth (hooray, no bottlenecking!). USB 3.0 is a must-have if you're investing in a motherboard for the future, it will be making its way into a dizzying range of devices towards the end of 2010.
As a socket AM3-based motherboard the MSI 890FXA-GD70 is compatible with a range of Phenom II and Athlon II chips, and in particular the Phenom II X6 series. The board also supports features like core unlocking for future AMD processors, that could potentially turn a four-core CPU into a six-core equivalent.
MSI has shown some impressive attention to detail with the 890FXA-GD70, including features like the OC Genie overclock dial, Reset/Power/clear CMOS buttons integrated right on the PCB, LED and PORT 80 feedback to let you know about the status of system peripherals and memory, and an overall high "military-grade" build quality by using long-life components and electrical devices usually selected for more critical missions. In PCSTATS overclocking tests we were able to push the bus speed to a modest 240MHz, without venturing into voltage adjustments.
With a price of around $200 CDN, ($200 USD, £130 GBP) at launch, the AMD 890FX-based MSI 890FXA-GD70 motherboard is a solid foundation for anyone looking to build a powerful multi-videocard gaming system. This board has lots of room for expansion and is good on the future-proofing front. Combining it with an AMD Phenom II X6 processor and a Radeon HD 5800-series videocard as part of AMD's Vision platform will make a system worthy for pretty much any performance enthusiast or gamer.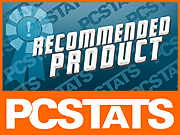 Find out about this and many other reviews by joining the Weekly PCstats.com Newsletter today! Catch all of PCSTATS latest reviews right here.
Related Articles
Here are a few other articles that you might enjoy as well...
- Gigabyte GA-890FXA-UD7 AMD 890FX Motherboard - FIRST LOOK
- ASUS M4A89GTD PRO/USB3 AMD 890GX Motherboard Review
- Gigabyte GA-P55A-UD4P Intel P55 Express Motherboard Review
- Gigabyte GA-P55-UD6 Intel P55 Motherboard Review
- Gigabyte GA-P55-UD5 Intel P55 Motherboard Review
- MSI Eclipse Plus Intel X58 Express Motherboard Review
- ASUS P7P55D Deluxe Intel P55 Express Motherboard Review