AMD's latest flagship chipset, the 890FX, has arrived in the form of the MSI 890FXA-GD70 motherboard. This socket AM3 mainboard is designed from the ground up for performance enthusiasts and promises innovations like native SATA 6Gb/s, USB 3.0, increased PCI Express 2.0 bandwidth for ATI Radeon videocards in four-way Crossfire, and support for 45nm AMD processors up to 140W TDP including 6-core Phenom II X6 processors. PCSTATS is testing the MSI 890FXA-GD70 with the AMD Phenom II X6 1090T CPU, a 3.2GHz six-core processor which is launching alongside the AMD 890FX chipset.
MSI's 890FXA-GD70 is supports all socket AM3 CPUs, including AMD Phenom II X6/X4/X3/X2, Athlon II X4/X3/X2 and AM3-based Sempron processors. Socket AM3 exclusivity also means this motherboard supports DDR3 memory only. The MSI 890FXA-GD70 has four memory DIMMs with capacity for up to 16GB (64-bit) / 4GB (32-bit) of DDR3-1066/1333/1600(OC) RAM. The AMD 890FX chipset uses HyperTransport 3 at 5.2GT/s and is paired off with AMDs SB850 southbridge.

If you're familiar with the AMD 890GX, then you know what to expect. The major difference between these two 890-class chipsets, apart from the lack of an IGP, is that AMD has loaded the 890FX chipset with 42 total lanes of PCI Express 2.0 bandwidth. That translates to 21000MB/s of aggregated device-to-system bandwidth, nearly double the 22 lanes of PCI Express 2.0 bandwidth you'd find on the AMD 890GX motherboard. Make no mistake, AMD's flagship 890FX chipset is designed for multi-videocard gaming on a grand scale!
With this enthusiast class motherboard from MSI, the maker has dedicated 32 lanes from the 890FX total available PCI Express 2.0 bandwidth for videocards, spreading it over four PCI Express 2.0 x16 slots. If two of the slots are populated with Radeon videocards in CrossfireX, each graphics card will run in (x16/x16) mode. Populating all four slots with Radeon videocards will turn the system into a massive (x8/x8/x8/x8) CrossfireX array. A fifth PCI Express x16 slot for peripherals runs in (x4) mode, and there's a single PCI Express 2.0 x1 slot as well as a PCI slot for older hardware.
On top of all this, MSI are betting hard that 2010 will be the year it reclaims dominance from ASUS and GIGABYTE, which unquestionably own the motherboard market right now. MSI has packed the 890FXA-GD70 motherboard with extensive overclocking tools, BIOS-level voltage adjustments, board-level features like a Port 80 card and diagnostic LEDs, and very selectively chosen mil-spec grade electrical components - specifically electrolytic Tantalum capacitors. MSI's 890FXA-GD70 is also the only board which is capable of (potentially) unlocking certain quad-core AMD CPUs to 6-core.

MSI 890FXA-GD70 Motherboard




INCLUDES: User's Manual, Driver CD, (4) SATA cable, I/O Shield, IDE cable, CrossfireX bridge, USB bracket, molex-to-sata power adapter.

Chipsets: AMD 890FX / SB850
CPU Support: AMD Socket AM3
Memory Type: Dual Channel DDR3
Videocard Support: (2) PCI Express x16 or (4) PCI Express x8
The flagship AMD 890FX chipset is the cornerstone of AMD's Vision platform, designed for performance enthusiasts and extreme gamers. The Vision platform prompts users to pair 890FX-based motherboards like the MSI 890FXA-GD70 with multiple AMD Radeon HD 5800-series videocards and AMD's latest Phenom II X6 processors together for a better computing experience. The MSI 890FXA-GD70 motherboard retails retail for roughly $200 CDN, ($200 USD, £130 GBP) at launch.
In terms of storage devices, MSI have equipped the 890FXA-GD70 board with six SATA 6GB/s ports (RAID 0/1/5/10) via the AMD SB850. The AMD SB850 is the first southbridge to bring native support for SATA 6Gb/s connections (ie. SATA III/3) into the PC. A JMicron JMB363 controller supplies two additional 3Gb/s SATA II ports (one combo eSATA II/USB 2.0) and an IDE connector for legacy storage devices. We would have liked it better if the 890FXA-GD70 had two eSATA ports on rear I/O for a little more future-proofing... just one eSATA port doesn't seem like enough.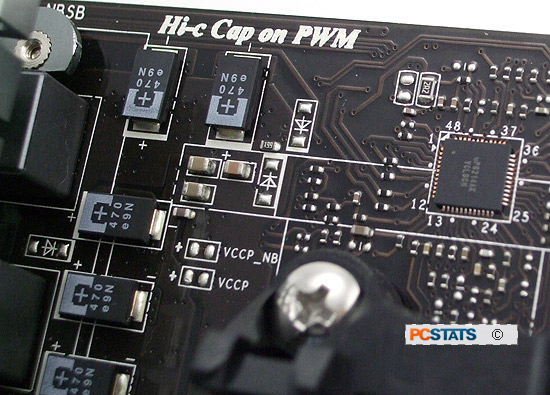 MSI touts the qualities of Hi-C capacitors (SMD Electrolytic Tantalum capacitors) which it claims help enable greater overclocking.
Two USB 3.0 ports are supplied at the rear I/O care of the ubiquitous NEC D720200F1 USB 3.0 controller. SuperSpeed USB 3.0 runs at 4.8Gb/s, an order of magnitude faster than USB 2.0 and will likely displace eSATA in the near future since it's both faster and self-powered. Rounding out the features are eleven USB 2.0 ports (six via headers), two Firewire headers and a pair of gigabit LAN RJ45 network jacks. High Definition 8-channel audio with coaxial RCA/optical SPDIF comes standard. The audio sub-system supports Blu-ray audio up to 24-bit/192kHz .
MSI's Got Extensive Overclocking Features
MSI's 890FXA-GD70 motherboard comes with a boatload of hardware overclocking tools that let you tune your processor and system performance directly from the motherboard. If you like playing with knobs and switches you'll fast fall in love with this enthusiast friendly board.
Electrically, MSI have selected Tantalum High-C capacitors and lower-temperature Super Ferrite core chokes for the CPU power area, in addition to the standard crop of low ESR solid state aluminum capacitors used throughout the motherboard. The Tantalum caps have 1.6M hr lifetime, while the Super Ferrite core chokes operate cooler and provide more stable power, according to MSI.
OC Genie Lite in the BIOS will automatically overclock your system for you, with the press of a button. In PCSTATS tests, MSI OC Genie pushed the 3.2GHz Phenom II X6 1090T processor to 3.9GHz in a snap.
MSI Unlock CPU Core is a BIOS level tool that does just what it says. The difference is that it can unlock 2, 4 or 6 cores on a processor. MSI has added this feature to all of its 800-series motherboards. While we can't give you an exact CPU model to try this out on (and remember that core unlocking results are luck of the draw) the performance trend MSI are selling with these overclocking features runs along these lines: buy a cheap two core chip, unlock extra two cores and then overclock the heck out it for MASSIVE free gains. In theory it sounds great, but often AMD's value-oriented processors have smaller levels of L3 cache, so take the clock-speed performance boosts as just that.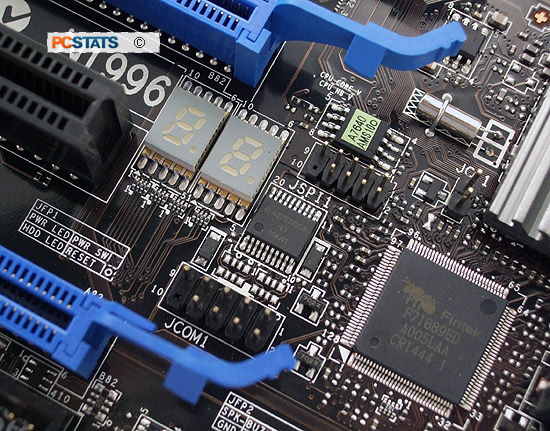 The Port 80 Diagnostics card on MSI's 890FXA-GD70 motherboard.
The real fun comes from the MSI 890FXA-GD70's overclocking dial, which will crank up the system bus speed directly from the motherboard. Turn the OC Gear button on, adjust the dial to your needs, and then hit the OC Gear button again to lock the settings in place.
The four touch sensitive, non-haptic buttons on the bottom-right corner of the PCB are for 'Green Power' mode, the 'OC gear' and 'OC Dial' when enabled, and standard power and reset. Since the touch sensitive buttons are dead flat, it's very easy to accidentally trigger the adjacent button. Still, they are kind of cool, and are only activated by the touch of a finger.
Now let's take a look at the 890FX chipset and see exactly what it can do...