AMD 890FX Chipset

AMD's 890FX chipset is designed for performance enthusiasts and hardcore gamers, make no mistake. While the first AMD 800-series chipsets linked together an integrated graphics processor (IGP) with support for add-in (discrete) graphics along side it, the AMD 890FX has the PCI Express bandwidth for running one, two, three or even four ATI videocards together in Crossfire mode. If you could look inside the 65nm silicon die you'd see 42 lanes of PCI Express 2.0 bandwidth instead of an anemic Radeon HD 4290 IGP.
In other words if you've been searching for a new AMD platform to replace the old 790FX setup, your prayers have just been answered. The board built with the 890FX is the AMD chipset to pick if you're building a high-end CrossfireX Radeon gaming PC.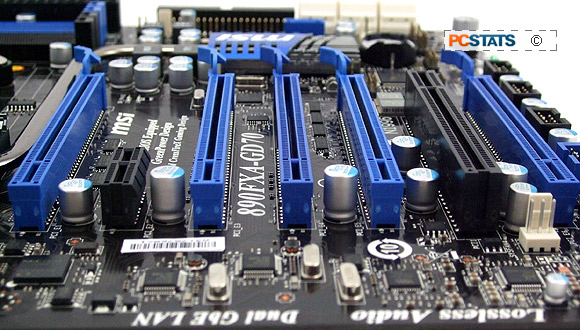 The four blue PCI Express 2.0 x16 slots can be used in a number of configurations. For those who want massively parallel graphics it's possible to install four Radeon videocards in Crossfire.
AMD 890FX-based motherboards will have two major configurations: the more common configuration will have a pair of PCI Express 2.0 x16 slots, each with x16 lanes of bandwidth. Variant versions like the MSI 890FXA-GD70 have four PCI Express 2.0 slots which can run in (x16/x16/x0/x0) mode, or in (x8/x8/x8/x8) mode for four-way CrossFireX configurations.
All of this PCI Express 2.0 bandwidth comes in handy because today's graphics cards are pushing more data along the PCI Express bus. Top-end enthusiast videocards like the dual-GPU Radeon HD 5970 can be bottlenecked by the limited bandwidth of a PCI Express 2.0 x8 connection with a significant drop off in peak performance and lower overall frame rates.
The gaming performance penalty gets worse if you try to run a pair of high-end videocards in CrossfireX mode; the videocards will completely saturate the (x8/x8) PCI Express, and you'll never get the most out of your expensive eyecandy generators.
AMD 800-series Chipsets

AMD 790FX
AMD 870
AMD 880G
AMD 890GX

AMD 890FX

CPU
Socket AM2
Socket AM2/ Socket AM3
Socket AM3
Socket AM3
Socket AM3
Memory
1066MHz DDR2
1066Mhz DDR2/ 1333MHz DDR3
1333MHz DDR3
1333MHz DDR3
1333MHz DDR3
Graphics Expansion
2x16 PCI Express 2.0
1x16 PCI Express 2.0
1x16 PCI Express 2.0
1x16 PCI Express 2.0,
2x8 PCI Express 2.0
2x16 PCI Express 2.0,
4x8 PCI Express 2.0
Peripheral Expansion
6x1 PCI Express 2.0
6x1 PCI Express 2.0
6x1 PCI Express 2.0, 2x1 PCI Express 2.0 on SB850
6x1 PCI Express 2.0, 2x1 PCI Express 2.0 on SB850
6x1 PCI Express 2.0, 2XPCI Express 2.0 on SB850
IGP
-
Radeon HD 4250
Radeon HD 4290/RV620
-
Process
65nm
65nm
55nm
55nm
65nm
TDP
10W
12.5
18W
25W
19.6W
IOMMU 2.0
-
-
-
-
Yes
Southbridge
SB600
SB710
SB710
SB850
SB850
Storage
4xSATA 3Gb/s
6xSATA 3Gb/s
6xSATA 3Gb/s
6xSATA 6Gb/s
6xSATA 6Gb/s
USB
10x USB 2.0,
12x USB 2.0
12X USB 2.0, 2 USB 1.1
14x USB 2.0,
2x USB 1.1


14X USB 2.0,
2x USB 1.1
Like AMD's 890GX chipset, the AMD 890FX northbridge had an extra pair of PCI Express 2.0 x1 lanes which manufacturers can dedicate to SuperSpeed USB 3.0 ports. Most AMD 890FX-based motherboards will likely option for the same NEC D720200F1 USB 3.0 controller.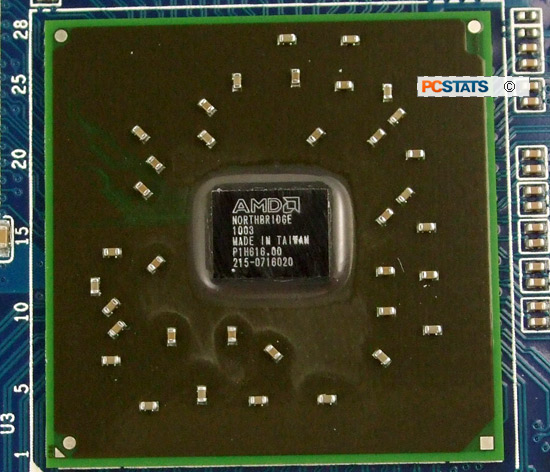 AMD 890FX Northbridge, photo taken from another motherboard.
IOMMU 2.0 support makes its debut with the AMD 890FX chipset. IOMMU stands for input/output memory management unit, and this is basically a memory allocation and isolation technology for virtualization and data integrity. You will never use it as only a few server-oriented operating systems and Linux support the feature. However, AMD believes that a year or two down the road IOMMU will have a broader adoption, particularly in workstation/virtualized environments so it wanted to include the technology early on.
Devices can take advantage of IOMMU to use native drivers in a virtualized environment, improving overall performance. It can also prevent devices from erroneously overwriting critical data, like kernel pages. Nevertheless, IOMMU is currently a feature that hasn't made its way into consumer operating systems yet.
AMD has also indicated that the 890FX chipset is a stronger overclocker compared to its previous chipsets, and is designed to handle power loads more effectively. Since the AMD 890FX is the chipset of choice for use with six-core processors like the Phenom II X6 1090T, getting a good overclock could make for some some extreme performance gains. PCSTATS will be testing out the 890FX's overclocking capabilities first hand a little later on in this review.
AMD SB850 Southbridge
AMD's 890FX northbridge will be paired with the same AMD SB850 southbridge that made its debut with the AMD 890GX chipset. The AMD SB850 is the first southbridge to have native SATA 6Gb/s connectivity with full RAID support. With all of the extra bandwidth that the SB850 southbridge controller is taking on, AMD has also doubled the bus speed between it and the 890GX northbridge. This expanded northbridge-southbridge bus has 16Gb/s transfer rates and is called A-link Express III.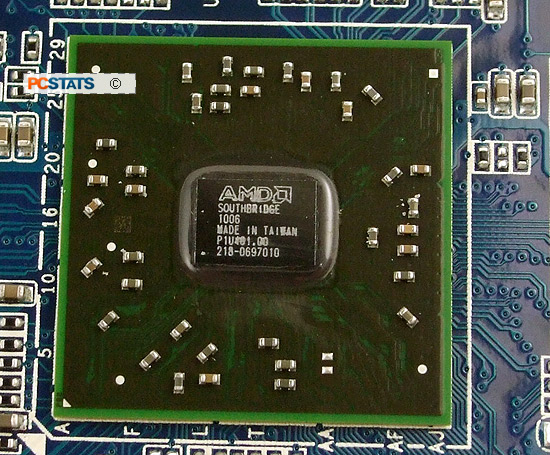 AMD SB850 Southbridge with native 6Gb/s SATA III, photo taken from another motherboard.
SATA 6Gb/s connections need a lot of system bandwidth, and to make room for it motherboard manufacturers have re-routed PCI Express expansion lanes, resorted to bridge chips and even sacrificed CrossFire/SLI graphics bandwidth in efforts to make SATA 6Gb/s work in places it wasn't originally intended (think: Intel P55 motherboards).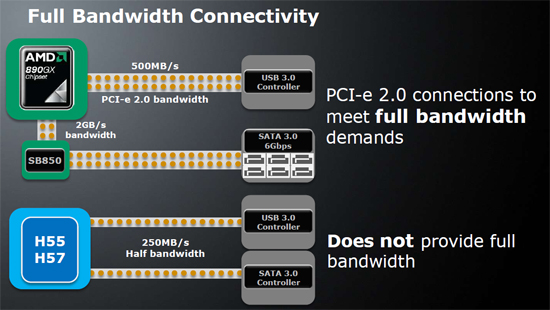 The AMD SB850 controller has native SATA 6Gb/s support built in, which theoretically means no compromises are necessary to enjoy faster storage drives, especially those expensive Solid State Drives (SSD).
A fast SSD in sequential read mode can saturate the SATA 3Gb/s connections found on typical motherboards, so SATA 6Gb/s support is more important than ever to avoid bottlenecks. Towards the end of 2010 new 25nm flash production techniques will give SSDs even larger capacities, so the ability to connect SSDs at full speed is good future proofing.
The SB850 southbridge supports SATA 6Gb/s in RAID 0, 1 5 and 10 modes, so you can even set up a massive array of SSDs or conventional hard drives. SATA 6Gb/s connections are backwards compatible with SATA 3Gb/s and SATA 1.5Gb/s hard drives, although to take full advantage of the faster bus you need to match up a SATA 6Gb/s capable hard drive with a SATA 6Gb/s connection to the motherboard.
Now let's take a quick look over the layout of the MSI 890FXA-GD70 motherboard...