Biostar's TA890GXE motherboard is a no-frills approach to the AMD 890GX chipset. It's a microATX form-factor motherboard so it can fit into nearly any case, it has robust graphics and storage options and most importantly it's affordable.


80% Rating:

Home > Reviews > Motherboards > Biostar TA890GXE
Overclocking CPU/IGP, Power Draw, Test Specs

Overclocking Results:
Before the overclocking tests can begin PCSTATS first prepares the field by dropping the CPU multiplier from 16x to 8x, and disabling clock speed throttling features like Cool'n'quiet, CPU C1E power states, etc.
A set of DDR3-1600MHz modules from Corsair were installed into the Biostar TA890GXE motherboard and the memory set to run at DDR3-800 mode - this is done so the RAM won't hold the CPU back.
Now to find out how far the Biostar TA890GXE motherboard will overclock! The bus speed was rapidly bumped up from 200MHz to 235MHz, then 245... 255... and 260MHz which caused the PC to fail to POST. After a hard reboot, we dialed things back to 250MHz and sure enough Windows 7 booted up just fine. A maximum overclock of 250MHz on the AMD 890GX chipset is okay, but far from the best overclock PCSTATS achieved on the 890GX platform - 285MHz.
Radeon HD 4290 Overclocking
After finishing with the CPU, PCSTATS turned its attention to overclocking the Radeon HD 4290 IGP. The ability to overclock an integrated video chipset is fun way to grab a few extra frames per second, but if you're finding the IGP graphics too slow you really need to install a discrete graphics card.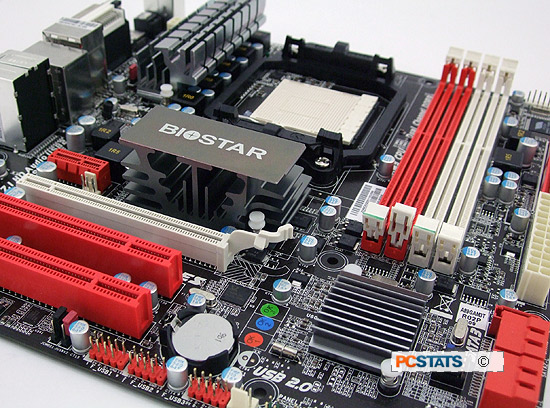 BIOS options allow you to overclock the Radeon HD 4290 GPU from its default clock speed of 700MHz to at least 1000MHz on the Biostar TA890GXE motherboard. After each speed bump the stability of the IGP was tested with a round of 3DMark06. To make a long story short, PCSTATS had no problem overclocking the Biostar TA890GXE's HD 4290 IGP to 975MHz.
Next up, power draw measurements and PCSTATS test system specs... then it's on to benchmarks!
Measuring Energy Efficiency
Energy efficient computers are a good thing, so it helps to know how power efficient, or power hungry different parts of a computer are when stressed with different tasks. Since it is very difficult to isolate a videocard or CPU and measure power draw separately, PCSTATS measures total system power draw with the aid of an Extech 380803 AC Power Analyzer and A-PFC compliant PC Power and Cooling 750W power supply. The meter is placed between the 120V AC outlet and the PC power supply. By stressing the test platform's graphics solution or processor, it's then possible to measure power draw relative to the PC at an idle state.
The test system is measured at Idle (Windows desktop), Graphics Loaded (3Dmark06) and CPU Loaded (Prime 95) states.
Total System Power Draw
Biostar TA890GXE

Graphics Solution

Idle
Graphics Loaded
CPU Loaded

AMD HD 4290
(Integrated Graphics)

60w

115w

144w


nVidia Geforce GTS250
(Discrete Graphics)


115w
246w
206w
(At desktop)
(via 3Dmark 06)
(via Prime95)
Even though the AMD 890GX chipset bumps the speed of the graphics core to 700Mhz, the system draws relatively little power under load on IGP alone. Idle power draw is just 60 Watts on IGP graphics!
HD Tach is a physical performance hard drive test for Windows. In Windows 9X/ME it uses a special kernel mode VXD to get maximum accuracy by bypassing the file system. A similar mechanism is used in Windows NT/2000/XP. HD Tach reads from areas all over the hard drive and reports an average speed. It also logs the read speeds to a text file that you can load into a spreadsheet and graph to visually read the results of the test.
HD Tach 3.0.4.0
Burst
Random Access
Average Read
AMD 890GX / SB850 SATA 6Gb/s
(Biostar TA890GXE)
214.9 MB/s
17 ms
115.1 MB/s
AMD 890GX / SB850 SATA 6Gb/s
( ASUS M4A89GTD-Pro/USB3 )
333.9 MB/s
17 ms

114.4 MB/s

Intel P55 / Marvell SE9128 SATA 6Gb/s
(Gigabyte P55A-UD6)
291.5 MB/s
17 ms
115.5 MB/s
The native AMD SB850 implementation seems to be a touch faster in the Burst test than the Marvell-to-Intel P55 Express implementation used on the Gigabyte P55A-UD6 motherboard.
Prelude to Benchmarks
The details of how the Biostar TA890GXE motherboard test system was configured for benchmarking; the specific hardware, software drivers, operating system and benchmark versions is indicated below. In the second column are the general specs for the reference platforms this AMD 890GX based motherboard is to be compared against.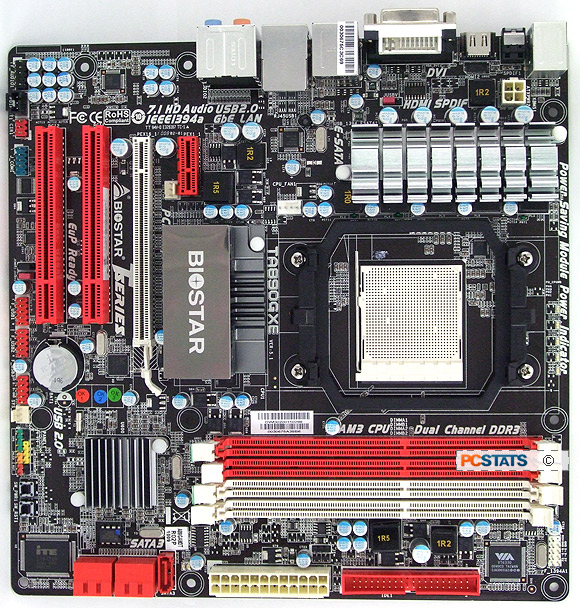 Please take a moment to look over PCSTATS test system configurations before moving on to the individual benchmark results on the next page.

PCSTATS Test System Configurations