Biostar's TA890GXE motherboard is a no-frills approach to the AMD 890GX / SB850 chipsets. It's a microATX form-factor motherboard so it can fit into nearly any case, it has robust graphics and storage options and most importantly this board is just plain affordable. The TA890GXE motherboard is compatible with any socket AM3 processor, so it's possible to install an entry level socket AM3 Sempron chip if you're on a very tight budget, or switch things up and lock in a six-core Phenom II X6 1090T processor and turn it into a video processing, content creating, media PC monster. The options as they say, are limitless.
As a socket AM3 motherboard, Biostar's TA890GXE is DDR3-only, with four memory DIMMs that support up to 16GB of DDR3-800/1066/1333/1600(OC) RAM. Entry level 4GB DDR3 memory kits are still hovering around $100, but much like the cost of gas prices seem to fluctuate up and down.
MicroATX motherboards are a natural fit for integrated graphics processors, and the AMD 890GX's built-in Radeon HD 4290 is one of the most full featured and powerful IGPs available on motherboards today. Just like the Radeon HD 4200 IGP found in AMD's 785G chipset, this IGP has 40 shader processors and DX10.1 support, but with a faster 700MHz core clock speed. The HD 4290 isn't of much use for hardcore gaming, but in a pinch it will get you playable frame rates in World of Warcraft, provided you fiddle with some system settings. When it comes to HD video decoding and plain old desktop 2D graphics, the HD 4290 is more than powerful enough. Biostar hasn't included any Sideport memory in this incarnation of the AMD 890GX chipset, but in practice this only has a minor impact on overall 3D performance anyway. If you need full-on 3D gaming capabilities, the TA890GXE has a PCI Express 2.0 x16 videocard slot ready and waiting.
The most compelling features of ATI's Radeon HD 4290 IGP come from its media capabilities. The IGP has support for Unified Video Decoder (UVD) 2 (MPEG2, VC-1, and H.264 formats) endowed IGP and expanded compatibility with ATI Stream Transcode. In simple terms, this means the IGP uses graphics hardware to accelerate certain types of desktop applications. The Radeon HD 4290 supports Blu-Ray 1.1 features like picture-in-picture as well. The Radeon HD 4290 IGP also powers the Biostar TA890GXE's HDMI 1.3, DVI and VGA video output from the rear panel of the TA890GXE.

Biostar TA890GXE Motherboard




INCLUDES: User's Manual, Driver CD, (3) SATA cables, I/O Shield, SATA power cable.

Chipsets: AMD 890GX / SB850
CPU Support: AMD Socket AM3
Memory Type: Dual Channel DDR3
Videocard Support: (1) PCI Express x16 2.0
Integrated Graphics: Radeon HD 4290 (700MHz GPU)
You can expand the Biostar TA890GXE's graphics output using a single x16 PCI Express 2.0 slot for any discrete NVIDIA or ATI graphics card. Additional expansion comes care of a PCI Express 2.0 x1 slot and a pair of legacy PCI slots for add-in cards. As in most microATX motherboards space is at a premium, but fortunately with the high levels of integration of the AMD 890GX chipset this won't be a problem for most users - the board as it is, only needs a CPU and memory to give you full functionality as a PC.
AMD's 890GX chipset is paired with the SB850, AMD's first southbridge storage controller to have native SATA 6Gb/s connections (ie. SATA III/3). The Biostar TA890GXE has five internal SATA 6Gb/s connections which support RAID 0, 1 5 and 10 modes. Biostar adds a VIA VT6330 controller for an additional eSATA II port and IDE connector.
For whatever reason the Biostar TA890GXE motherboard only has four USB 2.0 ports on the I/O panel (with three USB 2.0 headers at mid-board). Even with the headers we fell this is a little skimpy, so make sure to count the amount of USB devices you use before buying, or be prepared to invest in a decent USB hub. Rounding out the rest of the I/O panel are HDMI 1.3, DVI and VGA outputs, a 1394a firewire port, a powered eSATA port, an optical S/PDIF output, a gigabit LAN jack and 8-channel audio outputs.
If you've read the above list you'll notice that USB 3.0 support is conspicuously absent from the Biostar TA890GXE's list of features. To reach the TA890GXE's relatively inexpensive $125 CDN ($125 USD, £80 GBP) price point Biostar chose to scrap a few optional extras typically included on full size 890GX boards. Since USB 3.0 requires the integration of an extra add-in controller (typically the NEC D720200F1) it was cut. It's not difficult to find a PCI Express x1 USB 3.0 card should you need two USB 3.0 ports down the road.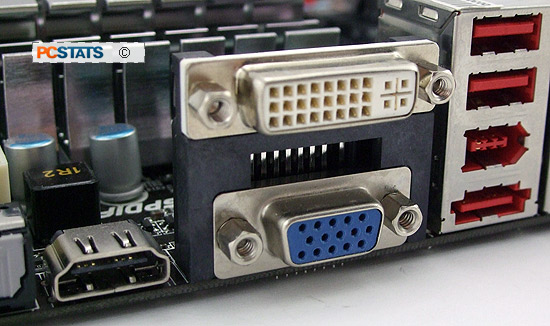 Video outputs from the AMD 890GX's Radeon HD 4290 integrated graphics chipset.

The Biostar TA890GXE supports dual-display output over HDMI or DVI and VGA output, so it can output video to an analog monitor and HDTV at the same time. With specific Radeon HD 5000 series graphics cards, up to three monitors can be supported care of ATIs Eyefinity.
AMD 890GX & ATI Radeon HD 4290 Integrated Graphics Processor
PCSTATS has covered the AMD 890GX/SB850 chipsets and integrated ATI Radeon HD 4290 graphics in great detail already so if you'd like to freshen up on the technology, please spend a few minutes to read these two sections before continuing on with the Biostar TA890GXE review.
AMD's 890GX platform is an upgrade from AMD's previous integrated chipsets like the AMD 790GX, and direct competition for Intel's H55 platform and graphics-integrated socket 1156 processors.
Integrated Graphics Chipsets
AMD 790GX
AMD 890GX

Intel H55

CPU
Socket AM2/Socket AM3
Socket AM3
Socket 1156
Memory
1066Mhz DDR2/ 1333MHz DDR3
1333MHz DDR3
1333MHz DDR3
Graphics Expansion
1x16 PCI Express 2.0 / 2x8 PCI Express 2.0
1x16 PCI Express 2.0,
2x8 PCI Express 2.0
1x16 PCI Express 2.0
Peripheral Expansion
6x1 PCI Express 2.0
6x1 PCI Express 2.0, 2x1 PCI Express 2.0 on SB850
6x1 PCI Express 2.0
IGP
Radeon HD 3300/RV610
Radeon HD 4290/RV620
Intel HD Graphics
Shader Processors/MHz
40/700MHz
40/700MHz
12/Varies by CPU
DirectX Support
DX10
DX10.1
DX10
Display
DVI/HDMI/DP/VGA
DVI/HDMI/DP/VGA
DVI/HDMI/DP/VGA
Southbridge
SB750
SB850
Intel PCH
Storage
6xSATA 3Gb/s
6xSATA 6Gb/s
6xSATA 3Gb/s
USB
12x USB 2.0
14x USB 2.0,
2x USB 3.0

12x USB 2.0
Most of the big upgrades for the AMD 890GX chipset revolve around the chipset's improved graphics capabilities. The Radeon HD 4290 brings a number of architectural improvements over AMD's previous Radeon HD 3300 graphics chipset, including support for DirectX 10.1, HDMI 1.3 video out put capabilities and more efficient use of SidePort memory.
While the Radeon HD 4290 has proven itself capable of some light gaming, like most IGPs it simply can't keep up with modern hardcore games at anything approaching high detail settings. The same can be said of Intel's socket 1156 Core ie and Core i5 processors, which have graphics integrated directly into the CPU. Even at the best of times you'll be adjust quality sliders and turning down the resolution to get decent framerates in today's 3D games. If you are interested in playing games on either of these platforms it's a good idea to invest around $70-100 in a videocard like the Radeon HD 4670 or Radeon HD 4850.
The SB850 southbridge also stands out with its native SATA 6Gb/s capabilities. It will be a long time coming for Intel to refresh its H55 Express chipset with SATA 6Gb/s support, so getting support for faster SSDs will continue to be a problem for Intel's platform. AMD's SB8650 southbridge can already take advantage of these drives, as well as giving you the ability to connect them in RAID 0, 1 5 and 10 modes.
Now it's time to examine the physical layout of the Biostar TA890GXE more closely...