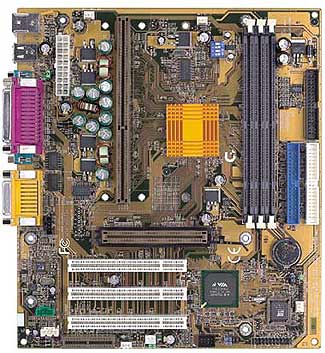 Once again the GA-7VM is using the VIA KX-133 Chip set (VIA8371 Northbridge and VT82C686A Southbridge,) supporting AMD Athlon Slot A processors from the 500Mhz model to the 1Ghz model. It has one AGP 4X compliant slot, 3 PCI busmastering slots, as well as an AMR slot. Although AGP 4X is not too important performance wise, it is still vital in a new system because new video cards support it, and should eventually show performance differences between 4, 2, and 1X modes. Having only 3 PCI slots may seem sparse, but hey, this is a baby-atx motherboard. The inclusion of an AMR slot does not make a lot of sense with this motherboard. I say this because there is already sound on board, and the cheapest of PCI modems are still only $23 CDN, an AMR modem can't be much cheaper, additionally, an extra PCI slot would have provided more flexibility for users that shun the idea of using an analogue (phone line) modem anyway.
Looking carefully this motherboard will show that there are 3 DIMM Slots on board supporting 512 MB of PC-100 or PC-133 memory. Doing the simple math reveals that this board is capable of a maximum of 1536MB or 1.5GB of RAM. Once again, only having 3 DIMM slots is not of great concern for the intended market. I'd be surprised to see users of this motherboard loading up more than 256MB of RAM on this motherboard.
There are a variety of Front Side Bus frequencies available. They range from 100, 110, 115, 120, 124, 129, 133, 138, and, 143Mhz (DDR.) Unfortunately, Gigabyte decided to go the dipswitch route, but within the SOHO, light multimedia mind set, it doesn't seem too unreasonable.
An interesting feature that Gigabyte included is the Suspend-to-RAM (STR) feature. Suspend to RAM is a Windows '98 ACPI function. It basically allows the system to go into sleep mode, with the RAM holding the last "state" of the system. STR allows the system to return quickly back to its last "state" from the "state" that was stored into RAM at the moment that the system went into sleep mode.
On board features:
On board sound! To cut costs some users actually look for this feature. I find that on board sound is not that bad however, at the same time, it's not a SoundBlaster Live! Platinum either. You get a joystick port, line out, line in, and microphone in jacks. In addition there are two Soundblaster type audio ports built into the motherboard to connect an additional CD-ROM drive (for audio) and an internal modem. Beware though, if you connect an audio cable into that second CD-ROM audio port (AUX-IN), you will have a hard time with installing some PCI cards in the third PCI slot. It's placed too close, and you might have to squish it in.
There are two USB ports, as well as a connector for two more external USB ports. Gigabyte does not provide the connector with this motherboard, but once again, for the intended market, it probably would've been a waste of resources.
Also, you get a parallel port (printer), two serial ports (serial mouse or external modem), and finally two PS/2 ports (for your keyboard and mouse.)
I have some notes on the layout and general visual impressions of the motherboard. The AGP port comes with a strange black plastic clip that helps to secure the AGP card in place. I've never actually needed that feature, but it's kind of neat, and does its job well. There are not any cheap transistors covered by cheap heatsinks that seemed to plague the earlier Slot A motherboards (FIC SD-11.)
The ATX power connector is sensibly placed between the Slot A connector and the PS/2 ports. So there shouldn't be any problems with large coolers interfering with the power connector. Asus K7M users will understand what I mean.
The floppy drive and IDE connectors are colour coded and well placed. They are placed behind the DIMM slots, and should not disrupt the air flow from a front case fan. Plus, the baby-ATX design puts the motherboard well above the front case fan's path too.
There are two fan headers on board, one is for the CPU and is placed one inch away from from the Slot A connector (and placed above, so as to not interfere with heatsinks.) The other header is placed at the bottom right corner below the CMOS battery. While a double fan header for the CPU would've been nice, it's not really that necessary for this type of motherboard.
Unfortunately, Gigabyte has gone down the cheap route with the heatsink covering the NorthBridge chip. It is covered by a tiny heatsink held in place with adhesive. Hardcore tweakers usually like the option of at least removing the heatsink and applying a thin layer of thermal compound. However, with the taped on heatsink, there are very few options.
Let's move onto overclocking now...