Now let's see how well this motherboard overclocks! We used an AMD Athlon 550A (A = .18 micron) CPU. The CPU clock multiplier is auto detected by the other board, therefore the only item that I could manipulate is the FSB settings via a dipswitch. Another unfortunate omission is the ability to control the core voltage of the processor.
Having said all of that, I have some great news! This motherboard is a great overclocker! Using the same CPU and the same cooling, I managed to overclock it to 633Mhz with no voltage tweaks (2.75x115Mhz DDR = 633Mhz.) All of our previous motherboards did not allow for overclocking above 110Mhz DDR.
WCPUID: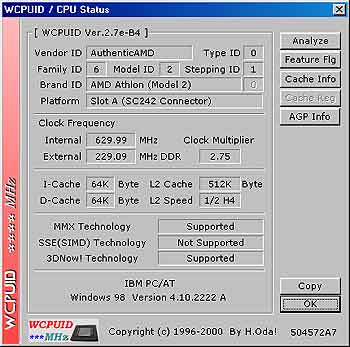 I swear it's really a 633! WCPIUD is not 100% accurate.
SiSoft Sandra: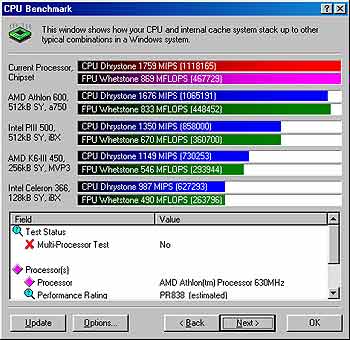 These numbers indicate the obvious... 633Mhz is faster than 600Mhz.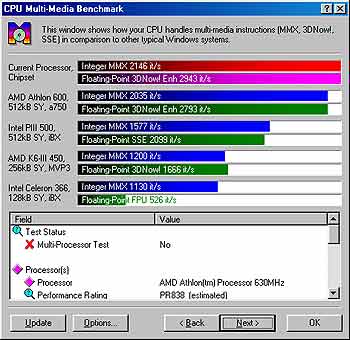 Once again, the 33Mhz difference is clearly shown here.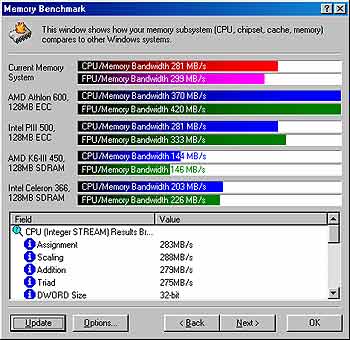 VIA's chipsets have always been plagued with slow memory scores, this motherboard is no exception.
Despite lacking crucial features for overclocking, the GA-7VM has still managed to exceed my expectations in regards to overclocking and stability. Successfully overclocking to 115Mhz FSB is uncommon (throughout my experiences) with all AMD Athlon motherboards, so naturally I was quite surprised when it worked. Now lets try it out with a GFD!