Abstract: First impression of this motherboard is 'small', but small things sometimes hide very big surprises... This little board has some secrets...


82% Rating:

Home > Reviews > Motherboards > Gigabyte GA-7VM
Gigabyte GA-7VM Motherboard Review
---
Right out of the box the first impression of this motherboard is, small. But small things sometimes hide very big surprises, so lets take a good look at the Gigabyte GA-7VM .
The AMD Athlon is currently available to the end user at a more attractive price than their Intel counterparts.  Initially the AMD Athlon platform suffered from a genuine lack of supporting motherboards, that is no longer the problem.  The perceived problem now is that there isn't a good selection of small motherboards for SOHO and light multimedia users.  On the Intel side, there is a wide selection of these types of motherboards from companies like Houston, and DTK.  Nonetheless, Gigabyte has arrived with a new product that should make AMD Athlon enthusiasts happy, as they've come up with a new baby-ATX motherboard suitable for SOHO, and light multimedia needs.
Gigabyte's GA-7VM steps up to the plate with a baby-ATX form factor, sporting the VIA KX-133 Slot A chip set, with 1 AGP, 3 busmastering PCI, and 1 AMR (Audio Modem Riser) slots.  Additionally it also comes with sound on board, and 3 DIMM slots.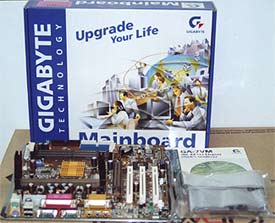 Avg. retail price: $162 CDN  /  $109 USD
Motherboard Spec Sheet:
PROCESSOR

---

Slot A for AMD-K7 Athlon 200MHz FSB processors
100/110*/115*/120*/124*/129*/133*/138*/143* MHz FSB
AUTO detect CPU voltage
CHIPSET

---

VIA KX133 North Bridge
VIA 686A South Bridge
AC97 codec
MEMORY

---

16MB to 1.5GB memory size
3 x DIMM sockets
Supports 64/128/256/512 MB SDRAM DIMM module
Supports ECC type DIMM module (72bits)
Slots

---

1 x AMR (Audio Modem Riser) slot (Inversely AMR card)
1 x AGP slot supports 2X/4X mode
3 x PCI slots support 33MHz & PCI 2.2 compliant
I/O

---

2 x Ultra DMA 33/66 bus master IDE ports on board
1 x FDD, 2 x COM, 1 x LPT, PS/2 keyboard, PS/2 Mouse on board
1 x joystick, 1 x line-in, 1 x line-out, 1 x MIC on board
2 x USB ports on board
2 x USB ports by cable (optional accessory)
IrDA TX / RX Header Ready
POWER

---

ATX power connector
Power-on by LAN, RTC, Modem & switch
Power-off by Windowsr 95/98/2000 Shut down & Switch
Supports USB device wake-up
3 level ACPI LED support
Stop CPU fan during entering suspend mode
FORM FACTOR

---

Micro ATX , 4 layer PCB (24.7*22.0cm)
H/W MONITORING

---

Auto speed down and Alarm when CPU overheat or Fan failure (OS independent & Driverless)
3 fan power & speed detection connectors
Stop CPU fan during entering suspend mode
System health status detect & report by BIOS
H/W detect +5V, +12V, CPU voltage & CMOS battery status
BIOS

---

2Mbit Flash RAM
AMI BIOS with enhanced ACPI Feature for PC98/Win98/Win2000 compliance, Green, PnP, DMI, INT13 (>8.4GB) & Anti-Virus functions < /FONT>
IDE#1~#4, SCSI, LS120, ZIP & CD-ROM bootable
AC Recovery ON/OFF control
Auto-detect & report system health status
OTHER FEATURES

---

Suspend-To-RAM (STR)
Includes Wake-On-LAN Header (WOL)
Includes Wake-On-Ring (WOR)
Poly fuse for keyboard, USB & game overcurrent protection
DRIVER

---

VIA 4 in 1 service pack utility
AC97 audio driver
Hardware monitor utility
Gigabyte includes a rather informative manual, a floppy disk drive cable, 80 conductor / 40 pin Ultra ATA 66 cable and a CD.  On the CD, you should be able to find the VIA Chip set driver, the Audio Driver, DirectX 7.0, Adobe Acrobat Reader 3.01, and Norton Antivirus / Utilities 2000 SE.  The inclusion of the motherboard drivers is a given, but including the Norton Antivirus is a huge plus.  Virus protection is a very important thing to have, and getting such a competent package for free, is always welcome.