A lot of pixels have been spilled over Intel's upcoming 32nm processor code named 'Sandy Bridge' - the chip with an integrated graphics core . You probably already know that these 2nd generation Intel Core processors will adopt the familiar Core i3/i5/i7 2xxxx nomenclature and arrive in a range of clock speeds, cache sizes and core counts. You may even be aware, rather annoyingly, that 32nm Sandy Bridge CPUs are not backwards compatible with existing Intel P55 socket 1156 motherboards.
Instead, Intel is pairing the new socket 1155 Core i3 / i5 / i7 2xxxx-series CPUs with motherboards built on either the Intel P67 or Intel H67 chipset. The former is suited to performance PC systems with all the bells and whistles, like 3-way Crossfire/SLI graphics. The latter relies on the integrated graphics core in the Sandy Bridge CPU which makes it ideal for office workstation computers or even home theatre PCs.
If we can go off on a tangent for a moment, Intel H67-based motherboards should benefit from an improved variety of graphics interfaces (display port, HDMI, analog and DVI), multi-monitor capabilities and we can only assume moderately better IGP performance over Intel G45 and H55 integrated graphics solutions in FPS-type video games. For more details see PCSTATS' Intel H67 motherboard preview here.
From what PCSTATS has seen, but cannot yet tell you about due to NDA restrictions, you might want to hold off that new PC build until the 32nm Intel Sandy Bridge processors and Intel P67 / H67 motherboards officially drop...
Today PCSTATS is giving you a first look at the new flagship Intel P67 motherboard from Gigabyte called the GA-P67A-UD7. There's a lot for computer enthusiasts, gamers and overclockers to get excited about with this particular board, not the least of which is 3-way SLI/Crossfire videocard support, a Port 80 card, (10) USB 3.0 ports, (6) SATA 6GB/s ports and a good dose of engineering....more on that in a moment. Gigabyte has borrowed a page from its $500 supreme enthusiast GA-P55A-UD9 motherboard and adopted a novel VRM design utilizing a 3-in-1 MOSFET that delivers better power to the CPU, in less space and with less heat we're told.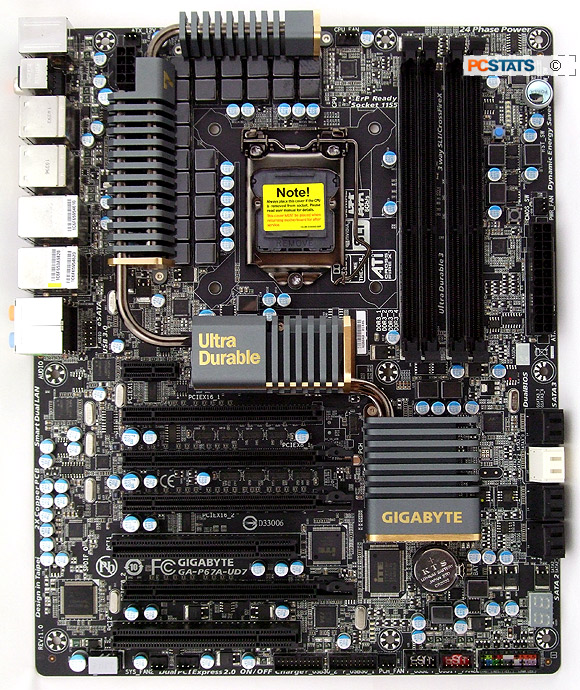 Gigabyte GA-P67A-UD7 Motherboard in all its matt-black glory.
Gigabyte has manufactured the GA-P67A-UD7 on an 8-layer PCB, with two 2 ounce copper inner layers that offer improved impedance and signal quality and also reduce EMI. The extra copper should help lower board mounted component temperature by acting as a massive conductive heatsink backplane too. Cosmetically, GA-P67A-UD7 is a jet-black, matt surface that weighs a ton. Really, this is a very heavy motherboard that looks ready to kick ass and take names.... I mean as far as circuit board and colour-matched components can actually imbue design!
PCSTATS is excited to see what the Gigabyte GA-P67A-UD7 motherboard is capable of with a 32nm Sandy Bridge CPU locked into its 1155-pin socket.... but sadly we cannot yet share ANY benchmarks or performance related results with you dear reader. Instead, we're going to take a quick spin around the board and talk about what you should expect from a flagship Intel P67 platform.
For starters, Gigabyte's GA-P67A-UD7 motherboard packs in four physical PCI Express 2.0 x16 videocard slots, two of which operate in x16 mode, two in x8 mode. The board supports 3-way nVidia SLI care of an embedded nVidia NF200 chipset and 3-way AMD CrossfireX for multi-videocard gaming goodness.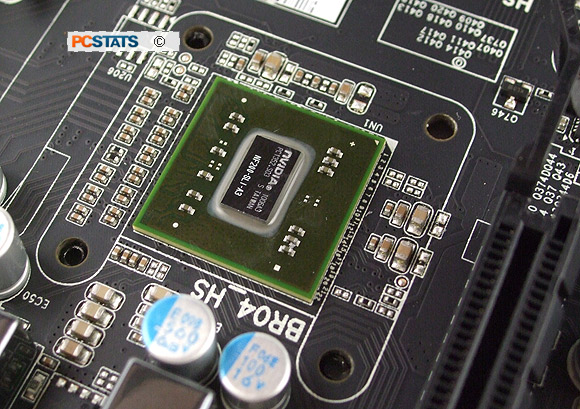 nVidia nF200 SLI chipset to enable 3-way SLI on this Intel P67 motherboard.
Remaining expansion options include a PCI Express x1 and two PCI slots. Up to 4GB of dual channel DDR3-2133/1866/1600/1333/1066 memory can be installed in the boards four RAM slots, 16GB of RAM if a 64-bit operating system is installed. Extreme Memory Profiles (XMP) are supported of course.
Next, a look at the upcoming Intel socket 1155 processor socket and naked silicon die of the Intel P67 chipset....