PCSTATS measures total system power draw (watts) with the aid of an Extech 380803 AC Power Analyzer and A-PFC compliant Seasonic SS-760KM power supply. The meter is placed between the 120V AC outlet and the PC power supply and the computer stressed. Total system power draw is recorded and compared to the PC's idle state.
Total System Power Draw
Idle

CPU Loaded

GFX Loaded

AMD A8-3850
nVidia Geforce GTX470


82W
236W
193W

AMD A8-3850
Radeon HD 6550D IGP

32W
145W
94W

(Idel @ desktop)

(via Prime95)

(via 3DM06)
Gigabyte's GA-A75M-UD2H requires very little power while operating with the AMD A8-3850's integrated Radeon HD 6550D graphics core. At idle, the system sips a little as 32W! Under CPU-load conditions this figure jumps to a not unreasonable 145W. With the IGP stressed by 3DMark the total power consumption is a modest 94W. Adding a Geforce GTX470 videocard into the mix introduces a significant power overhead, pushing total system power draw up across the board.
With this generation motherboard, the VRM is built around 'Driver MOSFETs' which combine the functions of a driver, high MOSFET and low MOSFET into one component. This integrated circuit improves power efficiency, reduces heat and has a smaller footprint than previous circuit designs. Flanking the CPU socket are Japanese made all solid-state capacitors and ferrite choke cores. This board is also built on a 2oz. copper substrate that pulls double duty as a board level heatsink for surface mount devices like the driver MOSFET.
Time to wrap this review up!
A Well Built, Well Equipped Entry Level Motherboard
Is this AMD A75 motherboard worth getting? Well, if we compare the Gigabyte GA-A75M-UD2H explicitly against the other AMD A75 boards PCSTATS has tested, the answer is a resounding 'yes'!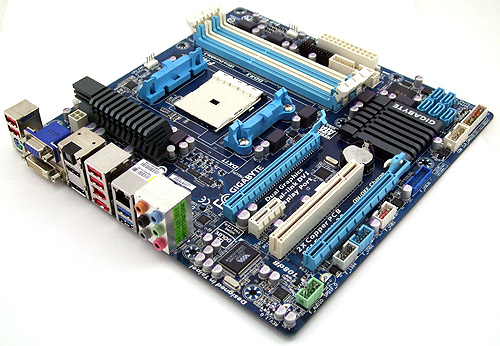 The Gigabyte GA-A75M-UD2H offers up the ideal mix of features, affordability and reliable build quality for the average computer user on a tight budget. The AMD A75 platform also proves itself well suited to media-center or HTPC tasks; making it very simple to output movies via HDMI cable to an HDTV. The Radeon HD 6550D IGP at the heart of the AMD A8-3850 CPU supports light DX11 gaming at modest resolutions, HDMI 1.3 output and typical media playback with ease.
Where bog-standard office computers and family PCs used for email, web surfing and Office are considered, the Gigabyte GA-A75M-UD2H's modest level of integration is probably going to be fine. Given that the GA-A75M-UD2H retails for about $100 CDN ($100 USD, £55 GBP), it just goes to show how economical the AMD A75 platform can be.
As the benchmarks have demonstrated however, while the AMD A75 platform is adequately suited to basic office applications like email, Office and web surfing, the Fusion A8 processors are not intended to be the brains behind killer gaming rigs or pixel bending performance PCs. In fact, performance computer users and gamers ought to focus their attention on AMD 990FX & Bulldozer/Phenom II CPU platforms, or Intel Z77/Z79 based motherboards with Core i5/i7 processors.
Considered on its own merits within the entry-level PC class however, the Gigabyte GA-A75M-UD2H is a great budget-minded motherboard. It comes packed with current connectivity features like SATA III and USB 3.0 that ensure a good degree of future proofing. There are caveats to consider of course, the AMD A8-3850 CPU is underpowered compared to AMD's Phenom II and Bulldozer processors, as you've seen in the benchmarks. Yet on the whole, the Gigabyte GA-A75M-UD2H is a good foundation for a cost-effective, entry level AMD Fusion computer system.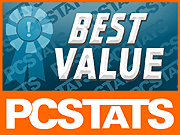 Find out about this and many other reviews by joining the Weekly PCstats.com Newsletter today! Catch all of PCSTATS latest reviews right here.
Related Articles
Here are a few other articles that you might enjoy as well...
- Biostar TA75M+ AMD A75 socket FM1 Motherboard Review
- Biostar TA990FXE AMD 990FX Motherboard Review
- ECS Z77H2-A2X Black Edition Intel Z77 Motherboard Review
- Gigabyte GA-Z77X-UD3H Intel Z77 Motherboard Review
- Gigabyte GA-X79-UD5 Intel X79 LGA2011 Motherboard In-Depth Review
- ASUS P8P67 Pro Intel P67 Motherboard Review
- ASUS P8H67-M Evo Intel H67 Express Motherboard Review
- ECS H67H2-M Black Edition Intel H67 Express Motherboard Review
- Biostar TH67XE Intel H67 Express Motherboard Review
- Gigabyte GA-P67A-UD7-B3 Intel P67 Motherboard Review
- Gigabyte GA-Z68X-UD5-B3 Intel Z68 Motherboard Review
- Gigabyte GA-Z68XP-UD3-iSSD Intel Z68 Motherboard & Intel 20GB SSD Review
- MSI P67A-GD65 Intel P67 Motherboard Review
- ECS P67H2-A Black Extreme B3-stepping Intel P67 Motherboard Review
- Gigabyte GA-P67A-UD4-B3 Intel P67 Motherboard Review
- Gigabyte GA-Z68X-UD3H-B3 Intel Z68 Motherboard Review
- Gigabyte GA-P67A-UD4 Intel P67 Motherboard Review
- Intel DH67BL Intel H67 Express Motherboard Review
- ASUS P7P55D Premium Intel P55 Express Motherboard Review