The Gigabyte GA-A75M-UD2H motherboard has a pair of PCI Express 2.0 x16 slots that operate at x16 and x4 mode respectively, or 8GB/s and 2GB/s per direction. A single PCI Express x1 and PCI slot complete the list of expansion options.
Along the bottom edge of the board we find headers for the following ports: front panel audio, Firewire, (2) USB 2.0, USB 3.0, COM port and front panel connectors. The GA-A75M-UD2H comes with two 4-pin PWM fan headers spread evenly around the mATX board. While USB 2.0's 480Mb/s maximum bandwidth was enough for many years, USB 3.0 expands the bandwidth to a whopping 4.8Gb/s (4800Mb/s) which is more appropriate for today's large mass storage devices.
Gigabyte has boosted the electrical capabilities of the second USB 2.0 header to support charging requirements of peripherals like the Apple iPad/iPhone while the rest of the computer is off. This board supports USB 2.0 power demands up to 1500mA via 'On/Off Charge'.
Six native 6Gb/s SATA III ports (RAID 0,1,10,JBOD) are supplied via the AMD A75 chipset, five are present on the board and one is located at the rear I/O for eSATA devices. The white connector by the main ATX power connector is a printer port header - I guess the assumption is there are still more than a few parallel port based printers or scanners in the world.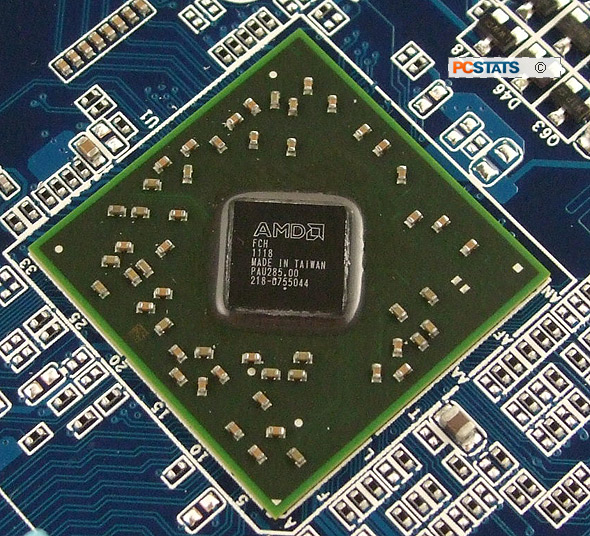 AMD A75 Northbridge
The AMD A75 chipset is cooled by a small passive aluminum heatsink, this chipset communicates with the AMD A8 Fusion APU over a Unified Media Interface (UMI) interface at 2GB/s.
Gigabyte's GA-A75M-UD2H motherboard has four 1.5v DIMMs which supports up to 32GB of DDR3-1066/1333/1600/1866 memory in a dual channel configuration. If used, the AMD Radeon HD 6550D IGP will allocate up to 512MB from system memory to itself.
A simple passive heatsink cooling the boards' VRM circuitry and power MOSFETs. Only solid state capacitors are used to manufacturer motherboards these days.
This Gigabyte motherboard uses Ultra Durable 3 components. With the upcoming AMD A85 chipset Gigabyte has upgraded this technology collection to Ultra Durable 5. The changes are pretty interesting, if you want to read about PCSTATS has a short article here from Computex 2012.
AMD Socket FM1 motherboards support AMD A8 and A6 Fusion processors (FPU) such as the AMD A8-3850 CPU PCSTATS will be testing this board with. The Fusion APU includes an integrated graphics processor, memory controller and PCI Express bus.
The Gigabyte GA-A75M-UD2H motherboard has DVI-D, DisplayPort, HDMI and Analog VGA video outputs. Resolutions of up to 2560x1600 are possible with all but the HDMI port (1920x1200). Up to two monitors can be connected to the onboard graphics ports if you want to expand the desktop across two displays.
Next up, PCSTATS has overclocking, a look at the BIOS options an then it's onto the motherboard and IGP benchmarks!