Gigabyte's GA-A75M-UD2H is an entry level motherboard with onboard graphics, excellent connectivity and a rather appealing low total system price tag. This microATX motherboard is of course built around the AMD A75 chipset and supports socket FM1 AMD Fusion processors which offer integrated DX11 graphics. The GA-A75M-UD2H motherboard marries the standard AMD A75 feature set with better than average electrical components and four video outputs. Being a budget-oriented platform, the Gigabyte GA-A75M-UD2H does not support nVidia SLI or AMD Crossfire or particularly amazing overclocking... and by all accounts the AMD A8-3850 Fusion CPU is a bit anemic in the benchmarks. However the AMD Fusion integrated graphics core is better than competing Intel IGPs and the platform is very capable for both HTPC and run of the mill office work. The Gigabyte GA-A75M-UD2H motherboard can be found online for around a $100 bucks.
When it comes to packing in value, AMD always manages score one over Intel. The AMD A75 Fusion Controller Hub (FCH) features six native SATA III ports and four native USB 3.0 ports, whereas Intel has only just recently brought USB 3.0 into the fold. Socket FM1 CPUs like the AMD A8-3850 CPU PCSTATS selected for this review contain a Radeon HD 6550D integrated graphics core which is DX11 capable. The slightly less powerful AMD A6-series Fusion processors also support DX11. Comparable Intel IGP platforms have until recently only been available with DX10.1 integrated graphics, although the Intel Ivy Bridge CPU has corrected this oversight.
Top of the list of features for the Gigabyte GA-A75M-UD2H motherboard? Onboard graphics. Setting aside IGP clock speeds because these are dependent on which Socket FM1 CPU is installed, the GA-A75M-UD2H motherboard offers users DVI-D, DisplayPort, HDMI and Analog VGA video output. Resolutions of up to 2560x1600 are possible with all but the HDMI port (1920x1200). Up to two monitors can be connected to the onboard graphics ports if you want to expand the desktop across two displays. AMD Radeon Dual Graphics permits a sort of hybrid Crossfire set up between the IGP and Radeon HD 6000-series videocards (SEE: AMD ). In all honesty though, you'd be better off with a faster physical videocard than going the "Dual Graphics" route.

Gigabyte GA-A75M-UD2H Motherboard




INCLUDES: User's Manual, Driver DVD, (4) SATA cables, I/O shield.

Chipsets: AMD A75
CPU Support: AMD Socket FM1 (905-pin)
Memory Type: Dual Channel DDR3
Max Videocard Support: (2) PCI Express x16 2.0 (x16/x4)
Integrated Graphics: Yes (HDMI, DP, DVI, Analog VGA)

Cost: $109 USD/CDN
The GA-A75M-UD2H's four memory slot accommodate up to 32GB of dual channel DDR3-1066/1333/1600/1866 RAM, with overclocking memory can be pushed to 2400MHz. This microATX motherboard incorporates one PCI Express 2.0 x16 slot at 16-lanes and one at 4-lanes for discrete videocards. Further expansion consists of a PCI Express x1 and legacy 32-bit PCI slot.
Storage options consist of six native 6Gb/s SATA III ports, with one of those tasked to an eSATA port at the rear I/O. The SATA ports can be configured to RAID 0, 1, 10 and JBOD modes. The GA-A75M-UD2H's offers up a Firewire, two USB 2.0 and one USB 3.0 header. Unfortunately, being a budget-oriented product Gigabyte doesn't supply even one USB bracket to make use of the headers. Around back there are four USB 2.0, one Firewire and two USB 3.0 ports. As expected, no FDD or IDE devices are supported on this motherboard.
At the back of the Gigabyte GA-A75M-UD2H motherboard you'll find two SuperSpeed USB 3.0 ports, four USB 2.0 ports, one powered eSATA and Firewire port, a Gigabit Ethernet network jack, 7.1-channel sound jacks, an optical S/PDIF output and four display ports (DVI-D, DisplayPort, HDMI and Analog VGA). The audio system is Dolby Home Theatre compliant.
Expect to find the Gigabyte GA-A75M-UD2H motherboard for less than $110 CDN, ($110 USD, £55 GBP) online. An AMD A8-3850 CPU will run you about $100CDN/USD, so a complete system is going to be quite economical.
Integrated Graphics
The Gigabyte GA-A75M-UD2H does support dual-displays from the integrated graphics ports, but only over combinations of analog+digital ports such as; Analog+DVI-D, Analog+DisplayPort, HDMI+DVI-D or HDMI+DisplayPort. The onboard graphics ports are also not hot swapable, if you want to add a second monitor or switch displays you'll need to hook up the cables and restart the PC each time.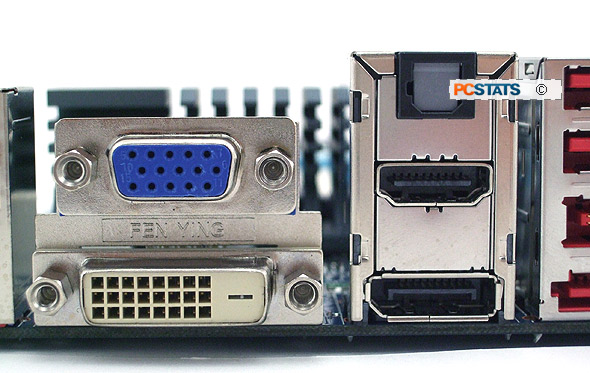 Video outputs: Analog VGA, DVI-D, HDMI, DislayPort.
While the AMD A8-3850's IGP (a Radeon HD 6550D) proves itself capable of light DX11 gaming as you'll shortly see in PCSTATS extensive benchmarks, it can't keep up with even mainstream graphics cards at anything approaching high image quality settings. The same can be said of Intel's socket LGA1155 Core i5 processors which have pretty bland IGP graphics too. With a discreet Radeon HD 6670/6570/6450 PCI Express graphics card, AMD "Dual Graphics" can also be configured.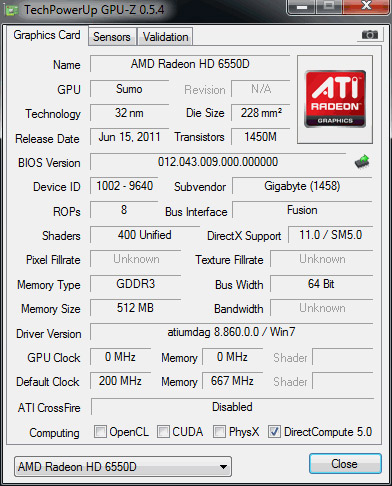 Radeon HD 6550D IGP Parameters (via A8-3850 CPU)
Now it's time to go in for a closer look at the Gigabyte GA-A75M-UD2H motherboard, but first a quick look at what the AMD A75 chipset and Socket FM1 Fusion CPU processors bring to the table.