In the case of the Gigabyte GA-A75M-UD2H motherboard PCSTATS is testing in this review, AMD's Fusion platform consists of the AMD A75 chipset and socket FM1, AMD A8-3850 FPU processor. This 'Fusion' platform is both an upgrade from previous IGP chipsets such as the AMD 890GX and a complete departure from that era. The reason for that departure is the AMD A75 core logic largely fulfills the role of 'southbridge chipset' now.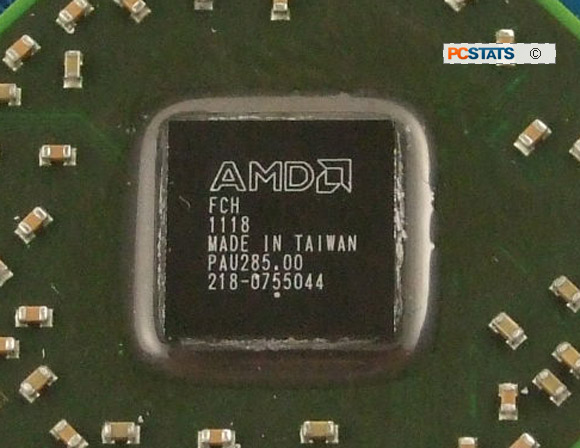 AMD A75 FCH (Fusion Controller Hub)
The AMD Fusion CPU architecture differs from previous AMD Athlon and Phenom II processors in that it integrates not only the memory controller onto the CPU die, but also the functions of the northbridge chipset and integrated graphics processor. Consequently, the transistor count for the AMD Fusion A8-3850 CPU has ballooned to nearly 1 Billion transistors. Despite the roughly 300 Million increase to transistor count, AMD was able to keep the outward size and shape of its CPU processor package identical to previous generation CPUs. It did this by implementing a 32nm die shrink.
The AMD A75 'Fusion Controller Hub' chipset supports six SATA III 6GB/s devices (with RAID 0,1,10), FIS-based switching, four PCI Express 2.0 x1 lanes, three 32-bit PCI slots, four USB 3.0 & ten USB 2.0 ports, and HD audio. The remaining platform features are allocated to the processor. The CPU handles eighteen PCI Express lanes, a dual channel DDR3 memory controller, various video outputs and the integrated graphics core (dependent on the specific CPU model).
The AMD A8-series APU has a somewhat higher powered IGP than the AMD A6-series FPU, as you'd expect.
AMD A75 Chipset Comparison
AMD A75
(*with A8-3850 APU)
AMD 890GX
CPU Socket
Socket FM1
Socket AM3
Chipset Codename
'Hudson-D3' (65nm)
'RS880D' (65nm)
Bus Interface / Speed
-
2600MHz HT 3.0
Memory Support (dual channel)
DDR3-1866
DDR3-1333
Maximum Memory Capacity
64GB (64-bit)
16GB
Southbridge
A75
SB850
Integrated Graphics

AMD Radeon HD 6550D*

Radeon HD 4290
Integrated Graphics Video Ports
DVI/HDMI/DP/VGA
DVI/HDMI/DP/VGA
Shader Processors/MHz
400 Shaders / 600MHz*
40/700MHz
DirectX Support
DX11*
DX10.1
PCI Express 2.0 Lanes
4 + 20*
22
SATA 6Gb/s | SATA 3Gb/s
6 / 0
6 / 0
RAID
0, 1, 10
0, 1, 10
Intelgrated LAN
10/100/1000 MAC
10/100/1000 MAC
USB 3.0 Ports
4
2
USB 2.0 Ports
10
14
PCI Masters
3
3
AMD Fusion A8-3850 processors (or FPU as AMD calls it) are equipped with a Radeon HD 6550D graphics core. The Radeon HD 6550D IGP supports DirectX 11, DirectCompute, Blu-Ray 3D, UVD3 and OpenCL. Video outputs will depend on the particular motherboard, but the technology can support HDMI 1.4a, DisplayPort 1.1a, DVI-D and Analog VGA video connections.
When dual link is enabled on the DVI-D port, the IGP can handle monitor resolutions of 2560x1600. Ditto for DisplayPort. HDMI connected displays can be set to a resolution of 1920x1200. AMD Dual Graphics enables the onboard graphics to be paired with a Radeon HD 6000-class discreet graphics card in a hybrid CrossfireX arrangement. Tied to AMD Fusion A8 3850 processor, the Radeon HD 6550D graphics core operates at 600MHz and features 400 Radeon Cores (shaders). Peak GPU Compute is 480 GFLOPS while 20 texture units and 5 SIMDs round out the limits of its 3D gaming abilities.
AMD Socket FM1
Both AMD A8 & A6 Fusion processors are compatible with AMD 905-pin 'Socket FM1' motherboards. As you would expect, Socket FM1 processors are NOT backwards compatible with socket 754/939/940/AM2/AM2+/AM3/AM3+ platforms or vice versa.
AMD hasn't given up on its longstanding dedication to upgradability; we can still attach just about any heatsink manufactured in the past 8 years onto a socket FM1 CPU. The AMD heatsink retention cage hasn't changed, so socket FM1 and Socket AM2/AM3 heatsinks are entirely interchangeable. Thermal design power (TDP) is a modest 100 watts for the AMD Fusion A8-3850 PCSTATS is testing the Gigabyte GA-A75M-UD2H motherboard with.
Next up, a 360 degree look at the Gigabyte GA-A75M-UD2H motherboard, then it's onto overclocking.