PCSTATS is testing out SanDisk's Extreme 240GB SSD, a 6Gb/s SATA III drive rated to 550MB/s Read and 520MB/s Write (sequential) in ATTO Disk Benchmark. SanDisk's Extreme SSD uses 24nm Toggle Mode MLC NAND Flash and the popular LSI SandForce SF-2281 controller.


88% Rating:

Home > Reviews > Hard Drives/SSD > SanDisk SDSSDX-240G-G25
I've held off jumping on the SSD bandwagon for the longest time; partially because Solid State Drives were astronomically expensive until quite recently and in part because SSD storage capacities were too small for the applications I typically load onto C:\. The PCSTATS test system has relied on SSDs for a couple years now, though. SSDs are much quicker to install an OS onto and boost system performance very nicely, improve boot and application load times, etc.
In the latter half of 2012 the cost of a 240GB SSD - a size well suited to desktop PCs - finally fell to earth. Since this Hallmark moment happened, I've put together a few PCs with the OS and programs installed to SSD, with critical data safely backed up to a RAID 1 array of Western Digital RE4 mechanical HDDs. From this point on, I don't think I'll ever install another operating system to a mechanical hard drive... the era of solid state drives has indeed arrived.
In this review, PCSTATS is testing out SanDisk's Extreme 240GB SSD, a 6Gb/s SATA III drive rated to 550MB/s Read and 520MB/s Write (sequential) in ATTO Disk Benchmark. SanDisk's Extreme SSD uses 24nm Toggle Mode MLC NAND Flash and the popular LSI SandForce SF-2281 controller. The 2.5" SanDisk Extreme 240GB SSD retails just over $220 USD/CDN at stores like NCIX.com , other models are available in 120GB and 480GB capacities. At this cost, the 240GB SDSSDX-240G-G25 comes in just under the $1 per Gigabyte price point, or $0.91/GB to be exact. By comparison, a 2TB Western Digital RE4 hard drive costs around $0.12/GB.
Since SSDs have no moving parts they draw very little power, making them ideal to extend the battery life of notebooks too. According to SanDisk, the 240GB Extreme SSD draws ~1.9W peak power, 0.5W while idle.

240GB SanDisk Extreme SSD




Model: SDSSDX-240G-G25
Memory: Toggle Mode MLC NAND Flash
Controller: LSI SandForce SF-2281
TRIM: Yes
NCQ: Yes
Garbage collection: Yes
Wear levelling: Yes

Capacity: 240GB
Interface: 6Gb/s SATA III
Formfactor: 2.5" (9.5mm thick)
Warrranty: 3 Years

Price: $220 USD/CDN
The Extreme 240GB SSD is housed in a simple die cast aluminum chassis which is painted black. There's a logo sticker on one side and detailed bar codes / serial numbers on the opposite. The SSD measures 2.5" wide and 9.5mm thick - no adaptor plate or mounting screws are included. Voiding the warranty for a peak under the cover reveals a blue PCB with four 32GB MLC NAND flash memory chips per side, for a total of 8 x 32GB = 240GB.
As you can see, there are solder masks for an additional eight ICs, which if populated would correspond to SanDisks' high capacity 480GB Extreme SSD model.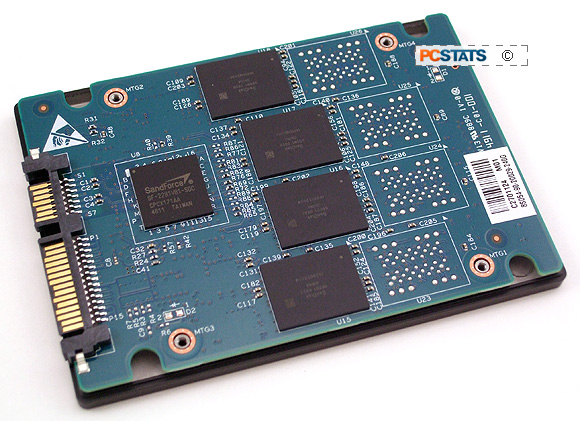 Inside look at the SanDisk Extreme 240GB SSD flash memory, controller and PCB layout.
As every SSD review ever written will tell you, the onboard controller is what makes or breaks an SSD as it's responsible for balancing bandwidth, latency and reliability. SanDisk's SDSSDX-240G-G25 is built around the LSI SandForce SF-2281VB1-SDC Flash Storage Processor. This controller supports a host interface of 6Gb/s SATA III and includes a range of flash management tools under the umbrella term 'DuraClass'.
SandForce Flash Storage Processor
Like most SSD controllers, LSI's SandForce SF-2281 features DuraWrite technology and wear leveling and monitoring, which distributes write operations across all the MLC NAND flash memory. This feature prevents any one flash cell from being written to and worn down more than the others since current flash cells are capable of a finite number of write cycles, extending the life of the drive. The controller performs garbage collection automatically to improve the endurance of flash memory over time.
Specific to the SF-2281 controller is Flash Error Correction and Redundant Array of Independent Silicon Elements (RAISE). RAISE provides RAID-like protection and recovery from potentially catastrophic flash block failures without the penalty of a write overhead, according to LSI's documentation for the SF-2200 series controllers.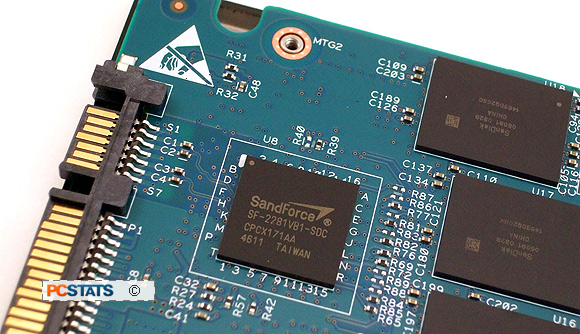 SandForce SF-2281 controller.
The IC is labeled: SandForce SF-2281VB1-SDC CPCX171AA 4611 Taiwan
The SDSSDX-240G-G25 SSD drive supports S.M.A.R.T. diagnostic tools which indicate when the SSD is reaching the end of its lifespan, Native Command Queing (NCQ) and TRIM.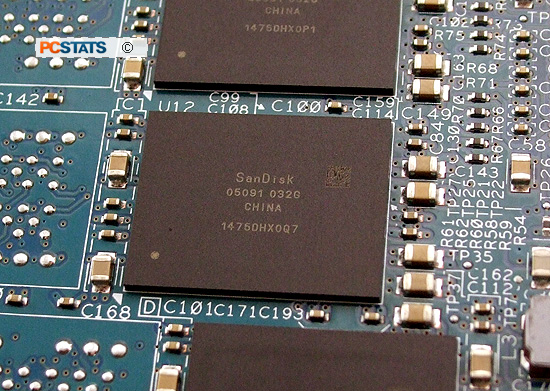 One 32GB, 24-nm Toggle Mode MLC NAND Flash Memory chip.
Chip is labeled: SanDisk 05091-032G China 1433DT20YM
TRIM allows the controller to safely and quickly overwrite data blocks that have been flagged for deletion, rather than going through the slower process of reading them into memory, checking and modifying the data, and writing it back to flash memory.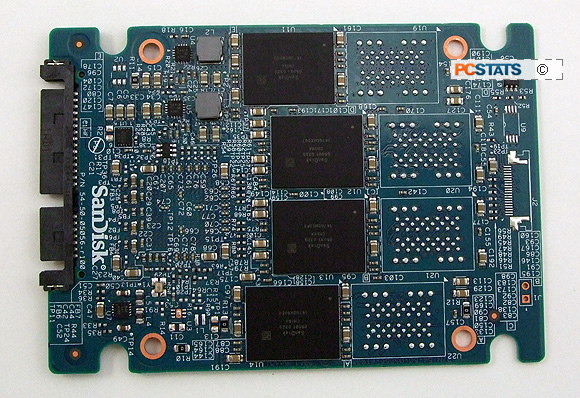 Rear view of the SanDisk Extreme 240GB PCB
Finally, the SDSSDX-240G-G25 supports AES-128 hardware data encryption via a FIPS-197 certified self-encryption engine.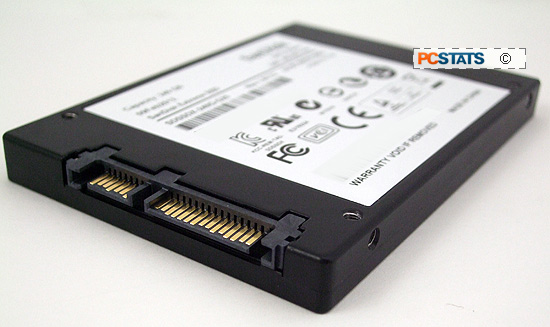 A 3-year warranty backs up the SanDisk SDSSDX-240G-G25SSD and the manufacturer claims it will hold up to at least 2,000,000 hours of sustained use. Nothing is bundled with the drive, no brackets or even basic software for disk cloning which is a shame.
SanDisk are relatively new to the SSD marketplace, so the company is positioning it's Extreme SSD as an easy upgrade path to squeeze more life from older computer systems. Let's see how this SSD handles itself on the PCSTATS test bench, next. Prelude to Benchmarks
The details of how the SanDisk Extreme 240GB SSD SDSSDX-240G-G25 test system was configured for benchmarking; the specific hardware, software drivers, operating system and benchmark versions is indicated below.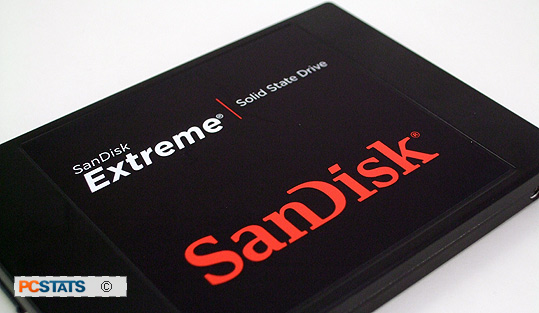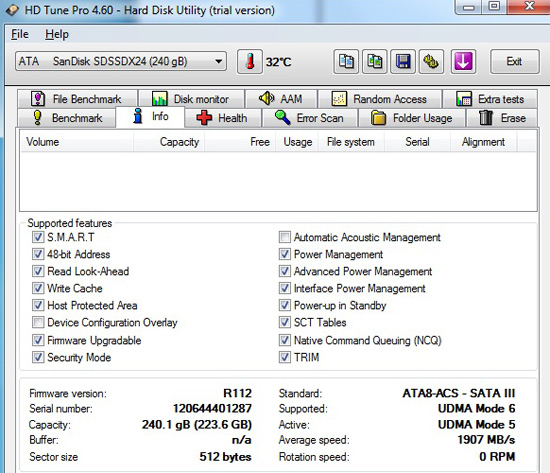 Please take a moment to look over PCSTATS test system configurations before moving on to the individual benchmark results on the next page.

PCSTATS Test System Configuration
test system
processor:

intel core i7 3820 (32nm)

clock speed:
36 x 100 mhz = 3.6 ghz
socket:
socket lga2011
motherboard:

Gigabyte GA-X79-UD5 (X79 Express)

Videocard:

GBT GV-N470SO-13I (Geforce GTX470)

Memory:

4x 4GB Corsair DDR3-1600C9

Memory Speed:
DDR3-1600 RAM
Hard Drive:

- SSD -
128GB Plextor PX-128M1S (3GB/s)
120GB OCZ VTX2-SSD (3Gb/s)
240GB OCZ VTX3-SSD (6Gb/s)
240GB SanDisk SDSSDX-240G-G25 (6Gb/s SATAIII)

- HDD -
1TB WD RE4 WD1003FBYX (3Gb/s)
1TB WD WD1001FALS (3Gb/s)
3TB Seagate Barracuda XT (6GB/s)
2TB Segate Barracuda XT (6GB/s)
750GB Seagate Momentus XT SSHD (6GB/s)
500GB Seagate Momentus XT SSHD (3Gb/s)

Optical Drive:

Plextor PX-B310U Blu-Ray

Power Supply:

Seasonic SS-760KM (760W)

Heatsink:

Intel Reference 2011 Heatsink

Monitor (1080p):

ASUS MK241 24" HD LCD

Software Setup:

Microsoft Windows 7 Ultiimate 64-bit
Intel INF 9.2.3.1020
nVidia 285.62

Benchmarks:

Hard Drive Benchmarks:
AS SSD 1.6
HDTune Pro 4.0
PCmark Vantage
SiSoft Sandra 2012
HD Tach 3.0.4.0
CrystalDiskMark 3.0.1