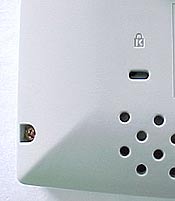 While the image of the display is obviously the most important aspect there are several external factors which can make or break a good TFT display.
Since TFT panels are relatively fragile components, the stability of the base is of the utmost importance to the longevity of a monitor - tipping is not good. Some stands may support vertical height adjustments, but a good base should at least allow the display panel to easily (but firmly) be rotated back or forwards to accommodate the users height. Depending on the base design and weight of the display horizontal rotation should also be easily accomplished. In some instances due to the relatively light weight of the display, the entire base may be configured to move with the panel as one unit. That is the case with the base attached to this 570V TFT display.
As an extra feature the SynMaster display comes standard with an integrated Kensington security lock on the back o the panel. As flat screens are still quite expensive, not to mention highly portable, it's a good feature to have. In high-traffic areas, or where security might be a concern, adding a lock to the display is not a bad idea. Since the lock is positioned on the rear of the display it remains out of the way, and for the most part out of sight.
Front view of the display.

Side view illustrating the degree of tilt possible.

Back view of the display.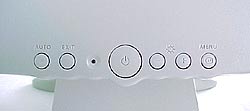 The Samsung 570V TFT has a very understated bezel with a total of six controls. The control consists of the following buttons; Auto, Exit, Power, Brightness (plus and minus) and Menu. The Menu key brings up the on screen display where more options and settings are available. Most of the adjustments that the monitor may require can be done from this small set of keys. The Auto adjustment key being the most important.
The rear of the display panel has an analog video input 15-pin D-sub jack and a power input. Inserting the cable is a bit difficult due to the angle, but by turning the monitor up side down it's a lot easier. The lead from the AC Adapter plugs into the panel, while the actual adapter can be placed away from the display about 4 four feet or so. A regular computer power cord plugs into the adapter.
Why arrange the power like this you wonder? Well the stand on this display can be removed from the back of panel so it can be wall mounted. By positioning the bulk of the power source away from the display, you are not faced with a full sized power cable running up the side of the wall.
| | |
| --- | --- |
| | |
| Input for power and video cord. | Back of display panel with stand removed. |